Disruptor Awards: Sustainability Award
Custom Content by the Los Angeles Business Journal
Monday, November 9, 2020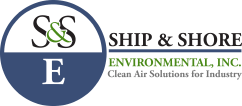 SHIP & SHORE ENVIRONMENTAL INC.
Ship & Shore Environmental, Inc. is a Long Beach-based, woman-owned, certified business specializing in air pollution capture and control systems for industrial applications. Ship & Shore helps major manufacturers meet Volatile Organic Compound (VOC) abatement challenges by providing customized, energy efficient air pollution abatement systems for various industries, resulting in improved operational efficiency and tailored "green" solutions. Since 2000, Ship & Shore has been prepared to handle and advise on the full spectrum of environmental needs with its complete array of engineering and manufacturing capabilities and global offices around the U.S., Canada, Europe, Middle East, and China. The Ship & Shore technical engineering team has custom designed tailored solutions for clients throughout the world.
From regenerative thermal oxidizers to condensing boiler systems, Ship & Shore's team of engineers works closely with the company's large fabrication shop, installation and service technicians to design environmental solutions for cleaner air today and tomorrow. The company's mission is to provide energy efficient, innovative, quality products and services that help Ship & Shore customers meet the increasing demands of environmental regulations while enhancing productivity and profitability. Ship & Shore services clients nationwide and around the globe. 
The objective for Ship & Shore's team of designers is to develop an emission control platform that will meet the individual needs of each customer facility. At Ship and Shore, the team acts as an engineering partner with its customers, focusing on each step of the process to develop a truly custom solution that not only meets the regulatory requirements, but that minimizes operating and capital costs as well.
For reprint and licensing requests for this article, CLICK HERE.