Sick Days
Area hospitals are ailing in the face of virus-driven losses
Monday, May 11, 2020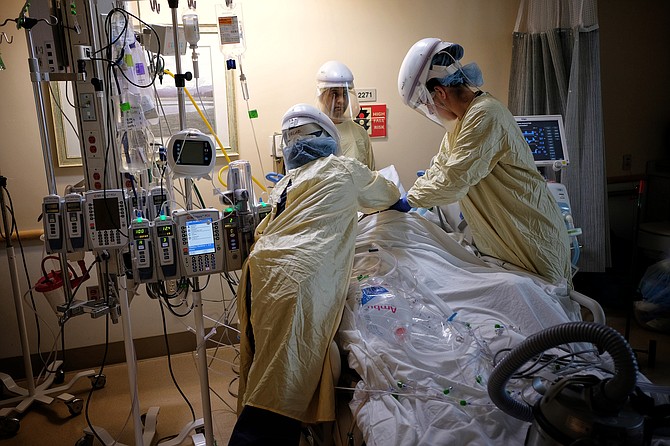 The Covid-19 crisis that hit the nation in March has slammed the finances of Los Angeles-area hospitals.
These medical facilities have spent record sums on surging their capacities at the same time that elective surgeries — their biggest source of revenue — were banned for more than five weeks.
Billions of dollars in federal relief have not come close to filling the resulting budget gaps.
And as the pandemic continues to ravage the region and increasing numbers of patients go onto Medicaid or become uninsured, the financial crunch is expected to drag on for several quarters.
Local hospitals have had to tap fiscal reserves, furlough workers, institute pay cuts and take other cost-cutting steps to try to stabilize their finances.
"There's no doubt that this crisis is the most serious fiscal challenge that the entire hospital industry has ever faced," said Erik Wexler, chief executive for the Southern California division of Renton, Wash.-based Providence Health.
Wexler oversees 13 hospitals — six in Los Angeles County, including Providence Saint Joseph Medical Center in Burbank and Providence Saint John's Health Center in Santa Monica. He said the fiscal gap at these 13 hospitals is "over $100 million."
Wexler said the hospitals have furloughed roughly 5,000 staff members. As of May 1, those workers are no longer getting paid. In addition, senior executives have been forced to take 20% pay cuts.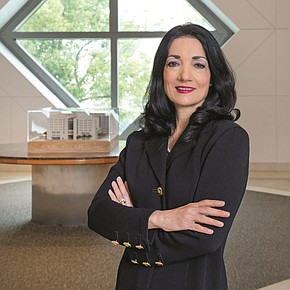 At UCLA Health, which is comprised of four hospitals, including Ronald Reagan Medical Center on the Westwood campus, President Johnese Spisso said the system has been forced to tap financial reserves to close a gap of more than $85 million — a $140 million shortfall partially offset by $55 million in federal funds. Spisso said the health system had pledged no layoffs through the end of the fiscal year in June, but after that, layoffs or furloughs are possible.
Storm hits
The trouble began in late February as hospitals began preparing for an expected surge in Covid-19 patients. They had to spend millions of dollars to add intensive care units, buy ventilators, and start stockpiling personal protective equipment such as masks, gowns and gloves.
"By the end of February, we had a whole command center set up with one mission: how to create additional capacity," Spisso said. Within four weeks, UCLA Health added 300 beds to the 800 on hand.
Preparation included purchasing PPE, with demand from health care providers nationwide far exceeding available stockpiles. By early March, states were competing against each other for gear, driving the price up. Spisso and Wexler said their respective purchasing departments encountered similar bidding wars.
"We spent millions of dollars, paying whatever price we needed to pay — it was a complete suppliers' market," Spisso said.
Wexler said the 13 Southern California hospitals in the Providence chain spent more than $50 million on surging intensive care unit beds and obtaining personal protective equipment.
The full extent of what hospitals have spent during this rush probably won't be known for months or even until next year when hospitals start filing annual reports with state agencies, according to John Romley, senior fellow at the USC Schaeffer Center for Health Policy & Economics.
"Even the anecdotes we have are bad enough," Romley said.
The only good news is that the expected surge in Covid-19 patients has yet to materialize.
"Thank goodness for that," Romley said. "If we had a situation like New York or Italy, hospital spending would have gone up far more than it has, since treating Covid-19 patients is far more expensive than standard emergency room care or scheduled surgeries."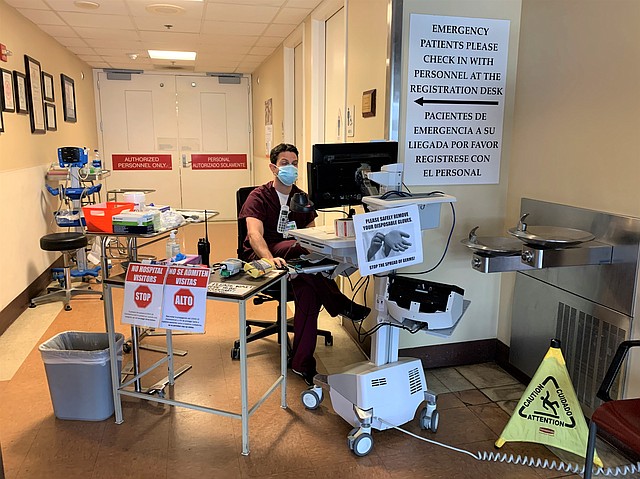 Many Covid-19 patients must remain in intensive care units for two or three weeks at a time, compared to a day or two for most other procedures, he noted.
Also, the lack of a Covid-19 surge means that the bulk of spending on additional ventilators and setting up of intensive care units is largely over — at least for now.
Surgery revenue plunges
Just having to spend untold millions of dollars to prepare their hospitals for the Covid-19 pandemic would have been stressful enough for executives. But that was only half of the problem they confronted as February turned to March: revenues also began plummeting.
In early March, prospective patients began canceling surgery appointments in droves, scared to enter hospitals as the Covid-19 pandemic started hitting with full force.
By the third week of March, Oakland-based Kaiser Permanente and other major hospital chains canceled all elective surgeries, stating they needed to ensure an adequate supply of hospital beds for Covid patients.
And on March 19, Gov. Gavin Newsom ordered a statewide ban on elective surgeries — the major revenue source for most hospitals. Newsom lifted the ban on medically necessary procedures on April 22, but not before it inflicted serious damage on hospital finances.
"Elective surgeries" is a somewhat misleading term, Spisso said. "It's far more than surgeries of choice," such as cosmetic procedures, she said. "A better term is nonurgent scheduled surgeries that are medically necessary but could wait a few weeks, such as joint replacement surgeries."
The sweeping nature of this ban cut deeply into hospital revenue. Romley estimated that on average, hospitals lost more than 50% of their revenue overnight.
At UCLA Health, Spisso said the revenue loss totaled about $140 million, including $80 million that went straight to physician practices.
Wexler said surgical volume at Providence's Southern California hospitals plunged 80%, resulting in a loss of roughly $40 million. Providence had committed to paying medical staff sent home with no work to do after the scheduled surgery ban through March and April; those payments totaled $60 million.
But not every hospital system has been hit so hard. At Ontario-based Prime Healthcare Services Inc.'s four Los Angeles County hospitals — including Centinela Hospital in Inglewood — Sunny Bhatia, chief executive of Prime's California operations, said the hospitals didn't have as high a percentage of elective surgeries as many other hospitals.
"We emphasize efficiencies in the emergency department: that's our business model," Bhatia said. "So, the impact of the elective surgery ban was not in the total dollars lost but that those were the most predictable dollars."
Bhatia said Prime's hospitals have also lost emergency room revenue as people have stayed away out of fear of Covid-19.
"People who are having strokes and heart attacks and attacks of appendicitis are not coming in when they should be," he said.
Insufficient federal aid
With hospitals on the front lines in the battle against the coronavirus, Congress has passed two aid packages totaling $175 billion for hospitals and other medical providers. The funds from the first round of $100 billion passed in March as part of the CARES Act have already been distributed, using formulas based on 2019 Medicare payments to the hospitals. The second round will be distributed in coming weeks.
But all three hospital chain administrators who responded for this story agreed that the funds were not enough to offset the huge gaps in their hospital budgets.
"We received a one-time payment of nearly $55 million," UCLA's Spisso said. "That barely covered one-third of the losses we experienced in March and April, which is why we had to tap into our reserves. But at this rate, we will exhaust our reserves in a few months."
Providence's Wexler said his administrative team is still working out exactly how much money the company's Southern California hospitals received. "There are all sorts of stipulations on how that money can be used, which will determine just how much of the money we were allocated we can actually use. Whatever that ultimate amount is, it won't even come close to covering our costs."
Prime Healthcare's Bhatia said the first two rounds of federal relief dollars should be enough to cover most of the California hospitals' shortfalls for March and April, but not much beyond that.
"We have some element of peace of mind for the present," Bhatia said. "But we're looking three months out and six months out, and unless more funds are coming, we're going to be in trouble as the imbalance between revenue and costs continues."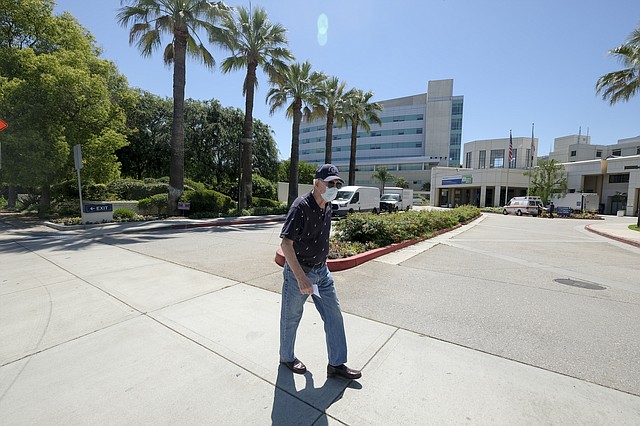 Local Hospitals May Not Be Able to Get Well Soon
Facilities could face a challenging fiscal fate in coming months as a result of fallout from the virus
The financial picture for Los Angeles-area hospitals for at least the rest of this year looks grim, according to John Romley, senior fellow at the USC Schaeffer Center for Health Policy & Economics.
"I'm most concerned about the medium long term — the next year or two," he said. First, there's the possibility of a Covid-19 surge later in the year, which could dramatically increase hospital expenditures and force another ban on medically necessary elective surgeries to make room for Covid-19 patients.
And while that ban on elective surgeries has been lifted, convincing people to go to the hospital and possibly a skilled nursing facility for rehabilitation following surgery may take some doing.
As long as Covid-19 is still out there, Romley said, some patients may choose to continue to put off scheduled surgeries, which may mean it will take longer to get back to pre-Covid surgery volumes.
But he said a subtler shift also appears to be taking place that could have a much longer-term impact on hospital finances. "We're seeing a shift in the payor mix as more and more people lose their jobs and lose their private health insurance."
As the economic downturn drags on, he said, hospitals will likely see more patients on Medicaid (Medi-Cal in California) and fewer patients with private insurance.
"Private insurers pay service providers at roughly double the rate of Medicare and Medicaid, so a dramatic shift in payors from private insurance to Medicaid means a longer-term revenue drop of anywhere from 5% to 10% for hospitals," Romley said.
"That may not sound like much compared to what hospitals are seeing now," he added, "but it means that hospitals that already were in some financial distress before Covid — or that have been pushed closer to financial distress with Covid — will have that much more difficult time recovering."
Keep reading the 2020 Health Care Special Report.
For reprint and licensing requests for this article, CLICK HERE.