Prime WeHo Property Sells
Site could see mixed-use development
Monday, March 30, 2020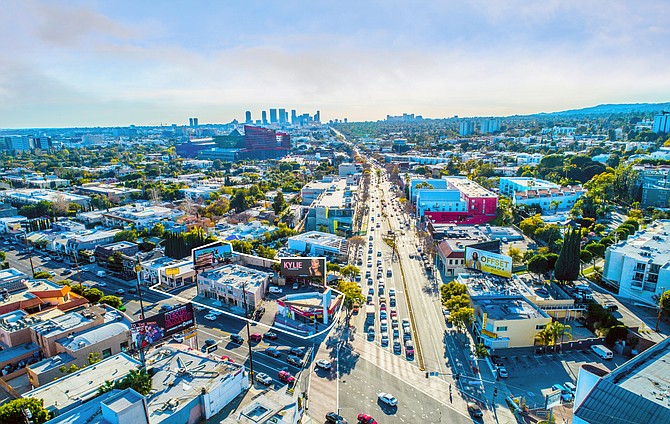 A development site at the intersection of Santa Monica and La Cienega boulevards has sold for $22.5 million.
The property measures more than 30,000 square feet and is currently home to three commercial structures. The site is located on the border of West Hollywood and Los Angeles with roughly 19,000 square feet on land zoned for the city of L.A. and about 11,000 square feet zoned for West Hollywood.
The property can be used for mixed-use, multifamily, hotel or other commercial uses, according to brokerage CBRE Group Inc.
CBRE's Matthew Greenberg, Alex Kozakov and Pat Wade represented the seller, a private family that had owned the site for decades.
CBRE's Chris Tresp represented the buyer, a local development company.
"This asset is one of the last remaining properties with significant scale on a prolific corner in Los Angeles," Kozakov said in a statement. "Both the size and location of the site make this acquisition a truly rare and desirable opportunity to reposition the property into a destination that will attract both tourists and locals alike."
The site is eligible for Transit Oriented Community density bonuses, which provide concessions to developers, such as reduced parking requirements and increased density for projects that are built near public transportation and include affordable units.
"While the property contained its challenges for a developer given the split zoning and multiple municipalities at play, these realities were overlooked by most interested parties given the world-class allure of the location," Greenberg said in a statement.
Development sites around the county have been in high demand, as evidenced by a handful of notable transactions late last year. In November, City Century purchased a 3.26-acre site at 1001 W. Olympic Blvd. in downtown for $121.1 million. City Century will tear down the existing building and construct a $1 billion multifamily and retail project.
Hanover Co. acquired a strip mall at 6200-6210 W. Sunset Blvd. in Hollywood in November to build a 270-unit multifamily property with retail.
Onni Group bought a property at 6381 Hollywood Blvd. in Hollywood for $53.2 million in December. The site has an office building with surrounding retail and a parking lot. Onni Group plans to renovate the office building and redevelop the rest of the property into an office or apartment building, according to CoStar Group Inc.
The amount of land sold for redevelopment could change, but brokers say it's too early to tell if the Covid-19 pandemic will have a substantial impact on the commercial real estate market.
For reprint and licensing requests for this article, CLICK HERE.