Workers Keep Ports Active
Cargo flow continues amid precautions at LA, LB
Monday, March 23, 2020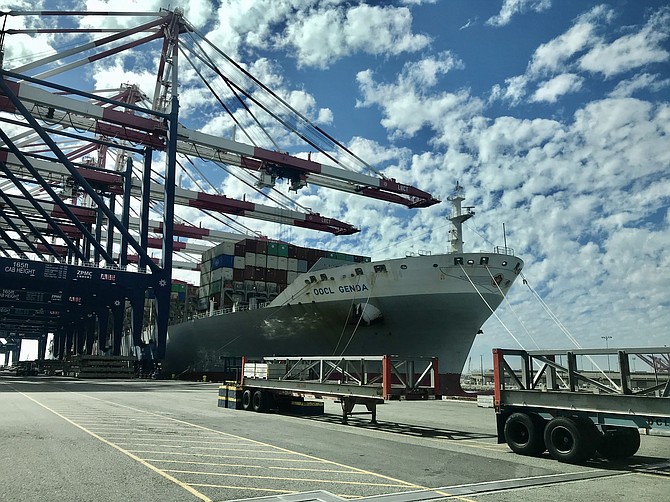 During a crisis, the term essential workers usually refers to the police, firefighters, doctors and even the grocers manning the cash registers as panicked shoppers rush the stores.
But what about dock workers and truckers whose job it is to make sure goods get to store shelves?
While most businesses nationwide are either temporarily closing or asking their employees to work from home to prevent the spread of Covid-19, the disease caused by the novel coronavirus, thousands of workers at 12 terminals in San Pedro Bay continue transferring containers off and on cargo ships.
"We are an essential service, so a lot of the recommendations that have been put out about the size of gatherings don't apply to us," said Ray Familathe, president of the International Longshore and Warehouse Union Local 13 that represents more than 8,000 dockworkers at the ports of Los Angeles and Long Beach.
"But we are still taking precautionary measures," he said. "We are reducing the amount of workers that are coming to the hiring hall. Some of them are dispatched out of a secondary location."
Familathe said that depending on "how many ships are in the ports and what the orders are," there could be hundreds of workers at the hiring hall waiting to be called to work.
Other preventive measures taken by the ports include cutting off public access to the administration building, the joint security command and control center, and the maintenance facility through March 31. All staff communication for the Long Beach Port will take place online or via phone.
Upcoming public events have been canceled along with school and business boat tours, and the operators of all inbound ships are required to report ill crew members and passengers four days in advance of arrival at any U.S. port.
The ports are also frequented by more than a dozen passenger cruise lines, all of which have suspended operations from U.S. ports of call until the middle of April, according to Washington, D.C.-based Cruise Lines International Association.
Silver lining
The ports are the two largest in the nation, handling approximately 37% of all waterborne goods entering the United States and some 60% of goods imported from China.
The recent double-digit dip in cargo volume, spurred by the fallout of tariffs and the reduction in manufacturing in China due to the coronavirus outbreak there, included some 40 canceled vessel sailings between mid-February and April 1, or about 25% of normal vessel calls.
The slowdown has prompted terminal operators to reduce the number of available work shifts by about 50%, according to Familathe, which also meant trucks had fewer containers to transport to and from the ports.
"Our industry is fragmented in the sense that we have so many different stakeholders that are codependent on one another, and if one entity does not collaborate with the rest of the supply chain or abdicates the responsibilities, it impacts everyone," said Weston LaBar, chief executive of the Harbor Trucking Association.
ILWU members get first dibs at work assignments, and whatever's left trickles down to some 3,000 "casuals," or standby workers. With fewer ships entering the ports, some casuals have skipped on reporting to the hiring hall every day, which in turn may have lowered the chances of spreading the flu-like virus.
No outbreaks
"We have not had any outbreaks in the port area or at our hiring halls," Familathe said. "We have stepped up the janitorial services, and we have hand sanitizers on every entryway. Everyone has high concerns, but we're maintaining strict health and safety practices as outlined by the (Centers for Disease Control and Prevention)."
He added that "the ports of Los Angeles and Long Beach are reporting to us that factories are slowly getting back to work in China," which means more work shifts but also more workers reporting for duty at the hiring hall.
"If work does start to pick up, we have a few contingency plans that we're preparing now to minimize the amount of workers that will gather in one place," Familathe said.
LaBar was also hopeful. "As of a couple weeks ago, our members were really hurting," he said. "But now, we're preparing for what we hope will be a bit of a surge as manufacturers get back online in China."
The trucking official said his agency has been actively engaged with precautions on multiple fronts.
"We've worked with agencies like the port authorities up and down the West Coast, and with state and federal officials to ask for access to essential items such as rubber and latex gloves, masks, hand sanitizer," LaBar said.
"We are also monitoring what happens domestically, how the spread of coronavirus impacts our workforce," he added. "We don't know what the long-term consumer spending habits will be, especially if there's economic downturn, and we don't know what jobs will be available for some of these folks when we get out of this crisis."
LaBar also said that for all the efforts underway, there's no crystal ball for this scenario.
"We're hoping that we get back to our record levels of employment that we saw pre-coronavirus," he said, "but the only thing that's certain is uncertainty right now."
For reprint and licensing requests for this article, CLICK HERE.