2020 Diversity & Inclusion: Leveraging Diversity to Create Your Dream Team
Custom Content by the Los Angeles Business Journal
Tuesday, March 17, 2020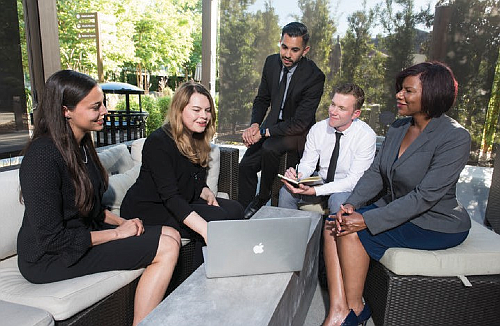 Congratulations! You won the prize account, got the greenlight for a new program, inked a big partnership deal or landed that coveted promotion. As you toast this latest accomplishment with family and friends, you know that you'll need a high-powered team working with you to achieve your objectives. So how do you start?
Studies demonstrate and bottom-line results prove that diverse teams out-perform individuals and more homogeneous groups in decision-making, creativity and problem-solving. Why?
Because teams comprised of people with different experiences, backgrounds and perspectives possess greater cognitive diversity, which in turn generates more comprehensive collective intelligence. Greater cognitive diversity produces a broader base of possibilities, ideas and solutions. As diverse team members discuss, debate and collaborate on these options, they develop a more robust shared acumen or collective intelligence than more homogeneous groups, which can be prone to groupthink. This robust collective intelligence is a key source of competitive advantage, or the "diversity dividend."
Instead of relying solely on chance, you can take a number of steps to get that high-powered diverse team in place. Diversity comes in many forms and understanding what types of diversity you need enhances the likelihood of your success. Here's one approached that has yielded success.
First, lay the groundwork by:
• Setting Specific Goals — What results do you desire – increased revenues, lower costs, an expanded market, greater brand/company awareness, higher profits, more community engagement or some combination of the above? Specific goals aid you in spotting high potential team members and in giving direction to your team.
• Determining Key Knowledge and Skills Required — What kinds of "know-what" and "know-how" do your team members need to achieve those goals? Knowledge can be discipline based (e.g. accounting, finance, human resources, marketing, entrepreneurship) and cultural (e.g. language skills, ethnic back- ground, international experience). Skills can be technical (e.g. computer applications or coding, statistics, order optimization) and softer (e.g. communication, emotional intelligence, networking).
• Identifying Critical Audiences — Who will be impacted by those goals? Look internally and externally and at both upsides and downsides. Who will be your beneficiaries or customers? Who is likely to oppose or be threatened? Who do you need as partners and supporters? Who do you need for buy-in and implementation of your goals?
Second, select team members. Not only will you want highly capable individuals who bring key knowledge and skills, and have links to critical internal and external audiences, but also a mix of persons with reflecting different inherent and acquired diversity.
• Inherent Diversity — involves traits from birth such as gender, ethnicity and race.
• Acquired Diversity — involves traits gained from experience such as living abroad, working in various industries or actively participating in other communities
Why? Because inherent and acquired diversity causes persons to have different lived experiences. These different lived experiences result in varied viewpoints and unique perceptions which can yield greater cognitive diversity and collective intelligence.
Finally, consider whether your candidates have already successfully worked in one or more diverse teams. This experience indicates that they understand how to value and appreciate the unique backgrounds of others and possess the compassion and acceptance to break down barriers and to amplify typically unheard voices.
As a leader in educating diverse populations, the Nazarian College of Business and Economics at CSUN is superbly equipped to assist business leaders and executives in maximizing their "diversity dividends". Employers regularly extol the ability of Nazarian college graduates to work effectively in teams as well as their superb business training.
The Nazarian College ranks among the top 5% of business schools globally by virtue of its AASCB accreditation and is recognized as one of the Best US Business Schools by the Princeton Review. With over 8,000 majors and 400 minors, the College offers one of the 10 largest undergraduate business programs in the nation as well as graduate business programs lauded by US News & World Report, CEO Magazine, the Accounting Degree Review, as well as other esteemed agencies. As part of CSUN, which is a certified Hispanic, Asian American, Native American and Pacific Islander serving university, the Nazarian College student body boasts ethnicities, races, and nations from around the world as well as members of all socio-economic strata.
A curriculum steeped in collaboration and teamwork insures that Nazarian College grad- uates at both the undergraduate and Master's levels are experienced in working with persons from a wide variety of backgrounds to achieve demanding, time-sensitive goals. Nearly 70% of upper division undergraduate classes require one or more team projects, and many of these teams are randomly assigned to guarantee that students have the opportunity to work with and learn from others with different ideas, beliefs and approaches. Since class sizes are small, dis- tinguished faculty are readily available to offer guidance and advice as students navigate the challenges of confronting mindsets and sensi- bilities different from their own.
This active, team-based learning also occurs outside the classroom via engagement with practitioners, and hands-on experienc- es through consulting projects, internships, competitions, international excursions, and incubator/accelerator programs. This pragmatic yet rigorous approach gives Nazarian College students the total package: 1) state-of-the-art business knowledge and skills, 2) enhanced acquired diversity from working with a variety of inherently diverse people, and 3) strong leadership and team player capabilities through numerous teamwork experiences.
The Nazarian College, and its students, faculty, staff, and alumni stand ready to part- ner with you to help you form your dream teams. Through our expertise in training and developing diverse individuals and teams, we aim to partner with Los Angeles businesses in leveraging the vast assortment of people, cul- tures and ideas in the larger metropolitan area, and to maximize the competitive advantage of diversity.
Lois M. Shelton, PhD. is a Professor of Management at the David Nazarian School of Business and Economics at CSUN.
For reprint and licensing requests for this article, CLICK HERE.