2020 Diversity & Inclusion: Actions for Diversity - A Key Focus for Realtors
Custom Content by the Los Angeles Business Journal
Tuesday, March 17, 2020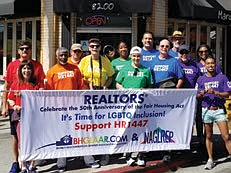 Diversity and inclusion are cornerstones of the realtor profession and the Greater Los Angeles REALTORS® (GLAR) is dedicated to making an industry-wide impact.
"Just like our wonderful city of LA, we are truly a diverse organization across all categories. We are determined to represent that to our members, clients, local, state, and national governments/organizations," said Ryan Ole Hass, president of the GLAR. "I could not be prouder of the direction our Association is headed."
"Our culture is critical to our growth and success," added CEO Marty Nash. "As industry professionals, we lead by example, we are transparent, we listen before we act, we are results driven, and we give back."
Historically, realtors agree to adopt and abide by the National Association of Realtors Code of Ethics, and to adhere to the highest standard of business practices. The Fair Housing Act of 1968 is a fundamental core value of realtors. The Act protects people from discrimination when they are renting or buying a home, getting a mortgage, seeking housing assistance, or engaging in other housing-related activities. Additional protections apply to federally-assisted housing. However, the LGBTQ+ community is not protected by the Fair Housing Act.
In May of 2018, during their midyear meetings in Washington D.C., realtors from GLAR (including Hass) and others from around the country advocated to legislators to add the LGBTQ+ community to the Fair Housing Act. As of December 2018, only 21 states and the District of Columbia prohibit discrimination in housing based on both sexual orientation and gender identity. The State of Wisconsin bans discrimination in housing based on sexual orientation only. Because the bipartisan Fair and Equal Housing Act was introduced in the House of Representatives and the Senate on April 30, 2019, HUD's website now states, "A person who identifies as LGBTQ who has experienced (or is about to experience) discrimination under any of these bases may file a complaint with HUD. HUD is committed to investigating violations of the Fair Housing Act against all individuals regardless of their sexual orientation or gender identity." Until this is a Federal Law, however, the LGBTQ+ community may continue to be discriminated against in a majority of U.S. States.
"Diversity and inclusion are at the core of the business of all realtors, and it is the role of our organization to reflect and represent those values," said Nash.
Diversity in L.A. can be defined on more than race, religion, or any of the standard definitions. The massive variety of the countless neighborhoods in L.A. create another layer that many Angelenos add to their identity. Being conscious of this phenomenon, the leadership team developed logos for not only the five cities but also an additional 24 neighborhoods served by the members within their boundaries. Their members and affiliates represent more than 100 countries worldwide.
"These logos are badges of honor and pride for those that live, work, and represent the amazing neighborhoods throughout our great City," said Hass.
Hass also happens to be the first Hispanic president and Nash is the first Black CEO in the 117-year history of GLAR.
Besides advocacy, which is something GLAR has made a priority, the organization also participates in events small and large throughout the communities it serves. In June, GLAR will have its largest presence yet during West Hollywood's Gay Pride Parade, inviting fellow realtors and friends from all over California to join them.
NAR surpassed 1.4 million members in 2019, remaining the largest trade organization in the country, of which GLAR is a proud and active part.
Information for this article was provided by the Greater Los Angeles REALTORS®. For more information, visit greaterlarealtors.com.
For reprint and licensing requests for this article, CLICK HERE.