Spotlight on Executive Education: Stay Ahead of the Curve with Loyola Marymount University Executive Education
Custom Content by the Los Angeles Business Journal
Monday, March 9, 2020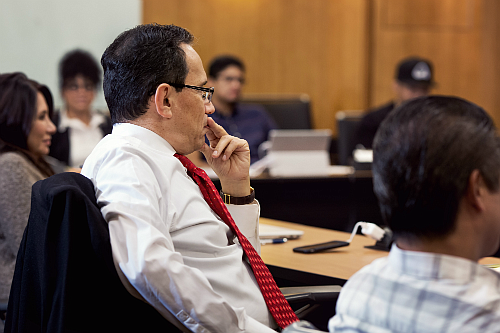 The faculty and staff in the College of Business Administration (CBA) at Loyola Marymount University (LMU) are dedicated to preparing individuals for change by developing their mindset and skill set for today's global business landscape. The CBA is building relationships in Silicon Beach and beyond, to operationalize a commitment to integrating innovation, imagination and leadership in everything it does.
The LMU CBA mission is to advance knowledge and develop business leaders with moral courage and creative confidence to be a force for good in the global community. The CBA sees business as central to advancing economic, social and environmental progress. Business must have a voice at the table to address the most pressing issues of our times.


"We are preparing the leaders of today for the business of tomorrow," said Joe O'Hannigan, senior director of Executive MBA and Executive Education at LMU. "Our progressive vision aims to equip and empower each individual to discover and evolve into his or her best self in order to navigate the global, dynamic, interdisciplinary world to lead positive change."
Today's professionals must think, act, lead and adapt in new ways to perform well under changing and ambiguous conditions. They must continually upshift their communication, critical thinking and problem-solving skills, and evolve their essential soft skills while staying on top of the technological and competitive disrupters affecting their organizations.
"The rapid pace of change in our global business environment challenges all of us to be more agile," said Dayle Smith, dean of LMU College of Business Administration. "Education and 'just in time' curriculum have never been more important – providing tools, perspectives and strategies to help us become visionary leaders."
Custom and Partner Programs
Looking to keep your organization ahead of the competition in today's competitive marketplace? Need your employees to improve their knowledge and skills on a particular topic?
The LMU College of Business Administration collaborates with organizations to bring executive education courses, certificate programs and custom programs to the workplace. Classes are taught by LMU's world-class faculty and industry professionals.
The CBA can create custom courses or programs for your organization such as:
• Creativity, Innovation and Design
• Business Analytics
• Business Applications of Blockchain
• Introduction to Sustainable Business
• Leadership for the Modern Workplace
• The Art of Negotiations
• Brand You
• Presentation Skills for Technical Professionals
• Managing Intergenerational Teams
LMU has created custom courses for major corporations, including a Fortune 500 aerospace company and a global financial asset management firm. From seasoned executives to newly appointed executives to executives in transition, the goal is to help you keep your organization and employees ahead of the curve. With LMU centered in the heart of Silicon Beach – ranked 3rd largest startup hub in the world – the college has incredible access to the epicenter of innovation and global thought leadership.
LMU's strength areas of focus include Leadership Development, Social Impact & Sustainability, Entrepreneurship & Innovation, Business Analytics, Marketing & Branding and Business Ethics.
Executive MBA Program
Those looking for a more holistic educational experience may want to consider the LMU Executive MBA program, ranked among the top 25 in the world by CEO Magazine.
The LMU Executive MBA (EMBA) is one of Southern California's premier programs. Designed for mid-career professionals and executives who have a bachelor's degree and at least eight years of professional, managerial or entrepreneurial experience, the 22-month program provides students with the skills, knowledge and confidence to lead high-performance teams.
The LMU EMBA addresses management and leadership within a broad spectrum of organizations and teaches students how to understand core business principles, develop leadership intelligence, apply knowledge and learn to execute better. Many graduates of the LMU EMBA advance to C-level positions within their companies. Saturday-only classes, small class sizes, a collaborative learning environment, personalized attention, an active alumni network, a focus on ethics and leadership, and an international study component set LMU apart from other programs.
The college's unique OnBoarding Program helps students prepare for a return to academia so they will be ready to start classes with confidence. The EMBA program includes an initial three-day orientation, a trip to Sacramento to meet with our state legislators and lobbyists, and a two-week journey overseas to major business centers to meet with business executives and understand firsthand how global business operates.
"Not only did an EMBA make me proficient in nearly every aspect of business, but I specifically liked that LMU took the time to focus on perfecting the individual," said David Kirby '12, SVP and director of business banking at Zions Bank. "It wasn't always about the bottom line but about you as a person, making good decisions and being an ethical member of society. And that's what great leadership is all about."
Learn more about LMU's Executive Education opportunities at ExecEd.lmu.edu.
Learn more about LMU's Executive MBA program at emba.lmu.edu.
For reprint and licensing requests for this article, CLICK HERE.