Spotlight on Executive Education: Rise to the Top with an Executive Education Degree from the University of La Verne
Custom Content by the Los Angeles Business Journal
Monday, March 9, 2020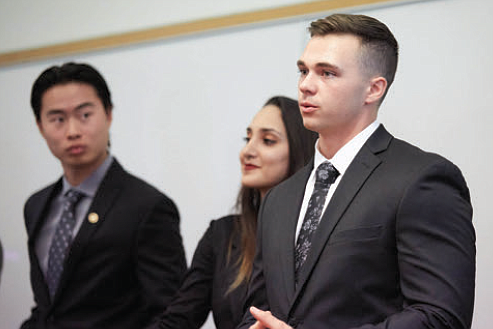 Your path to becoming a well-rounded leader and manager begins with an education designed to help you understand how organizations work, with an eye toward communication, teamwork, and integrity.
For 127 years, University of La Verne has helped executive leaders build these skills through affordable and flexible degree programs for professionals in corporate, nonprofit, education, entertainment, health care, and government roles.
Degree programs are offered at the university's central campus in La Verne, online, and at convenient regional locations, including Burbank, College of the Canyons, Irvine, Ontario, Oxnard, and Victorville.
They include:
• Master's in Accounting
• Master of Business Administration, (MBA) for Experienced Professionals
• Master's in Data Analytics
• Master's in Finance
• Master's in Health Administration
• Master's in Leadership and Management
• Master of Public Administration
• Doctor of Public Administration
The University of La Verne's MBA program is among the largest and most respected in Southern California. Online MBA Report ranked it as the No. 4 Online MBA program on the West Coast. And BestColleges.com identified the University of La Verne as one of the Best Online Colleges in California in 2018.
The MBA program prepares graduates to use information technology, allocate financial resources, design an effective organization, improve productivity, craft a strategic plan, and communicate effectively. Concentrations are available in accounting, finance, information technology, international business, management and leadership, marketing, supply chain management, and health services management.
The Master of Science in Leadership and Management (MSLM) immerses students in organizational leadership theory and helps them develop problem solving skills. Concentrations are available in organizational development, human resources management, and nonprofit management.
Both the MBA and MSLM are available in person or online.
The Master of Public Administration (MPA) prepares students for careers in the nonprofit realm or for leadership roles in the administration of local, state, and national government, and strengthens the competences of those currently serving in these fields. Accredited by the Network of Schools of Public Policy, Affairs, and Administration, the MPA program is ranked by U.S. News & World Report as one of the top graduate public affairs programs in Southern California.
All programs are taught by faculty with real-world expertise. Class sizes are small, which allows for individual support for students.
Rise to the top of your field with a degree from the University of La Verne.
Learn more at business.laverne.edu.
For reprint and licensing requests for this article, CLICK HERE.