Guess Backs Green Jeans
Retailer joins global denim initiative
Friday, March 6, 2020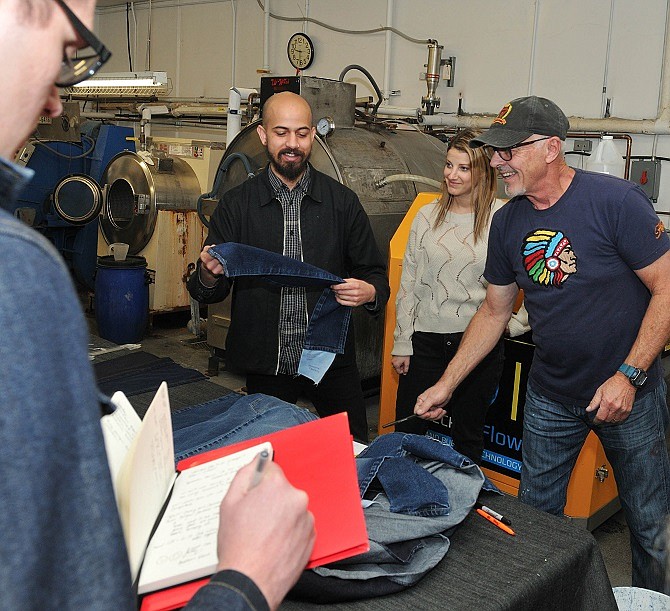 Guess Inc. isn't just about fit and fade anymore.
The downtown-based retailer has joined a consortium of brands putting a priority on denim's ecological footprint.
Guess recently adopted the Ellen MacArthur Foundation's Jeans Redesign guidelines, which provide minimum requirements for material sustainability, garment durability and recyclability.
"The Jeans Redesign program is a wonderful challenge because it requires us to reimagine how we make Guess denim," Chief Executive Carlos Alberini said in an email.
"We are proud of our progress so far to make more environmentally sustainable products, starting with our Guess Eco collections, and this partnership with the Ellen MacArthur Foundation is another step forward," Alberini added.
The foundation, a United Kingdom-based nonprofit, says it works with businesses, governments and academia to disrupt the "take-make-waste" economy and to promote a mindset that views manufacturing waste and pollution as a design flaw. The program launched in July with a handful of leading brands, including H&M Group, Gap Inc., Tommy Hilfiger, Lee and Mud Jeans.
In December, the foundation expanded the guidelines to enable fabric mills and garment manufacturers — including Advance Denim Co. Ltd. in China, Artistic Milliners and Soorty Enterprises Ltd. in Pakistan, Kipaş Textiles in Turkey, Denim Expert Ltd. in Bangladesh, and Saitex in Vietnam — to participate.
$59 billion market
The impact of these changes could be substantial. The global jeans market was worth $57.3 billion in 2018 and is set to reach $59.4 billion by 2022, according to a report issued by U.K.-based market researcher just-style.com.
The brands and the manufacturers that have adopted the Jeans Redesign guidelines have agreed to implement Zero Discharge Hazardous Chemicals wastewater guidelines, including testing and reporting, and to produce no more than 6.6 gallons of wastewater per yard.
Jeans made under the guidelines will last longer, be easily recycled and are made in a way that is better for the environment and the health of the garment workers, according to the foundation.
Guess, which posted $2.6 billion in revenue in its 2019 fiscal year, is already meeting some of the requirements — it doesn't use sandblasting, a technique prohibited by Jeans Redesign.
Guess' product guidelines require more environmentally friendly wash processes, including the use of reusable stones and potassium permanganate alternatives.
Improvements will focus on meeting the "material health" guidelines, including increasing the use of sustainable materials for its denim products to the 98% prescribed by the Jeans Redesign from the current 20%-60%.
Guess will also address recyclability in its fall collection, which will feature denim containing recycled content and meet the foundation's 98% cellulosic requirement.
There are still some sticking points, though, such as guidelines that call for metal rivets to be designed out and for any material added to the jeans to be easy to disassemble.
"Redesigning to minimize metal rivets and designing for disassembly is a new concept that is particularly challenging for fashion designers and customers alike, as it requires reconsideration of traditional denim construction," Guess said in a statement, adding that when it comes to durability, the company conducts wash tests to assure product quality and color fastness for 30 wash cycles.
The company's jeans may include "screw- back tack buttons or double shank tack buttons" that will be easy to remove, according to a report the foundation issued in December.
Students from the Fashion Institute of Design & Merchandising in Los Angeles are working in partnership with the Guess denim team through early spring to develop designs that satisfy both Jeans Redesign requirements and the brand's fashion aesthetic, according to the company.
Those concepts will be adapted by Guess and are scheduled to be commercially available for spring 2021.
The collaboration builds on Guess-sponsored sustainability classes at FIDM that started in 2016 and focus on zero-waste pattern making, eco-friendly fabric choices, product lifecycle and sustainability's role within the business of fashion. Guess provides books and supplies, reviews the curriculum, and sends its technical designers to mentor the students.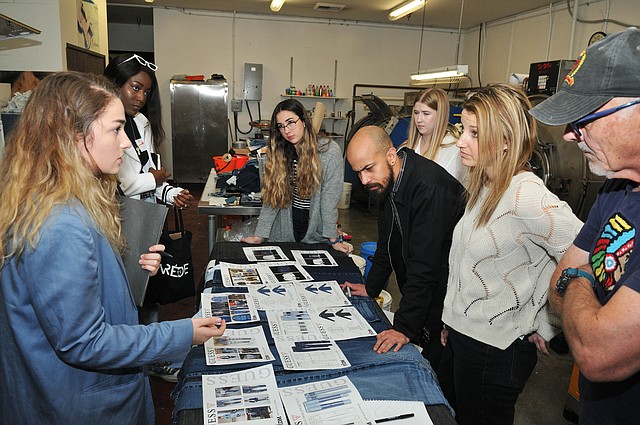 "The Jeans Redesign partnership with Guess is an exciting opportunity for our students to stay on the cutting edge of design," Amanda Starling, head of special projects at FIDM, said in a statement. "We are excited to give our students this opportunity to solve
real-world challenges when it comes to fashion and sustainability."
Several local brands have also implemented the Jeans Redesign guidelines. They include Outerknown, a Culver City-based apparel brand that pro surfer Kelly Slater co-founded in 2015. Outerknown launched S.E.A. Jeans in 2018, which are made with 100% organic cotton, and signed on to Ellen MacArthur Foundation's initiative last July.
"Outerknown's mission is to protect natural resources, empower the people crafting our clothes, and inspire change within the industry and beyond," Director of Sourcing and Sustainability Megan Stoneburner Azim said in a statement. "We're excited to participate in the Jeans Redesign to push the boundaries on sustainable practices and create significant environmental and social improvements."
'Thoughtful' approach
Another early adopter is Boyish Jeans, a Boyle Heights-based brand that specializes in "men's fabrics and fits tailored for a woman's body."
"Fashion is extremely wasteful, from disposing of old products to the whole supply chain, so we try to do our part to be as thoughtful as possible in every aspect of our operations," the company's founder and creative director, Jordan Nodarse, said in a statement. "We will offer our new products with the Guidelines the Ellen MacArthur Foundation put together in spring of 2020 in both our USA and European wholesale accounts."
For Reformation, a Vernon-based brand acquired by London-based private equity firm Permira Advisers Ltd. last summer, participation in Jeans Redesign was a "no-brainer," according to Yael Aflalo who founded the brand in 2009.
"The way most denim is currently produced is harmful to the environment," Aflalo said in a statement. "The conventional cotton farming process alone uses significant water and pesticides, and seriously toxic chemicals are often used to dye and finish denim. Our mission at Reformation is to lead and inspire a sustainable way to be fashionable."
For reprint and licensing requests for this article, CLICK HERE.