Store Owners Are Challenged
Pandemic, unrest tests their optimistic outlook
Monday, June 8, 2020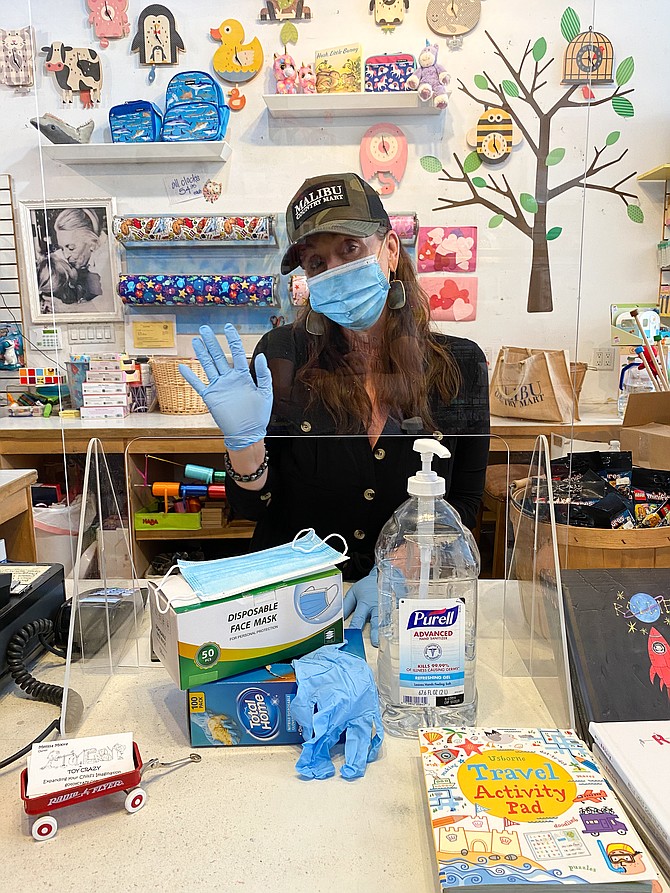 Marred by tepid consumer interest, countywide protests, curfews and looting, the retail reopening after the Covid-19 shutdown had a rough start to say the least.
But local merchants and industry experts are hopeful the recent difficulties are not an indicator of things to come.
"Understandably, it's incredibly scary for all retailers and all restaurants out there, and there's a lot of anxiety as to whether the customers are going to come back and whether they're going to spend like they used to," said Mike Rielly, managing principal at SRS Real Estate Partners' Los Angeles office.
"My personal belief is that as a society globally, and especially in America, we're very resilient, and we have thankfully, a very short memory, in a good way. The human nature is always about pushing the boundaries, and I think that customers will absolutely come back (and) mall traffic, street traffic, shopping centers traffic will resume at a normal pace.
"I don't know is that six months from now, 18 months from now, or two years from now, but I've got a high level of confidence that we will at some point in time."
Fraser Ross, who owns the high-end Kitson boutique, as well as Kitson kids and outlet stores on Robertson Boulevard, said business was off to a strong start after reopening, but the social justice demonstrations and curfews quickly squashed the early sales momentum.
"Customers were coming back. Not what we used to have, but every day the traffic was increasing, and you saw some kind of sense of normalcy," he said. "We were supposed to bring back three more employees on Monday, but the looting started Saturday night, so we held them off until we decide what we're going to do."
One of his stores, Kitson L.A. Outlet, was looted on May 30. Ross, who estimated stolen inventory and property damage at about $300,000, joined with nearby merchants and hired an armed guard to watch over their businesses until the looting subsides. That's in addition to the California National Guard troops deployed throughout the city.
"It's a problem, because the recovery after this is much greater than the Covid-19 will ever be," he said. "You can protect your safety, you can put on masks and gloves, and practice social distancing, but with this … you've got to really be locked down. There's two Army guards on every block all down Melrose. It's unbelievable."
Signs of hope
Tracy Park, who has been with Toy Crazy Inc.'s Malibu store for 26 years, sees reasons for optimism.
"I used to have 30 to 40 customers a day, and unfortunately, now I'm only seeing between two and nine a day. But the birthday parties will still happen, people still need to buy presents … baby gifts and beach buckets. …" Park said. "So going forward, I am not particularly worried about our business making a full comeback. Maybe that's naive. I understand people have been stuck at home and they're used to shopping online, but I don't think they like it. Our customers like to come in."
Park manages one of four stores owned by her best friend, Melissa Moore. The retailer, which doesn't have an ecommerce website, had to shut down all locations during the pandemic and furlough its employees.
"We were forced to close, and with no online presence, we had no sales for eight weeks," Park said. "It was really tough." 
Toy Crazy opened for curbside pickup on May 8, and Park welcomed customers back inside the store on May 26. Some of the protocols had to change — everyone is asked to wear a mask while shopping, and the store's popular wooden train playset, which kept kids occupied while their parents shopped, had to be put away along with other hands-on toys.
"It's like in the 1960s when we used to shop with your eyes, and you didn't touch anything," she said. "We're doing the best we can to ensure everyone's safety here."
Park attributed the slow start in sales to school closures. "Our business is mostly parents coming in here during the day when their kids are at school," she said, adding, "Right now everyone's being homeschooled, so they're not out and about like they used to be." 
For many merchants already facing lost revenue due to the pandemic and the impact of civil unrest, making the rent poses another major challenge.
Working with landlords
Before the civil unrest, Kitson owner Ross was battling his landlords over the $46,000 he pays in rent each month — he argued the pandemic-related shutdown should be a good enough reason for them to forgo the rent until business returns to normal.
He said the landlords offered him a temporary reprieve, with the full amount to be repaid by August. But with local unemployment rates hovering at about 20% and little to no tourism traffic, Ross is worried it will be hard to meet that deadline.
"We're not going to make any money for maybe the rest of the year," he said. "We're going to have to work extended hours more than ever. There's no vacations. We're just trying to keep the business afloat and to keep the city looking good. … Los Angeles gets 50 million tourists a year, and that's a big part of our business … the Saudis in the summer, it's unbelievable how much revenue they bring to the city."
SRS Real Estate Partners' Rielly sees signs that landlords and tenants are working to meet somewhere in the middle.
"For the most part, I see a lot of dialogue going on," he said. "It's not always exactly what those parties want, but they are trying come up with a solution that's beneficial for both parties, and in some cases, landlords are very resistant.
"And then I've seen some ownership groups that have what I feel is the right mentality, which is a very partnership-based mentality to get through these difficult times."
For reprint and licensing requests for this article, CLICK HERE.