Hollywood Bed Makes First Acquisition
Monday, July 27, 2020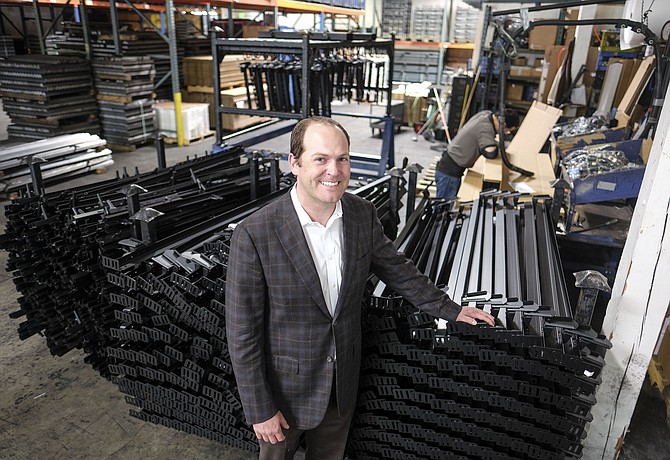 Hollywood Bed & Spring Mfg. Co. Inc., a 75-year-old bed frame manufacturer, just completed its first acquisition.
The Commerce-based company acquired the Linwood Hospitality division from its competitor, Leggett & Platt Inc., based in Carthage, Mo. Terms were not disclosed.
The deal will expand Hollywood Bed's reach into the hotel and college dorm sectors, which have been heavily impacted by Covid-19 shutdowns.
"It was just an interesting timing to be doing it in the middle of the pandemic, and I think a lot of people would say it's kind of crazy, but we are pretty confident this is a great opportunity for us," said Hollywood Bed President Jason Harrow.
"This purchase is not for the economy today. I'm looking at it as an investment in the long-term future," he added.
Harrow, who joined the family business in 1997, has a legacy to uphold. His grandfather Irving Harrow, an immigrant from Poland, started the company in 1945 by delivering bed frames he made to furniture stores in the Los Angeles area.
Today, the family business has 140 employees and counts Walmart Inc., Target Corp. and Costco Wholesale Corp. as its bread-and-butter customers. In addition to bed frames, it also makes bed bases, platform bases, portable beds, bunk springs, daybed hardware and various other bedding products.
The Business Journal estimates the company's annual revenue to be between $40 million to $60 million.
The negotiations for Linwood have been going on for a while, according to Harrow.
"I had approached them to see if they might be interested about a year and a half ago, and we've been talking on and off. And finally they decided it's probably time to divest," he said.
The deal will enable Hollywood Bed to expand its manufacturing and distribution operations to better serve its customers on the East Coast.
Hollywood Bed's 100,000-square-foot factory in Commerce makes about 1 million steel bed frames every year while Linwood has a 115,000-square-foot factory in North Carolina, 49 workers, and caters mostly to major hotel chains, prisons and universities.
"This allowed us to get into new markets for us — the college dormitory, prison beds — which we haven't been in before," Harrow said. "It also gives us a very strong foothold in the hospitality and hotel/motel business as well."
The manufacturing processes at the two facilities are somewhat similar according to Harrow, except for painting processes.
"They use a powder coat paint system, where we have a liquid dip paint system, so we get additional flexibility for painting," he said.
The acquisition also prompted Harrow to promote several people in the company's management, including Larry Leeb, former vice president of sales and marketing for the hospitality division who assumed the role of chief revenue officer.
Phillip Herrin, former vice president of business development for the company's home furnishings division, has been appointed vice president of sales and marketing for the hospitality and contract division.
Harrow's father, Larry, serves as the company's chairman and chief executive, and is involved on a "project-by-project basis," according to Harrow.
Nishen Radia of Sawtelle-based Focal-
Point Partners served as the financial adviser for Hollywood Bed while Jordan Hamburger of Century City-based Sheppard Mullin Richter & Hampton provided legal counsel during the acquisition.
For reprint and licensing requests for this article, CLICK HERE.