SpaceX Hits Key Milestones With Latest Launch
Originally published July 21, 2020 at 11:24 a.m., updated July 24, 2020 at 10:39 a.m.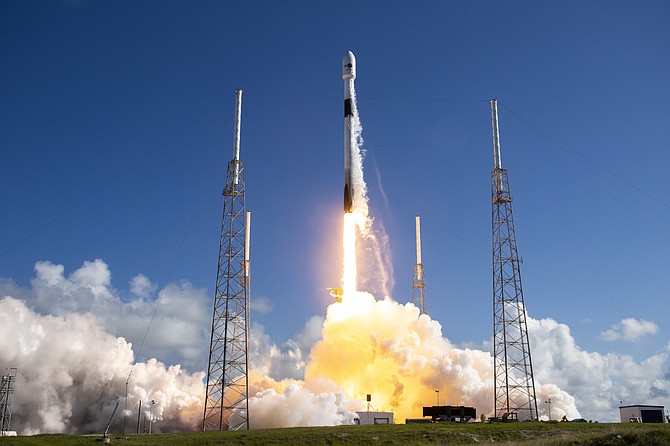 Space Exploration Technologies Corp. achieved two milestones with the July 20 launch of a Falcon 9 rocket carrying Anasis- II, a South Korea military satellite.
The mission marked the fastest turnaround use of a booster rocket by the Hawthorne-based aerospace company. It was also the first time SpaceX managed to catch both halves of the rocket's nose cone, or fairing, following a launch.
The Falcon 9 rocket lifted off at 5:30 p.m. Eastern Time from Space Launch Complex 40 at Cape Canaveral Air Force Station in Florida, following a 30-minute delay due to weather conditions.
Following stage separation, the company successfully landed the Falcon 9's first-stage booster on Just Read the Instructions, a droneship stationed in the Atlantic Ocean. The Anasis-II spacecraft deployed about 32 minutes after liftoff.
The first-stage booster was previously used fewer than than 60 days ago to launch the Crew Dragon capsule that carried NASA astronauts Robert Behnken and Douglas Hurley to the International Space Station.
Soon after the July 20 launch, SpaceX ships caught both halves of the Falcon 9's nose cone, according to a tweet from company founder and Chief Engineer Elon Musk.
SpaceX had previously only caught single halves of the nose cone or had collected them from the ocean. The ability to catch the nose cone halves will reduce launch costs for the company, which is already able to save money by reusing its booster rockets.
SpaceX is also preparing for its second crewed flight of the Crew Dragon spacecraft, which is planned for September.
That mission will follow the return of Behnken and Hurley. NASA is targeting Aug. 1 for the astronauts' departure from the International Space Station in the Crew Dragon capsule.
"Weather will drive the actual date," NASA Administrator Jim Bridenstine said in a tweet.
SpaceX's next mission with the agency, named Crew-1, will carry NASA astronauts Victor Glover, Michael Hopkins, Shannon Walker and Japan Aerospace Exploration Agency astronaut Soichi Noguchi to the International Space Station. Although it will be the second time SpaceX's Crew Dragon will ferry astronauts to the space station, it will be the first in a series of regular, rotational NASA missions by SpaceX.
For reprint and licensing requests for this article, CLICK HERE.