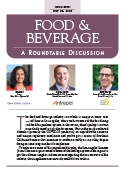 Custom Content from the Los Angeles Business Journal
---
Food & Beverage Roundtable
The food and beverage industry as a whole is unique in many ways — and here in Los Angeles, where we have some of the best dining and food-for-purchase options in the nation, there's perhaps an even more finely tuned set of rules for success. Stir in this year's uncharted obstacles (primarily the COVID-19 pandemic), an unpredictable economy and unique regulatory conditions and you've got a sector of Southern California business that continues to evolve as swiftly as any other, despite facing an increasing number of complexities. To make some sense of this unpredictable realm, the Los Angeles Business Journal has once again turned to some of the leading experts in the region to get their diverse insights and assessments regarding the current state of the industry that Angelenos most certainly couldn't live without.
---
For the Roundtable Discussion
Click Here.
---
Also Inside This Supplement:
New Research Reveals Food Shoppers See Transparency as Essential
The 2020 research touts the rationale for how 81% of shoppers say transparency is important or extremely important to them both online and in-store… Read More
---