Cargo Volumes Decline Again at LA, Long Beach Ports
Monday, July 20, 2020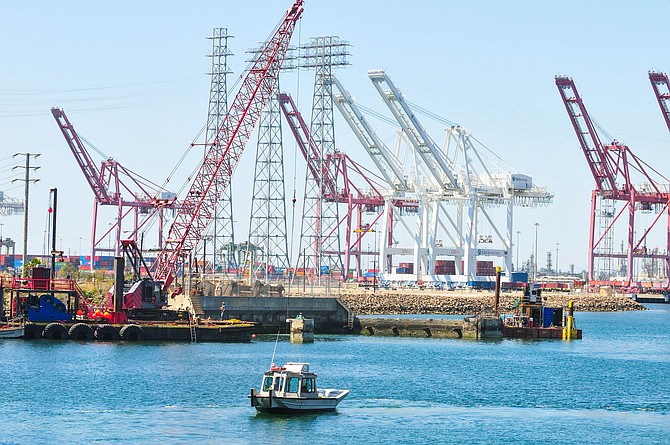 It looks like June gloom will continue to hover over the San Pedro Bay ports into the foreseeable future.
Cargo volumes at the ports were down last month as expected, according to port officials, who projected that year-end totals will likely dip below levels reached during the 2007-2008 recession.
At the Port of Long Beach, dockworkers and terminal operators moved 602,180 twenty-foot equivalent units in June, an 11.1% decrease compared to the same month in 2019.
Imports decreased 9.3% to 300,714 TEUs, and exports dropped 12.2% to 117,538 TEUs during the period. Empty containers volume dropped 13.1% to 183,928 TEUs.
Port of Long Beach Executive Director Mario Cordero attributed the decrease to canceled sailings that "continued to rise at a rapid rate in the second quarter as ocean carriers adjusted their voyages to a decline in demand for imports during the national Covid-19 outbreak."
A similar scenario played out at the Port of Los Angeles last month.
Cargo volumes there totaled 691,475 TEUs in June, a 9.6% decrease compared to the same month in 2019. Imports were down 6.8%, exports decreased 21.3% and empty containers dipped 7.2%.
"Given the circumstances, we're not in bad shape for the month of June — I'll take this number of 691,475 (TEUs) during the midst of an unsettled trade war and the global pandemic that we're working through today," Executive Director Gene Seroka said during a press conference on July 15.

Results for June were actually better than those posted for May when the Port of L.A. reported moving 581,665 TEUs, a 29.8% year-over-year decrease.
"We began to see retailers replenishing omnichannel distribution inventories, and canceled sailings have slowed," Seroka said. "Although we did see some vessel shift of services over to Long Beach halfway through the year, right now we've improved just a bit and are tracking 17% behind 2019 at the mid-year point."
During the first half of 2020, cargo shipments at the Port of Long Beach totaled 3,433,035 TEUs, 6.9% less than the same period last year. Imports were down 8.5%, exports were flat and empty containers dipped 8.8%.
The San Pedro Bay ports complex reported 104 canceled sailings to date, up from 41 in the first half of 2019. The Port of Los Angeles had 67, and the rest were destined for the Port of Long Beach.
The ports already have five canceled sailings on the books for the next three months as the traditional holiday peak shipping season ramps up during the third quarter. No blank sailings were reported by either port during the same period last year.
"For the balance of year 2020, we show that we will be at levels at or below those witnessed during the Great Recession a decade ago," Seroka said, adding that he expects the total cargo volume for the year to dip to 7.9 million TEUs. The port handled 9.3 million TEUs in 2019.
The Port of Long Beach wrapped up 2019, its second busiest year on record, with 7.6 million TEUs moved, a decrease of 5.7% from the record-setting pace it logged in 2018. The port did not provide a year-end forecast.
For reprint and licensing requests for this article, CLICK HERE.