Aerojet Rocketdyne Completes Rocket Hardware for NASA Lunar Mission
Monday, July 20, 2020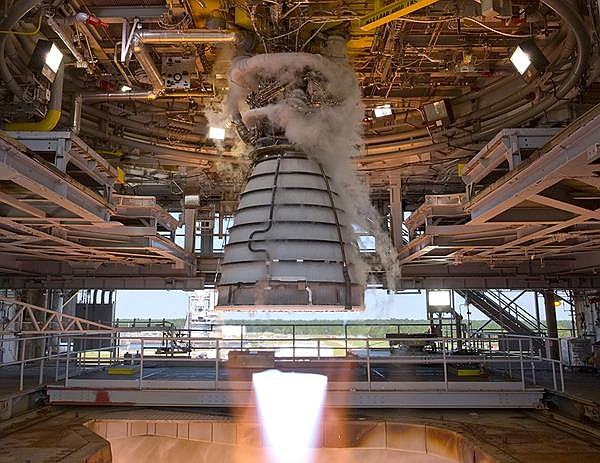 El Segundo-based Aerojet Rocketdyne has completed the propulsion hardware for NASA's Space Launch System rocket and Orion spacecraft.
The hardware will be used in NASA's Artemis II mission, the second of nine planned launches in NASA's lunar exploration program.
Artemis II is expected to launch in August 2023. It will be the first crewed spacecraft to fly around the moon and the first mission since 1972 where a crewed spacecraft will leave low Earth orbit.
"These are very exciting times for both NASA and the nation," Eileen Drake, president and chief executive of Aerojet Rocketdyne, said in a statement. "The United States is sending humans beyond low Earth orbit for the first time in nearly 50 years, and we are traveling even farther with Artemis than we did with Apollo."
According to the July 20 announcement, Aerojet Rocketdyne assembled and tested four RS-25 engines and an RL10 engine to be used on the mission. The RS-25 engines are manufactured at the NASA Stennis Space Center in Mississippi while the RL10 is manufactured at Aerojet Rocketdyne's facility in West Palm Beach.
The RS-25 engines will provide around 2 million pounds of thrust power to the SLS rocket, which NASA said will be the most powerful in the world. The RL10 engine will accelerate the Orion spacecraft to speeds of more than 24,000 miles per hour for the crew to reach the moon.
The engines will be installed onto the SLS's Interim Cryogenic Propulsion Stage, which is currently being manufactured by Boeing Co. and United Launch Alliance.
NASA has contracted Aerojet Rocketdyne to produce 18 engines for the SLS rocket in a deal that's worth nearly $3.5 billion and runs through 2029.
"[Artemis II] is a key precursor to landing the first woman and the next man on the moon," Drake said in a statement. "Aerojet Rocketdyne propulsion systems will play a critical role in making this endeavor a reality."
For reprint and licensing requests for this article, CLICK HERE.