Economists Say June Jobless Gain Is Only Temporary
Originally published July 17, 2020 at 4:39 p.m., updated July 24, 2020 at 9:57 a.m.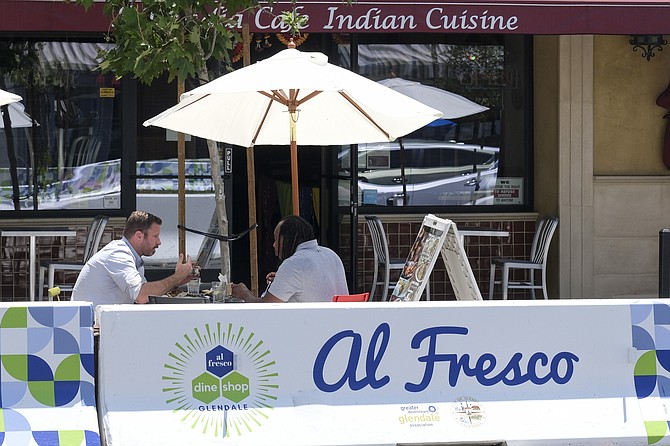 Call it a temporary reprieve.
L.A. County's unemployment rate dipped to 19.4% in June from a record high of 21.1% in May as the economy reopened around Memorial Day and local employers added back a record 147,000 jobs in subsequent weeks.
But local economists agree that this improvement will be short-lived. They say the jobs picture will once again deteriorate in July due to shutdown orders renewed on July 13 by Gov. Gavin Newsom and Los Angeles Mayor Eric Garcetti in light of another surge in coronavirus cases.
"Last month, we were picking up the pieces and entering recovery; now the pieces have fallen again," said Shannon Sedgwick, director of the Institute of Applied Economics at the downtown-based Los Angeles County Economic Development Corp.
The gain in June was dramatic. State Employment Development Department figures showed the county recorded its largest single month gain in payroll jobs, 147,000, led by the accommodation/food services sector, which gained back 55,000 jobs. Thousands of jobs were restored in every sector except local government, which shed 6,000 jobs.
Even protests and looting in several parts of the county in the aftermath of the death of George Floyd didn't slow the nascent economic recovery.
But all that changed with the reimposition of business shutdown orders.
"We need to batten down the hatches as the rising virus infection and the rollback of the economic opening have cast a big shadow over the economic outlook," Sung Won Sohn, professor of finance and economics at Loyola Marymount University in Westchester said in online comments after the release of the employment report.
Because L.A. County is a major epicenter of the virus, Sohn said, the area is likely to be hard hit.
The county's economy is more vulnerable than others in the state and nation, local economists say, because it has higher concentrations of jobs in two of the sectors most ravaged by business shutdowns: hospitality/leisure and entertainment.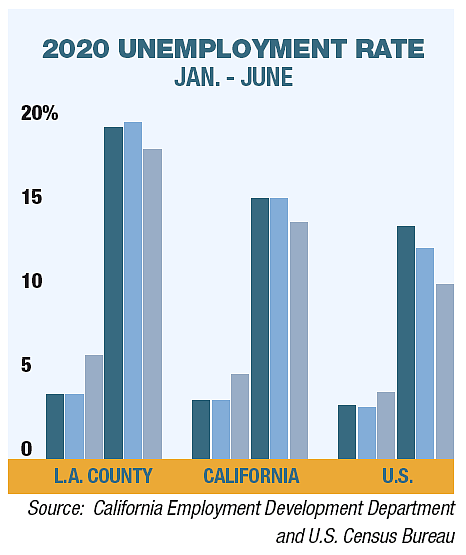 "Tourism and Hollywood — that's where L.A. stands out, and with Covid-19 we are now more exposed in those areas," said Christopher Thornberg, founding partner of Westchester-based Beacon Economics.
Several other factors are likely to combine in coming weeks to add additional downdrafts.
First, unless Congress extends supplemental unemployment insurance payouts of up to $600 per week, the higher benefits that have been sustaining many households will expire July 31.
The idea behind the supplemental payments was to give people who had been furloughed enough cash to get by until the economy reopened. But that reopening prospect is now receding again.
"This (supplemental benefit) has really helped buoy local households," the LAEDC's Sedgwick said. "If that is not extended, we will see many households drastically reduce consumption and have trouble paying their bills."
That, in turn, will have a reverse multiplier effect, she said, reducing demand for goods and services throughout the local economy.
And there are signs that the number of new unemployment insurance claims filed may have bottomed out. Californians filed more than 290,000 new claims for unemployment during the week ending July 18, the federal Labor Department reported July 23. That's slightly higher than the 289,000 claims filed during the previous weeks, ending several weeks of declines in filings. And it brings the total claims filed between March 8 and July 18 to nearly 7.1 million.
Then there's the Paycheck Protection Program — forgivable loans to businesses as long as they keep workers on their payrolls and another temporary measure designed to tide employers over until they can reopen. Some of the payments lasted only eight weeks while other payments last up to 24 weeks.
Congress can still act to extend or alter the program as there is still more than $100 billion in untapped loan funds available.
But unless that happens, with many businesses that received PPP loans now back in shutdown mode with no end in sight, the local economy is poised to take another hit.
"We expect to see more businesses that were on the brink of closing actually close this time," said Tyler Laferriere, associate economist at the Institute for Applied Economics at the LAEDC. That, in turn, would drive the local unemployment rate up again, he said.
Even if businesses don't actually close their doors, with reduced consumer demand looming, many will permanently cut their payrolls. That means many employees who were furloughed could be laid off.
That trend has already begun, according to the California Center for Jobs and the Economy, a Sacramento-based research organization affiliated with the California Business Roundtable, an association of mostly large companies doing business in the state.
"The number of permanent layoffs is also growing," the center said in its analysis of the June employment data. "Nationally, the initial round of layoffs captured in the April data showed only 10% of layoffs were permanent.
"The June numbers show the share of permanent layoffs has jumped to 20% as employers, especially small businesses and employers in some of the hardest hit industries such as travel and food service, have had to make hard choices" the center added. "The Center's analysis … indicates the same trend towards permanent layoffs is occurring in California."
But not all local economists agree that another major economic downturn looms.
Beacon's Thornberg said most businesses that survived the first round of shutdowns will adapt and survive this next round. One of the key survival mechanisms — moving more of their business online.
"Business owners are figuring out more ways to cope," Thornberg said.
For reprint and licensing requests for this article, CLICK HERE.