Apparel Firm Shon Simon Was Ready for Mask Demand
Monday, July 13, 2020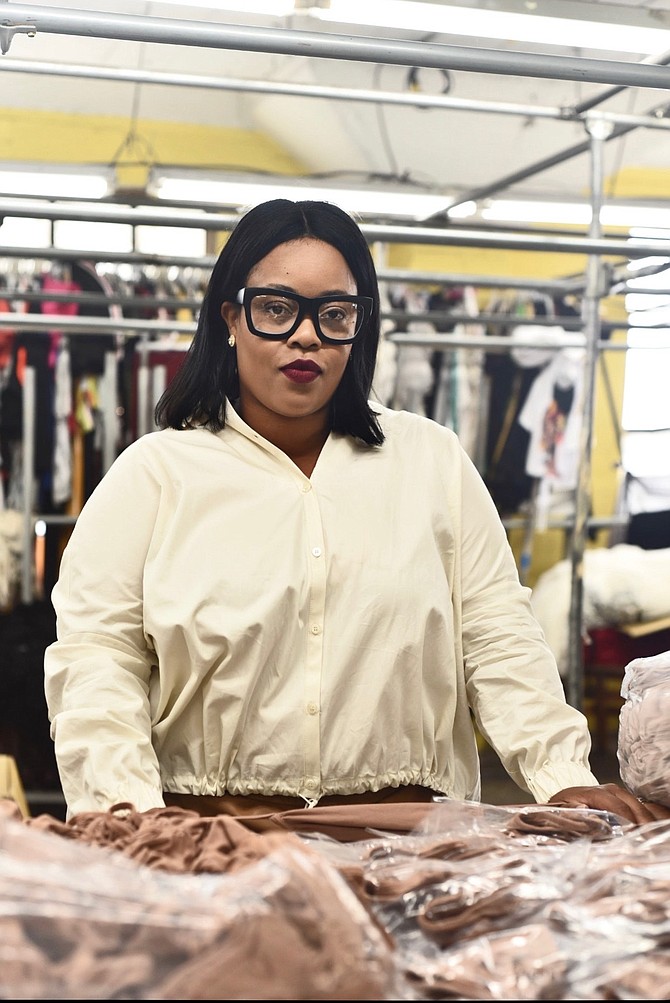 Sometimes, ignoring advice from the Centers for Disease Control and Prevention pays off.
In the early days of the pandemic, the federal agency discouraged the use of nonmedical masks as an effective tool to prevent the spread of Covid-19.
Shon Michaux-Simon did not listen. Anticipating a widespread need, her downtown-based apparel manufacturer, Shon Simon Co., was already in a full swing sewing rayon modal fabric masks.
"I was like, 'Well, I prayed about it, and God told me to make these masks,' and so I started making them," Michaux-Simon said. "Then when the CDC and the news said, 'There's a shortage, just please wear something,' we were already prepared for the rush."
Early bulk orders included shipments to several corporations, such as United Parcel Service, Chick-fil-A Inc., McDonald's Corp. and Bloom Energy.
"A lot of those entrepreneurs, they bought one just to test it, and they loved it," Michaux-
Simon said. "One lady, she worked for (Williams Cos. Inc.) and she turned us on to her VP, and then they purchased over 30,000 masks for their employees. It was amazing."
A nod from Wired magazine, mentioning her products in the "15 Face Masks We Actually Like to Wear" article, also helped spread the word and provided a direct link to her website.
Michaux-Simon worked as a celebrity make-up artist before pivoting to apparel manufacturing in 2018. The business initially focused on her own designs and flopped.
"I invested about $50,000 into the line, and the patterns weren't correct, and it was just a big letdown," she said, adding that she incorporated the lessons learned and started manufacturing for other brands, relying on her industry connections to get work.
Prior to the pandemic her clients included Tyra Banks and Guess Inc., the latter hiring her to make clothes for its brand ambassadors Drake, Jennifer Lopez and J Balvin.
When Mayor Eric Garcetti's Safer at Home order shuttered all nonessential businesses, Michaux-Simon worried whether her former colleagues in the beauty industry would be able to make ends meet. She provided them an option to buy her masks in bulk at a low price and then resell them for profit. About 2,000 of them took her up on her offer.
Michaux-Simon also asked her 90,000 social media followers who have been affected by the pandemic to reply to her Instagram posts and tell her what bills they are not able to pay. Some listed car payments, others asked her to cover their rent or utility bills. So far, she said she has spent "well over $100,000," and 85% of those who benefited sent her back a receipt showing that they paid their bills.
"We wanted to really make sure we were out in the community, doing our part in helping people trying to stay afloat during this time," Michaux-Simon said.
For reprint and licensing requests for this article, CLICK HERE.