Ports Finished 2019 on Down Note
Tariffs take a toll as traffic falls from 2018 level
Friday, January 24, 2020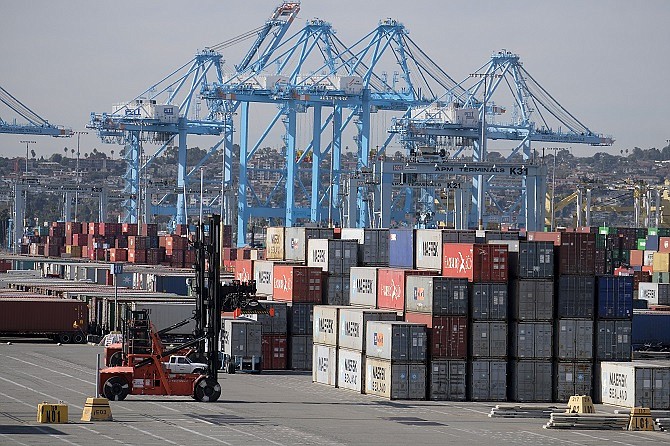 The trade war took a toll last year on the ports of Los Angeles and Long Beach, which saw cargo volume dip below the record levels reached in 2018.
The Port of Los Angeles moved 9,337,632 twenty-foot-equivalent units (TEUs), the standard measure of cargo, in 2019 — a 1.2% year-over-year decrease. Its December cargo volumes were 746,749 TEUs, a 17% drop from December 2018. Imports for the month were down 20.3%, and exports dipped 12%.
"Even with a 'Phase One' trade deal now inked with China, the use of trade taxes to advance policy may now be the new normal," Port of Los Angeles Executive Director Gene Seroka said at the annual State of the Port event hosted by the Pacific Merchant Shipping Association on Jan. 16.
"We have seen 14 consecutive months of export declines. That is a challenge. So, we're collaborating to adapt to new trade patterns, aggressively pursue export markets and continue to innovate," he added.
The Port of Long Beach wrapped up 2019 with 7,632,032 TEUs moved, a decrease of 5.7% from 2018. Imports were down 8.3% to 3,758,438 TEUs for the year while exports totaled 1,472,802 TEUs, down 3.3%.
Long Beach also posted double-digit declines in December ― terminal operators and dockworkers moved 665,261 TEUs for the month, a 10.3% drop year over year. Exports were up 10.6% compared to December 2018, leveling out a 13.4% drop in imports and 15.1% decline in empty containers.
Seroka outlined several initiatives the Port of Los Angeles is looking to implement this year, including a new memorandum of understanding with the Port of Long Beach "focused on increasing the competitiveness of our shared gateway."
His team plans to launch a Terminal Efficiency Incentive Program to decrease the time trucks spend at the Port of Los Angeles.
"Depending on the percentage a terminal can reduce truck turn times, they will be monetarily rewarded on each container unit," he said. "The higher the percentage of reduction, the bigger the reward."
The Port will also "accelerate" its digital transformation, which currently consists of Port Optimizer, a cloud-based platform that aggregates data on 95% of containerized imports.
"Moving toward this new reality, Wabtec, our digital partner in the Port Optimizer, is participating with TradeLens, one of the industry leaders in blockchain, to explore end-to-end supply chain data-integration," Seroka said. "Wabtec is also working on digital connectivity with (CargoSmart Ltd.), a collaboration that will further encourage openness and innovation."
Digital transformation will also include a move to protect the collected data via the Cyber Security Operations Center that Port officials plan to complete by 2021.
The Clean Air Action Plan was also on the agenda at the State of the Port event. In the 2017, the ports proposed transitioning to a fleet of zero-emissions trucks by 2035. The ports also plan to incentivize the use of cleaner, low-nitrogen oxide trucks in the near term by asking cargo owners to pay the clean truck rate to help finance the replacement of older, more polluting trucks.
Seroka anticipates the ports will finalize the rate this year, which, if adopted as proposed, will collect nearly $90 million in annual fees.
"Our goal with the clean truck rate is to accelerate emission reductions without jeopardizing cargo volume or jobs," he said. "We will also make sure the trucks currently in operation remain clean by working with the (California) Air Resources Board to develop a smog check program focused on drayage trucks. To meet our long-term clean air goals, we are currently working on 16 zero and near-zero emissions projects to identify cost-effective emissions reduction with commercially available technology."
The port is also working with ocean carriers and harbor craft operators to test new equipment to reduce ship emissions, he added.
For reprint and licensing requests for this article, CLICK HERE.