Destination Arizona: Buffalo Collection: Modern Luxury, Old World Charm
Custom Content by the Los Angeles Business Journal
Monday, January 13, 2020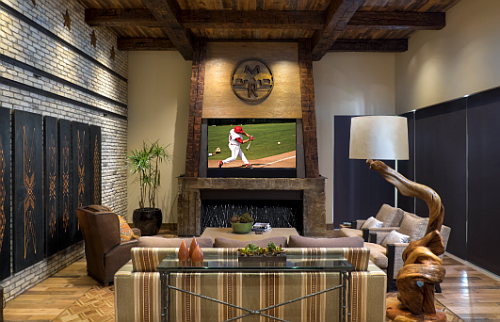 Nestled in the heart of Old Town Scottsdale, Buffalo Collection is a destination not to be missed. Like the neighborhood it inhabits, the stunning gallery space expertly blends modern luxury with Old World charm.
Surrounded by specialty shops and bistros, the boutique showroom is the true essence of luxury, featuring museum quality fine art and impressive high-end furniture. When you first enter the sunlit space, your eyes are immediately drawn to the walls where bold, dramatic contemporary Western images are captured in vivid detail. Beneath these paintings and wall art, custom tables are decorated with one-of-a-kind masterpieces such as extraordinary Bronze, Gourd and Glass sculptures. A collection of perfectly curated art, each piece is handcrafted by passionate, talented Western artisans.
Not to be outdone, the furniture on the showroom floor is as beautiful as the art surrounding it. Buffalo Collection brings you a comprehensive line of comfortable, luxury sofas and chairs, created from exquisite American Buffalo leather. Bison leather is truly unparalleled in it's luxurious, strong & supple texture. Twice as thick as cowhide & forty percent stronger, with its inherent collagen structure. Specializing in custom designs, pieces are made to order for each client with customized details. Clients can choose from a vast array of rich Buffalo leather colors and select intricate detailing such as hand braiding, nail head, fringed or woven accents. Each furniture item is built of heirloom quality in America utilizing the finest of materials including strong hardwood frames, hand-tied springs, sumptuous textiles & finished with down-topped cushions. Experience extreme comfort with casual elegance, designed to fit your esthetic. Whether in classic or contemporary settings, these handsome pieces fit perfectly on a ranch as well as in a downtown loft.
In addition to original artwork and custom furniture, the gallery displays home furnishings which include incredible pillows, unique tables, fabulous lighting, exceptional antiques & accessories, that work ideally for refined mountain rustic to urban chic homes. Besides the residential arena, Buffalo Collection also specializes in offices, hospitality & commercial projects.
Owner Laura Levenberg has always been inspired by the American West and celebrates its spirit within their collection.
"Growing up in the Midwest in an avid skiing family, I fell in love with the West on my first ski trip to Aspen," said Levenberg. "Loving the open-minded environment, wide open spaces, the colors & warmth of the West, our business exudes all of this. I am thrilled that our collection has its roots from the American iconic mammal."

Like the eye-catching art and distinguished furniture they showcase, the Levenbergs are committed to honoring Buffalo Collections' past while bringing it forward into the future.
Buffalo Collection originated on a Bison Ranch in Western Colorado in the late 1990s. It was founded by a botanist who was intent on restoring a native Buffalo range and developed a local Buffalo meat business in the process. As the business grew, guest lodges were established on the ranch, which were outfitted in outstanding Buffalo leather furniture. The ranch hosted a plethora of visitors including executives, wedding parties, fly fishermen, river rafters, hunters, & cowboys. Guests were intrigued & interested in having this impressive furniture in their own homes & ranches; hence the Buffalo Collection was born.
With a previous showroom in Aspen, the Levenbergs relocated the heart of the business from Colorado to sunny Scottsdale in 2011, opening their remarkable flagship store. In 2016, they enlarged the showroom to approximately 3600 feet.
Today, Laura & Michael keep the collection fresh by traveling across the West each summer to meet with prospective artists and to hand-select extraordinary pieces for the upcoming season. They have expanded their Buffalo leather furniture line to include a variety of design aesthetics, offering everything from the more traditional Ranch Club style collection to the mid-century modern style Colorado collection and more.

Owner Michael Levenberg talks about the process of choosing a new artist for their showroom.
"First, do we like them personally as an individual & feel we will work well together and also do we feel that the merit of their work is of the highest quality, then finally that their work would be a good fit for the gallery?"
Whether they're introducing new generations to traditional Western artists, like Robert Rivera and Dan Deuter, or creating sleek modern furniture with classic materials and handcrafted details, the Levenbergs strive to create a collection that bridges the timeline from an older, simpler way of life to today's contemporary, more sophisticated lifestyles. Their incredible gallery in Old Town Scottsdale provides the perfect space for the two worlds to meet.
Heading into the next decade of the 2020s, enhance your lifestyle and let Buffalo Collection help you create comfortable, luxuriously chic pieces for your home. Working closely with each client on a personal level, bringing your visions to life.
Buffalo Collection also offers White Glove Delivery within the continental United States and Worldwide shipping.
Buffalo Collection is located at 7044 E. 5th Ave Scottsdale, AZ 85251. To learn more, visit BuffaloCollection.com or call (480) 946-3903.
For reprint and licensing requests for this article, CLICK HERE.