Tech: SpaceX enters launch mode while telecoms look to dial up 5G
Friday, January 3, 2020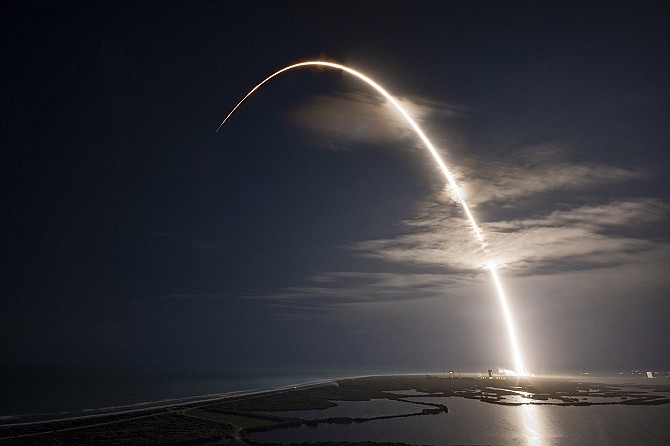 Home of L.A.'s most innovative technology companies made bold promises in 2019. Now investors and consumers will be watching closely to see if they can deliver in 2020.
Hawthorne-based Space Exploration Technologies Corp., for instance, has a robust schedule of small satellite launches and International Space Station resupply missions this year.
SpaceX is also looking to advance its crew capsule technology. The Elon Musk-helmed company is set to launch its first crewed flight in May 2020, followed by a second launch in November. The effort is expected to revitalize NASA's long-stagnant commercial crew program.
In addition, Musk, SpaceX chief executive and chief engineer, plans to launch a "constellation" of high-speed internet satellites in low Earth orbit on the company's Falcon 9 rockets in 2020.
SpaceX President Gwynne Shotwell has said Musk intends to use the satellites to offer broadband services in the United States by midyear.
Another innovation, 5G technology, is expected to arrive in L.A. this year.
Telecommunications carriers such as Verizon, T-Mobile and AT&T have all said they intend to roll out the faster network for mobile devices in coming months.
To do so, the companies will have to build out existing networks to cover a greater geographic range. And they will have to sell consumers on purchasing new mobile devices capable of utilizing the next-generation network.
On the gaming front, Activision Blizzard Inc. is expected to evolve its key games, including franchises such as "Call of Duty," while also dropping new titles.
The company's new "Call of Duty" nations esports league is scheduled to kick off its first season Jan. 24, adding a new revenue stream for the company.
Activision also said it will capitalize on several successful remakes released in 2019 to develop new gaming franchises.
West L.A.-based Riot Games Inc. enters the year with a new third-party publishing arm, Riot Forge, which plans to release its first title sometime in 2020.
Riot Games executives are hoping to revitalize existing intellectual property from its flagship game, "League of Legends."
Analysts predict esports will continue to grow exponentially in audience and player base, as well as in sales, and that Los Angeles will remain a key part of that evolution.
November is expected to bring a new version of Microsoft Corp.'s Xbox as well as Sony Interactive Entertainment's Playstation 5, which means publishers will be scrambling to develop titles playable on the new tech.
Keep Reading: 2020 Year-Ahead Special Report
For reprint and licensing requests for this article, CLICK HERE.