Coming Soon: What's Underway for Hollywood Park Complex
Friday, January 3, 2020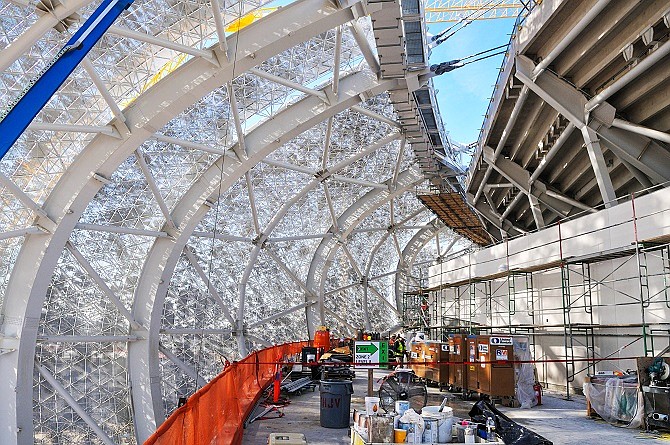 The stadium is set to open July 25 with the first of two concerts by Taylor Swift. The Rams and Chargers will then play preseason games at the stadium with their respective home openers to follow in September.
SoFi Stadium will host the Super Bowl in February 2022 and half of the opening ceremonies for the 2028 Summer Olympic Games (with the other half taking place at the Los Angeles Memorial Coliseum).
The Stadium complex
That translucent roof won't just cover the stadium. It will stretch nearly 2,000 feet (more than one-third of a mile) over an adjoining plaza. Fort Worth, Texas-based American Airlines Group Inc. secured naming rights to the area this past summer in a deal reportedly worth $90 million over 10 years. Gannon said the plaza will host community events and small-scale outdoor concerts.
The roof continues onto the other side of the plaza where a 6,000-seat indoor amphitheater is under construction.
That amphitheater has about the same seating capacity as the Greek Theatre in Griffith Park and is slightly smaller than the 7,100-seat Microsoft Theater at L.A. Live, next to Staples Center downtown. The Inglewood theater will likely compete with those two venues for concerts and other events.
The NFL Media Tower
Aside from the stadium, work at the complex is farthest along on a seven-story, 450,000-square-foot office tower and studio space located directly across from SoFi Stadium.
NFL Media in March 2018 announced it had signed on as the principal tenant for 200,000 square feet, and its headquarters will occupy several floors of the tower and adjoining studio space.
The space will house operations for hundreds of employees at NFL Network, NFL.com, the NFL app and NFL RedZone, which supplies simultaneous coverage of every NFL game.
In addition to office and studio space, the facility also will feature NFL Media's first outdoor studio and space to host studio audiences.
As of mid-December, the tower was about half-built, and the studio space was taking shape. The new campus is expected to open by summer 2021.
A spokeswoman for the league said last month that there have been no changes in NFL Media's plans for the building since its initial announcement.
Gannon and other Kroenke development company executives declined to give details on additional potential tenants for space in the tower.
Retail spaces
As of mid-December, underground utility preparation was taking place for the 500,000-plus square feet of retail space in the project's first phase, according to Gannon.
For reprint and licensing requests for this article, CLICK HERE.