Clear Direction
With focus on innovation and acquisitions, Compass sets a course for growth
Friday, February 28, 2020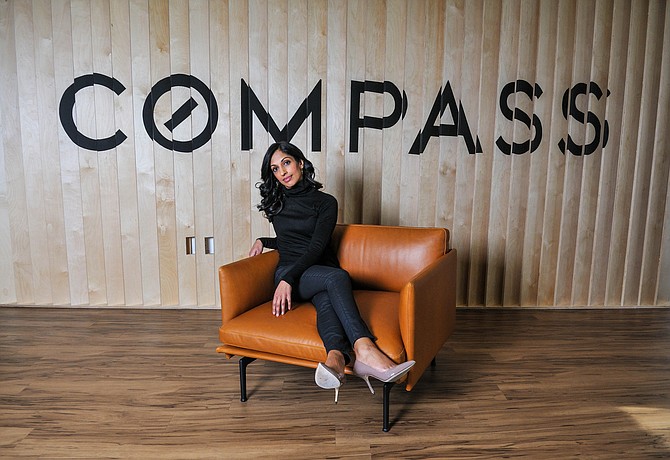 Compass, a tech-driven real estate brokerage, has quickly become a dominant player in L.A.'s crowded real estate market.
In the past year alone, Compass sales in Southern California have increased 81%. Since arriving in the market in 2015, Compass has been on an acquisition binge that has included Patterson Realty Inc. and Central Coast Realty Group in 2019 and Pacific Union International Inc. and Paragon Real Estate in 2018. Pacific Union had previously acquired Partners Trust in 2017 and John Aaroe Group Inc. in 2016.
The company has done 10 rounds of funding, raising more than $1.6 billion.
"They've raised an unprecedented amount of venture capital for a real estate tech brokerage," said Mike DelPrete, a real estate tech expert at the University of Colorado Boulder who recently completed a report on Compass.
"The real estate industry was ripe for disruption and ripe for change," said Kamini Lane, Compass' regional president for Southern California. "The industry has been hungry for someone doing something different."
Agent moves
Many of L.A.'s top agents have jumped over to Compass since the brokerage arrived on the scene.
Chris Cortazzo, one of the top 10 real estate agents in L.A. by sales volume according to the Business Journal's data, signed on with Compass last year after more than two decades with Coldwell Banker Residential Brokerage. He has handled more than $5 billion in sales during his career.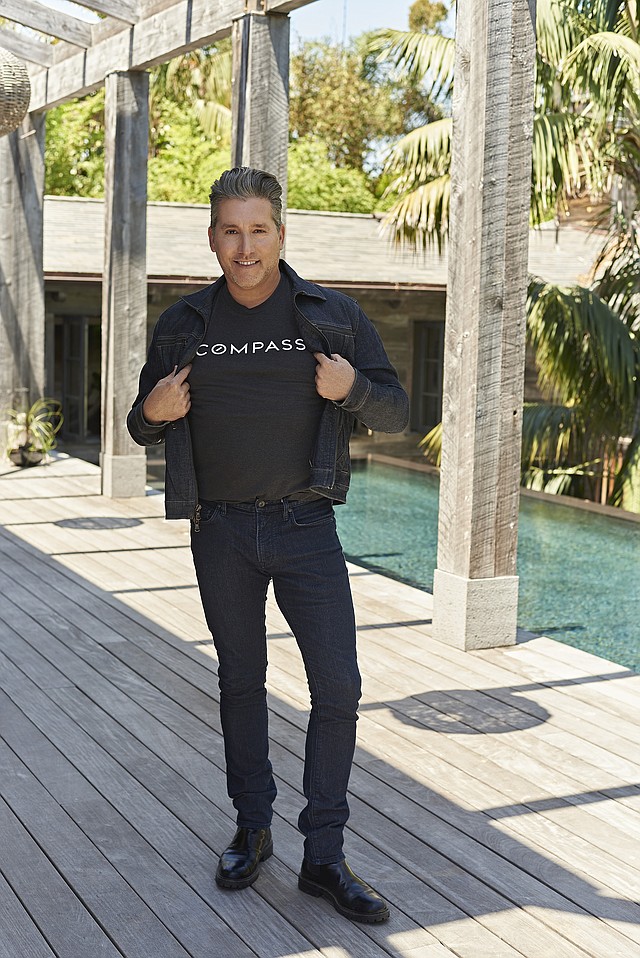 "I'd been with Coldwell Banker for 25 years," Cortazzo said. "I had a baby five months ago and I did a complete change in my life. I wanted to shake up everything and am very pleased with my move.
Cortazzo said a key factor in the decision to move, for him and for his staff, was Compass' tech platform.
"We are not a traditional brokerage firm," Compass' Lane said. "Agents like Chris — agents who are at the top of their game — see that Compass is a way to get to the next level. We are doing things differently. We are investing heavily in tools and technology to make them more productive."
Others to come on board include Ginger Glass of Coldwell Banker, and Cindy Ambuehl, Nikki Magliarditi, Zander Diamont, Danny Brown and David Kelmenson of The Agency.
"As more and more agents have come over to Compass and seen that we are able to make them more productive, it fuels growth," Lane said. "The agents that we have are able to be more productive because of Compass' tools and technology, and that is attractive for agents to come over as well who see their colleagues and their competition gaining a market share."
For Cortazzo, Compass' growth presents other opportunities. He said he plans to travel to Compass offices around the country and promote his Malibu listings.
Disruptive programs
It remains to be seen, though, if Compass' tech makes agents more efficient, DelPrete cautioned.
"2018 was about massive growth (for Compass)," he said. "They just acquired brokers and aggressively recruited agents as fast as humanly possible. 2019, last year, was really about tech. They made a couple tech company acquisitions and hired a huge amount of tech folks."
Tech, he added, "has been a big part of Compass' recruiting narrative."
In addition to the brokerage's tech story, Lane said, agents and buyers are benefiting from two new programs, Compass Concierge and Compass' bridge loans program.
Compass raised a $370 million Series G round in 2019 to fund Compass Concierge and software for the company.
In the Compass Concierge program, Lane said, the brokerage will front money to sellers that can be used for staging or to repair a house. This helps the home sell faster and at a higher price.
It also makes agents more competitive.
"Agents say it's a complete game-changer for them," Lane said. "It allows them to win listings."
The bridge loan program, meanwhile, helps homeowners use equity from their current home to make an offer on a new one, helping them get into their next home and allowing agents to generate more sales.
Before this, Lane said, many prospective buyers couldn't move until they sold their current home. The program "unlocks inventory and creates more inventory on the market by giving people the flexibility to sell their home."
"For many people, all of their equity is locked up in their home," Lane said. "You have this incredible investment and no liquidity, and you won't get liquidity unless you sell the home. You need liquidity to sell the home."
Building momentum
Compass is off to a positive start in 2020, Lane said.
"The market is really strong right now," she said. "We see our agents increasing in productivity. From a technology standpoint, our tools and programs and our tech are only going to get stronger throughout the year."
Lane anticipates that the recently launched bridge loans program will be a big part of Compass' offerings moving forward.
The employee count at Compass continues to grow as well. Lane anticipates the agency's numbers will grow organically and said the company has no plans to acquire brokerages in new markets this year.
"We are really focused on depth versus berth right now, getting even better at what we do" Lane said. "We acquired two brokerages in Southern California last year — CCRG and Patterson. This year, we're focused on integrating those acquisitions and growing in the markets where we are."
Lane declined to provide Compass' current L.A. market share but said she expected it to be 20% by the end of the year.
DelPrete said Compass would likely grow at a "very healthy pace in 2020. They have a very healthy momentum."
Eventually, Lane believes the company "will get to a place where Compass really is that operating system for all agents where all of the best agents are at Compass because history has proven that this is the place to build their businesses."
But DelPrete said Compass still has something to prove.
"If you look at 2020, it's all about refining the model and getting it to work," he said. "You have massive growth and technology, and now they are going to put it together and get it to work. ... The real question is can they make this work."
Return to the 2020 Residential Brokers Special Report.
For reprint and licensing requests for this article, CLICK HERE.