Logistics Firm Snapped Up
Maersk pays $545 Million for Performance Team
Friday, February 28, 2020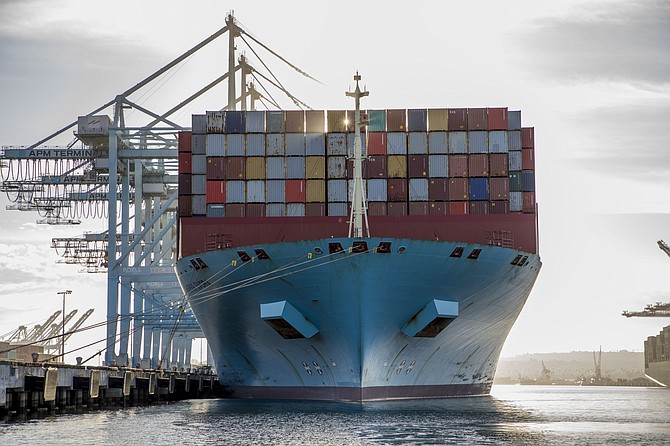 Performance Team of El Segundo has been acquired for $545 million by A.P. Møller – Maersk as part of the Danish shipping giant's effort to improve its end-to-end supply chain capabilities.
Performance Team is a 32-year-old logistics company with more than 20 facilities across the nation and some 5,000 customers.
Maersk has a market value of about $21 billion and operates the 484-acre Pier 400 facility at the Port of Los Angeles through its subsidiary, APM Terminals.
Maersk's North American warehousing and distribution operations, which are based in South Gate, include 22 facilities in the United States and Canada.
The bolt-on acquisition of Performance Team will more than double Maersk's warehousing and distribution space in the region to 14.7 million square feet and 46 sites. It will also increase Maersk's annual revenue in the sector to $931 million from $406 million.
"Maersk has been pretty vocal about the fact that they want to diversify and be more of an integrated logistics provider within the containerized market," said Lee Klaskow, senior freight transportation and logistics analyst at Bloomberg Intelligence in New York.
"At the end of the day, shipping their containers from point A to point B has become relatively commoditized, meaning … it's hard to differentiate your product and your service from somebody else's," Klaskow added. "What they are trying to do is, if they have a container, to see the freight along the supply chain as far as it possibly can, and that would be warehousing and distribution."
B-to-C play
The opportunity, as Klaskow sees it, is for Maersk to gain a bigger presence in the
direct-to-consumer category. "The growth, at least here in North America, is B-to-C ecommerce stuff, and that's where warehousing plays a big part," he said.
Brothers Robert and Michael Kaplan started Performance Team in 1987 in a 12,500-square-foot warehouse in Escondido.
Performance Team declined to comment, citing a quiet period until the deal is approved.
But the company's website recounted how, in its early years, Performance Team "achieved rapid financial growth through targeting services focused on consolidating prepaid vendor freight to multiple Kmart distribution centers."
Today, Performance Team is run by Michael's son, Craig Kaplan, who will continue to serve as chief executive after the acquisition is completed.
Performance Team provides ecommerce, retail and wholesale distribution and transportation, including drayage, store delivery, local pick-up, consolidation, and delivery to distribution facilities and stores.
Its portfolio of services also includes inventory management and packaging, order fulfillment, returned goods management, and supply chain consulting.
The company employs about 650 people and works with roughly 5,000 clients, including Honda North America Inc. in Torrance and Santa Monica-based Ring Inc.
Performance Team's 24 facilities are located near major transportation hubs in Northern and Southern California, Dallas, Miami, New York and New Jersey. The company also has key locations in Louisville, Ky.; Memphis, Tenn.; Shreveport, La.; and Charlotte, N.C.; as well as Savannah, Ga.; and Charleston, S.C.
The company has undergone several financing rounds, including $21 million from Santa Monica-based Bison Capital Asset Management in 2006 and $20.3 million in 2018 from Chicago-based OFS Capital Corp. The OFS round, according the funding company's statement at the time, was used to "enable the buyout of an existing equity owner."
Record of growth
According to Maersk, Performance Team has a record of profitable growth of 17% per year for the last four years, and revenue for 2019 of $525 million while earnings before interest, taxes, depreciation and amortization were $90 million. The acquisition includes $225 million in lease liabilities and is set to close April 1.
In a letter to customers announcing the deal, Craig Kaplan said his team has had "a remarkable track record over the last 30-plus years as an independent company (and will) leverage our success and expertise, expand our services, and bring our solutions and capabilities to a company that has the same passion for bringing logistics solutions to their customers."
Performance Team agreed to the purchase by Maersk, Kaplan added, because it made sense on several levels. "Maersk is a company with similar values, mission and passion for bringing logistics solutions to their customers," Kaplan wrote. "They work from a foundation of trust with their customers and associates,.
"This is fully aligned with our way of working, and it's why I'm confident we have chosen the right company as a partner."
For reprint and licensing requests for this article, CLICK HERE.