CRE Awards 2020: CenterCal Properties Brings New Retail, Dining, Wellness, and Services to Premier Long Beach Destination
Custom Content by the Los Angeles Business Journal
Tuesday, February 25, 2020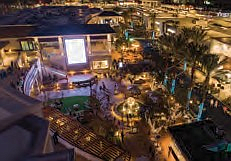 2ND & PCH is the Long Beach shopping and lifestyle destination owned and developed by CenterCal Properties, offering an exceptional offering of retailers, and luxury architecture and landscape design. The project was beautifully designed by Architects Orange and completed on-schedule by W.E. O'Neill Construction. Since opening Fall 2019, the center has become the ultimate gathering place, providing the community with refined retail and elevated dining experiences. CenterCal, founded in 2004 by Fred Bruning and Jean Paul Wardy, is a full-service commercial real estate company in the business of investing, developing, leasing, and managing its projects. CenterCal excels in, and is best known for, creating destinations throughout the western United States with a unique strategy of "place-making," which emphasizes the importance of developing spaces with a sense of community. 2ND & PCH perfectly encapsulates CenterCal's vision for the landmark corner of Pacific Coast Highway and E 2nd Street.
Rob Budetti, principal of Architect Orange, was selected as the architect for the 215,000+ sq. ft. center. "We set out to create the 'gateway' to Long Beach through the building architecture, with the placemaking spaces and lush landscaping. It was important to create a contemporary coastal feel that is a trademark to Long Beach, while also ensuring a 'living room effect' and developing a community center for the local and neighboring residents," said Budetti. "Being adjacent to the Marina made it paramount that we created great second level dining and patio spaces, as well as a central gathering area to take advantage of the great views, ocean breeze and amazing sunsets."
W.E. O'Neill's senior project manager Daniel Spickard drew inspiration from the Long Beach community. "When we first saw this project, we were most excited about transforming a historical landmark into one that would stand out for the next generation. The partnership between the City of Long Beach, CenterCal Properties, AO Architects, and the surrounding community helped bring this project to life. We are thankful to have been part of a successful project, achieving what was once deemed impossible."
2ND & PCH provides the Greater Long Beach and Orange County communities with a one-stop destination, from early morning beverages from artisanal coffee roasters Caffe Luxxe, to high-intensity cardio and strength training at Barry's Bootcamp, to dinner at James Beard-nominated chef Matthew Kenney's innovative plant-based café, Hungry Angelina. CenterCal worked tirelessly to curate a diverse list of tenants that is aligned with the needs and desires of the neighboring areas.
Along with a 45,000 square foot flagship Whole Foods Market, 2ND & PCH brings outstanding dining options from chefs with both local and national cult-followings. Danny Meyer's wildly popular burger "stand" Shake Shake opened its first Long Beach outpost while additional options like Ola Mexican Kitchen and Noble Bird Rotisserie are quickly becoming local favorites.
The development is also home to popular apparel retailers including a forthcoming location of the contemporary clothing store Urban Outfitters, leading athleisure brand lululemon, boho chic maven Free People, as well as several beauty services, such as global prestige retail leader Sephora.
Bruning and Wardy's passion for development, coupled with CenterCal's internal expertise, is evident in the properties the company owns and operates today. Each element of 2ND & PCH, no matter how minute, is based on their creative vision for the development and the Greater Long Beach area. CenterCal looks forward to continuing to work with leaders in the retail, dining, wellness, and services realms as they consistently bring on new tenants to open their doors at the development this fall.
For reprint and licensing requests for this article, CLICK HERE.