Trade War Reshapes CIE
Truck parts maker staffs up in US
Friday, February 21, 2020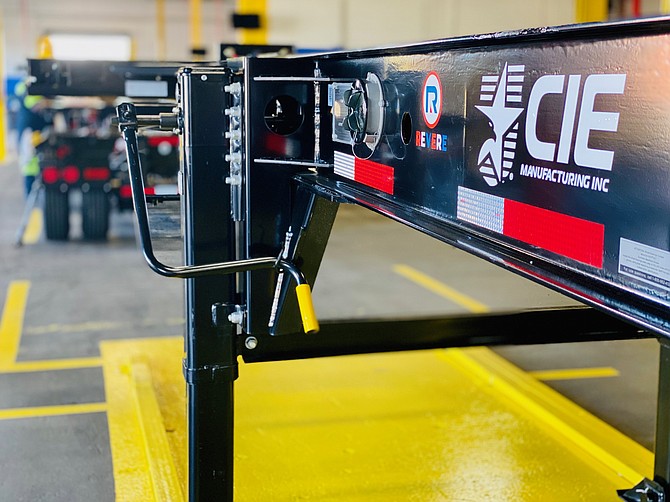 Frank Sonzala hopes to end up on the winning side of the global trade war.
The chief executive of a South Gate-based truck chassis manufacturer, he's transferring about a third of his company's production from China to the United States, a move he says will create about 275 local jobs.
He's also dropped the old moniker, CIMC Intermodal Equipment, rebranding the company as CIE Manufacturing.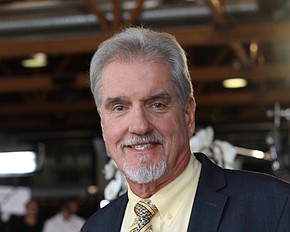 "I always felt that we should be manufacturing in the United States," Sonzala said. "We just sped it up because of the situation. … With the 25% tariff, our customers would buy four (chassis) and pay for five. And it's pretty hard to get by a board of directors or financial officer that you got a 25% loss on your equipment because of the tariff."
Before the recent changes, CIE was only inspecting and assembling steel chassis from components produced by its China-based parent, CIMC Vehicles Group Co. Ltd., at its South Gate and Emporia, Va. plants. The chassis were sold through 67 dealers in North America.
The company delivered 45,441 chassis in 2018, its record year. But, in 2019 as cargo volumes at local ports dipped, CIE's orders dropped 44% to 25,369 chassis.

"A lot of people in the industry were depending on container boxes to come over filled with Chinese goods, like Christmas trees and everything else, that weren't being purchased at 25% tariff," he said.
Rehiring workers
CIE's revenue decreased to $60 million in 2019 from about $100 million in 2018, leading Sonzala to lay off about 80 workers in July.
"I physically was sick for three days after doing that because these people did nothing wrong," he said. "They all came to work on time every day. They all put in overtime on their own to do the right thing for the company. … The true assets of our company are the people — not the steel, not the rubber tires, not the rims, not the lights. Nothing else." 
Now he'll be able to rehire them, and more.
CIE has redesigned its two facilities to support a full manufacturing process for its 53-foot-long steel chassis, which are used for domestic container shipping via rail and trucks, and represent about one-third of CIE's orders.
It will also produce several chassis models used for international containers that are typically moved by ships and trucks — the 40-foot version and the 40- to 45-foot extendable option ― while the rest of its products will be made in China and inspected in South Gate before delivery to customers. 
The company's South Gate plant sits on 9.5 acres 15 miles from the two largest ports in the United States, Sonzala noted, providing plenty of space to duplicate the production lines, if necessary, and speed up delivery times. In Emporia, CIE plans to purchase an adjacent property to house its manufacturing line while its old assembly space will be used for parts storage.
"On a two-shift basis, I can get to about 100 chassis a day out of South Gate and another 100 chassis out of Emporia, which is 200 a day," Sonzala said. "And if you (multiply that with) the 253 working days, we got a pretty good slice of business there. … We're going to be able to produce 60,000 chassis in a short period of time if the market bears it."
CIE is also skipping China to avoid tariffs and getting parts from other countries, including the United States, Mexico and Canada.
"We're actually coming in very close to the price that we were paying for (components) from China in the long run because we don't have ocean freight, and the stacking and restacking of the product and the drayage out of the ports," Sonzala said. "It's becoming quite interesting how competitive American companies can be if they just do the product smarter." 
New global strategy
CIE's parent company, CIMC Vehicles, a Shenzhen-based semi-trailers and truck body manufacturer, is a subsidiary of China International Marine Containers Group Co. Ltd., the world's largest container box and trailer manufacturer. The company had $13.4 billion in 2018 revenue and has operations in 17 countries, according to company's annual report released in May.
Beefing up manufacturing capabilities in South Gate appears to be a part of CIMC Vehicles' near-term global strategy.
CIMC purchased a 60% interest in Texas-based manufacturer Direct Chassis in 2008, then bought the remaining share in 2011.
That same year, CIMC also shifted the company's focus from manufacturing to assembling chassis from steel subassemblies it produced in China and moved the operations from Texas to South Gate. It bought the Emporia plant in 2015.
"In the North American market, the Group will increase the production capacity for refrigerated trailers and chassis trailers in the United States," CIMC Group said in a statement. "In Europe, it will increase the assembly capacity for curtain-side trailers, swap bodies and refrigerated trailers. In the emerging markets, the Group intends to increase production and marketing efforts in Djibouti to strengthen operational capacity in Africa."
For Sonzala, CIE is an American company. "CIMC, our parent company, owns companies all over the world," he said. "We've got a sister company in Belfast, Ireland, which is owned by the vehicle division. But all the money stays in Ireland, and all the money stays here in the United States. Only when we buy something from our parent company do they get paid for it," he said.
For reprint and licensing requests for this article, CLICK HERE.