Spotlight on City of Industry: Fast Facts About the City of Industry
Custom Content by the Los Angeles Business Journal
Monday, February 17, 2020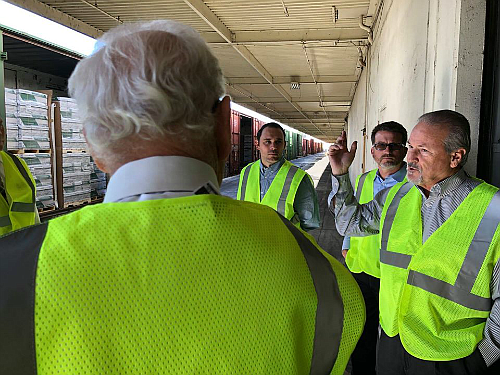 The City of Industry has much to offer that you may not be aware of. Here are some fast facts that may prove to be helpful whether you do business in the region or plan to.
Economic Hub for the Region
Some of City of Industry's business-friendly highlights include:
Approximately 3,000 businesses that employ 67,000 people.
These businesses support approximately 209,000 jobs in Los Angeles County.
The City contributes $11.5 billion in taxes to Los Angeles County (split between federal, state and local taxes).
Newly launched Development One-Stop Shop with LA County
Building & Safety Personnel brings coordinated response times on plan submittals down from months to weeks.
Investments in Regional Infrastructure
City of Industry just keeps getting better, as evidenced by:
-$35 million commitment to the 57/60 confluence project to improve one of the most congested stretches of freeway in the country.
-Invested millions of dollars to reduce traffic and improve public safety by building grade separations at railway intersections.
-Secured grants to fund various improvements to the Nelson Avenue Bridge in La Puente,including an overall widening of the bridge.
-Helped fund the Valley Boulevard Improvement project to increase public safety and reduce noise along the boulevard.
Business-Friendly…Even at Lunch Time
The Industry Business Council organizes regular luncheons featuring guest speakers presenting subjects of interest and importance to IBC members and the business community at large. Providing members with opportunities to learn about different aspects of business development, business management, economic impacts, policy, and regional impact are quality programs that the IBC puts together. These luncheons are made possible through the investment of business members and support from the City of Industry. Different Luncheon opportunities include:
Legislative Report Series
The Legislative Report series invites state and local representatives to provide business members with a legislative update of their work, either in the City of Industry or at the state level. Last year, we were honored to have Assemblymember Phillip Chen and Assemblymember Blanca Rubio speak to our members about their work in the State Capitol and their efforts to ensure the interests of the City of Industry and its business community.
Management Operations/Human Resources Luncheon
This series features Human Resource Representatives and Management Operations that focus the conversation around workforce management, employer regulations in the workplace, and CA employment laws. Some of the previous topics included in the luncheons are: "Annual Review of New Federal and State Employment," "Immigration Issues for Employers," "Employee Drug/Alcohol Testing," and "LGBT Issues in the Workplace" among others.
Quarterly Executive Luncheon Series
The IBC invites top-notch individuals to address business members and attendees on various topics of interest to our members that range from regional, economic, and business impacts in the City and in the San Gabriel Valley. Last year, our luncheons featured guest speakers: LA County Supervisor Hilda Solis, State Treasurer John Chiang, and Tracy Hernandez, founding CEO of the Los Angeles County Business Federation. To wrap up the year, we host our annual Holiday luncheon in December that features the Citrus College Singers. This holiday event brings the attendance of many businesses in our community, many of whom bring their employees in lieu of organizing their own holiday party.
Foreign Trade Zone
The City of Industry's Foreign Trade Zone offers a unique opportunity for companies seeking innovative solutions to the many challenges associated with conducting international trade. A Foreign Trade Zone is an area physically located within the United States, but deemed to be outside the U.S. Customs territory.
Large and small companies alike use Foreign Trade Zones; 70 percent of Foreign Trade Zone users are small businesses. These companies defer, reduce or eliminate U.S. Customs duties, fees and certain taxes. Such companies include importers, manufacturers, distributors, assemblers of products, and exporters of imported merchandise and/or products containing imported merchandise.                                 
The City of Industry has nearly 500 acres designated as a Foreign Trade Zone. These FTZ areas are approximately 40 miles from LAX, 28 miles from Ontario international airport, and 45 miles from the ports of Los Angeles and Long Beach.
Information for this article was provided by the industry Business Council. Learn more by visiting industrybusinesscouncil.org.
For reprint and licensing requests for this article, CLICK HERE.