Fertile Ground for Tractor
Motivo machine brings green farming
Friday, February 14, 2020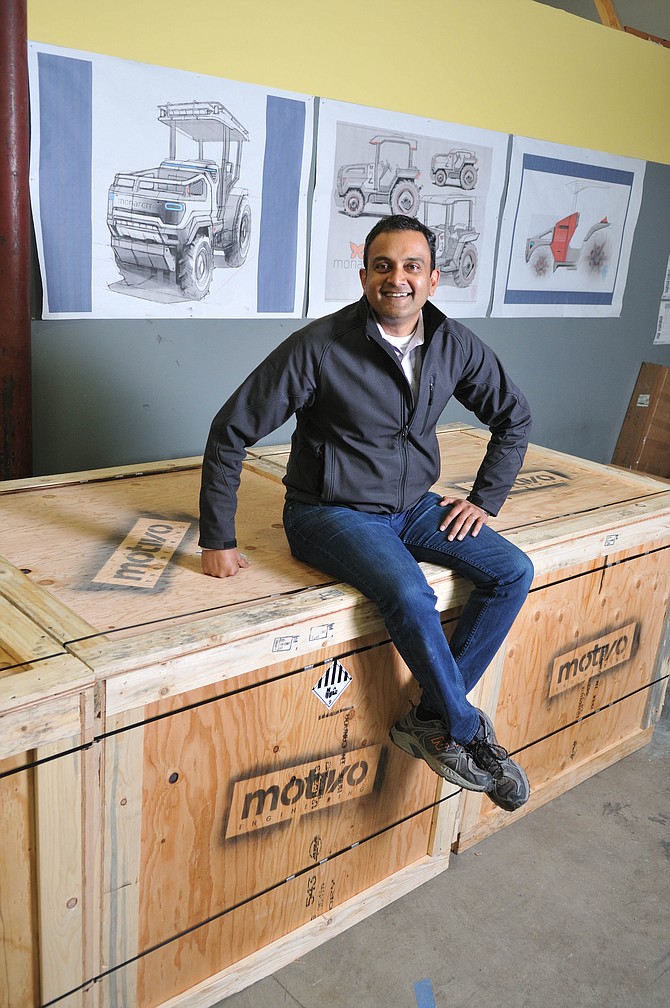 When it's time for Motivo Engineering's new Monarch tractor to perform traditional farming functions in the field — harrowing, disking, plowing, planting and cultivating — it does what tractors have done for more than a century.
But the electric-powered Monarch does it quietly, with no human operator and without any trace of pollution — all while running for up to eight hours between charges.
The Monarch is the result of four years of research by Motivo, a small Gardena-based engineering firm that, until now, has delivered projects for manufacturers such as Hyundai Motor Co. and Panasonic Corp.
This marks the first time Motivo, which was founded more than decade ago by Chief Executive Praveen Penmetsa as a research and design outsource company, has produced an original-branded product.
The Monarch's roots can be traced to Penmetsa's childhood on his father's rice farms in Hyderabad, India, where he saw firsthand agriculture's chanciness.
"Farming is hard business, globally," Penmetsa said. "So farmers have to be very careful where they take risks. Every harvest is critical. But the Monarch is a game changer."
Penmetsa and Motivo developed the Monarch as part of a competition put on by the U.S. Agency for International Development to provide affordable mobile and agricultural power, as well as to assist humanitarian efforts.
Originally, it was meant to be a simple farm machine. Now, it's become far more complex. Carrying a wide array of cameras, monitors and sensors, the Monarch can gauge things like crop growth and soil moisture and is capable of exchanging data with climate and weather sources hundreds of miles away.
Ultimately, the Monarch is intended to run by remote control or to be autonomous.
Even at night, sitting in its shed, the Monarch is designed to be working, supplying power for 24-hour farm needs like refrigeration, illumination and water pumping.
History of innovation
Motivo has long served as an innovation broker for corporations when their in-house R&D teams have been stumped.
"We usually have at least 10 to 20 projects going on at any one time," Penmetsa said.
On the sprawling shop floors surrounding him, his about 60 employees tinker with projects that include auto-driving simulators for stroke victims and a gigantic autonomous tractor-trailer.
Motivo has birthed more than 400 projects, Penmetsa said. Nothing has been invented here for its own sake. Until now, that is.
The Monarch's sleek enclosures and light-studded canopy suggest "Star Wars" origins. About 60 inches long and 54 inches wide, it weighs 2 tons, about the same as a conventional compact tractor.
"At the end of the day, it is still a tractor," Penmetsa says. It can deploy any existing tractor implement. But it's also equipped to charge off any electric source — "not only the grid, but waterwheels, windmills, geothermal energy and, of course, solar power."
Penmetsa believes the Monarch can change the way people farm throughout the world.
The current standard — diesel fuel — has grown increasingly costly and produces several serious air pollutants. But the all-electric Monarch takes advantage of the decreasing costs of solar power and developing forms of electric energy storage.
While he doesn't yet have purchase orders, Penmetsa has letters of intent. His price estimate is in the $50,000 range. A comparable John Deere tractor that runs on fossil fuels costs about $42,000.
Motivo has established a separate Monarch manufacturing company, of which Penmetsa is also CEO. The operation's Bay Area location lies among the major California agricultural machinery markets.
He says vintners in Napa and Sonoma counties have expressed interest, and Carlo Mondavi, a member of the winemaking Mondavi family, sits on Monarch's board.
Eventually, the Monarch tractor will sell worldwide. It has already undergone extensive field testing in India, where Penmetsa's father still has a rice farm.
Pollution-free alternative
Monarch's initial markets will be in California, where the pollution-free machine could have wide appeal.
Last year, the state's largest citrus and nut grower, West L.A.'s $4-billion-a-year Wonderful Co., promised to make its operations carbon free by 2025.
Mighty John Deere is pushing its own carbon-free Autonomous Farm project.
Demand for cleaner farming is high. In California's agriculture-dominated Central Valley, the American Lung Association estimates 1,300 people die from air pollution annually. Asthma rates for children in the area are among the highest anywhere.
Elimination of diesel farm equipment emissions alone could do much to make the Central Valley's air safer. Eventually, it might do the same for the air in Asia, South America and Africa.
If the Monarch starts selling big, CEO Penmetsa may have to choose between concentrating on running a burgeoning manufacturing operation or sticking with R&D.
That requires a different mindset. An engineer by training and inclination, he has built Motivo's success by leading its staff in guessing where technologies will be five years in the future. Without that, "you won't make it," he said. "We're talking about a competition that may not yet exist."
For reprint and licensing requests for this article, CLICK HERE.