Growth Spurt at OSI Systems
Security, optoelectronic units drive gains
Friday, February 7, 2020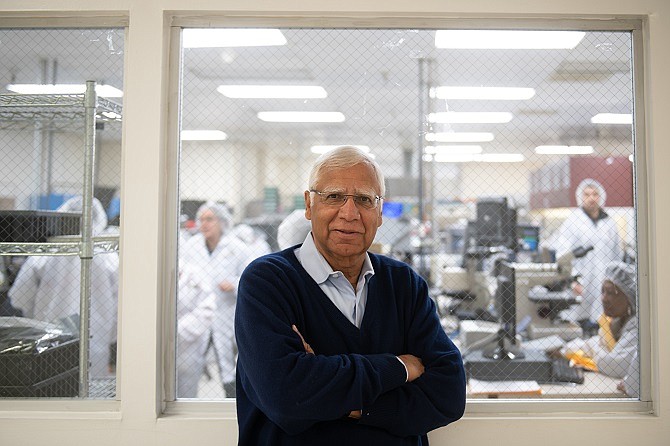 OSI Systems Inc.'s modest headquarters sits on a rather unremarkable street in Hawthorne, tucked behind the sprawling campus of Space Exploration Technologies Corp.
But looks can be deceiving.
The manufacturer of security scanning equipment, medical monitoring devices and optoelectronic components posted $64.8 million in net income on $1.18 billion revenue during its 2019 fiscal year that ended June 30.
Its revenue for the first half of fiscal 2020, reported on Jan. 28, was $596.2 million, up 5% compared to the same period a year ago.
OSI's growth spurt will likely continue, with its security division leading the way, according to Chief Executive Deepak Chopra.
"The funding for what we call nonintrusive equipment at the borders has significantly been increased — more than five, 10 times from before — so that's a big plus," Chopra said. "Whether it's Middle East, whether it's Israel, whether it's India and Pakistan, everybody wants more security to protect their borders. So we continue to foresee growth."
OSI's security division, which accounted for $748 million in revenue in fiscal 2019, designs and manufactures inspection systems used at major airports, ports, border crossings and sporting events.
Notable deals include a $30 million contract to provide security checkpoints at all stadiums during the 2012 London Summer Olympics. Its biggest domestic clients are the Transportation Security Administration and Customs and Border Protection.
The company is also working with the Mexican government to help curtail the influx of arms and cash coming from the United States.

OSI's contracts with some countries — including Sri Lanka, Guatemala and Albania —go beyond equipment sales and maintenance.
In Guatemala, OSI scanners inspect fruit headed for the United States. In Mexico, OSI's team of analysts review images captured by cargo scanners at the border checkpoint.
Keeping currents
OSI's optoelectronic components ― such as diodes that operate on both light and electrical currents ― are sold primarily to original equipment manufacturers in the health care, aerospace and defense industries. Customers include Raytheon Co., General Electric Co., Drägerwerk, Johnson & Johnson and L3 Technologies.
The optoelectronic division posted $246 million in sales in fiscal 2019, and a record $73 million in the second quarter of fiscal 2020. Its health care counterpart, which produces patient monitors and CT scan equipment, ended fiscal 2019 at $188 million in revenue, and $42 million in the latest quarter, a 19% drop from the same period a year ago, according an OSI filing with the Securities and Exchange Commission. Chopra attributed the dip to continued consolidation in the health care sector.
OSI employs about 7,000 people, including 600 at facilities in Hawthorne and Torrance. It also operates plants in Boston, Seattle, Malaysia, Indonesia, Canada, India, England and Mexico.
Most of the locations originally served as headquarters for some of the 25 companies OSI has acquired over the years. Notable acquisitions include American Science and Engineering Inc. in Boston for $269 million, a deal which triggered confusion with Chopra's more famous namesake.
"Boston Globe put it on the front page 'Deepak Chopra, OSI Systems buy ($269) million company,' but they put his (picture)," Chopra said, adding that the name has helped him get good tables at restaurants.
"After we enter, my wife always says, 'Put your head down, and go straight to the men's room (until we) get seated. Otherwise, they'll know it's not you.'"
Chopra (the engineer, not the spiritual adviser) emigrated from India in 1971 to complete a master's degree in electronics at the University of Massachusetts Amherst. Shortly after, he got a job with television manufacturer RCA.
"They made a mistake of sending me to Redondo Beach in November for a conference. (When) I left the weather was bad, and when I came here people were playing volleyball on the beach," he said. "I quit by telephone."
In 1976, Chopra got a job at United Detector Technology, OSI's predecessor. He got married and moved north to work for Intel Corp. in 1979, and a year later he found out that United Detector was up for sale.
ILC Technology in San Jose subsequently purchased United Detector and asked Chopra to run it.
He eventually started a company in Torrance called Optosensors and in 1990 bought United Detector. The company, now called OSI, grew steadily but the downing of Pan Am Flight 103 altered Chopra's course.
"That changed forever the concept of X-ray scanning, which was (repurposed from) medical for the aviation industry," he said. "We were very much involved, and that helped us grow the company.
Expansion payoff
Chopra's ability to respond to challenges served him well several years later when General Electric decided to divest Spacelabs Medical, its patient monitoring business, which was also OSI's customer.
"We were making components for the medical industry, but we had never been in the end-product business," Chopra said. "Ultimately, we said, 'Screw it, we'll buy it.'"
A similar chutzpah helped propel OSI into the security scanning business when Rapiscan Security Products Ltd., a major client in England, couldn't pay its bills.
"We got a call that they're going to go bankrupt, and we're going to lose our receivable, which is (worth) about 2 million pounds," Chopra said. "I went there, and I started (thinking), 'Hey, we're going to lose the money anyway, so why don't we just buy it?' That became our biggest division."
For reprint and licensing requests for this article, CLICK HERE.