Thriving In Their 40's: Smitha Ravipudi
Custom Content by the Los Angeles Business Journal
Tuesday, December 29, 2020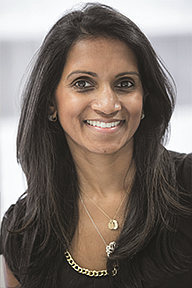 Smitha Ravipudi
Chief Executive Officer, USC Care Medical Group
Keck Medicine of USC
For the last 20 years, Smitha Ravipudi has served (and continues to serve) in leadership roles at several prominent healthcare institutions in Los Angeles County, including Kaiser Permanente, Children's Hospital Los Angeles, and now Keck Medicine of USC. In these roles, she has brought forward models of innovation and new practice, to drive increased consumer satisfaction in healthcare, with emphasis on improving access and convenience to those in need.
Ravipudi has been responsible for opening numerous outpatient facilities across LA County and beyond, including USC Health Sciences' campus's Norris Healthcare Center, featuring 120 square feet of outpatient consultation in urology, breast health, transplant medicine, infusion therapy, and outpatient surgery. She is intentional, and remains focused bringing execution to vision, and works well with trustees, hospital executives, external partners, leadership teams, and physicians to ensure optimal engagement and influence along the way.
For reprint and licensing requests for this article, CLICK HERE.