Virtual Visits Surge for LA's Teledentistry Companies
Monday, December 21, 2020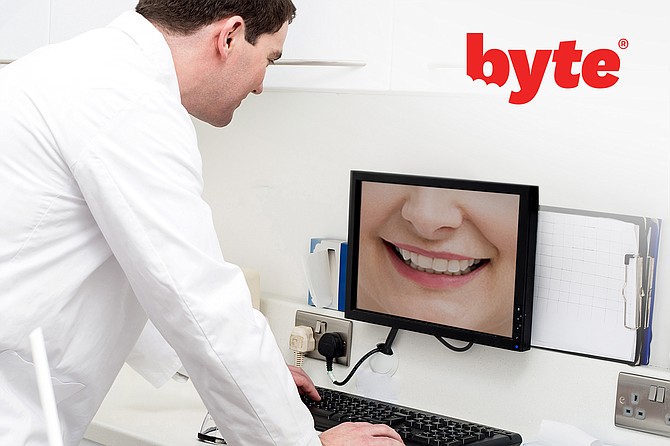 A pandemic-induced turn away from in-person dentist visits has given a lift to L.A.'s fledgling teledentistry industry.

Local companies providing virtual dentistry services, including Filipinotown-based Dentulu Inc. and Koreatown-based Live Dentist Inc., have experienced a surge in growth this year. So has Santa Monica-based Byte, which provides direct-to-consumer orthodontics supplemented with teledentistry consultations.

"Covid-19 has been an inflection point in this business," said Jimmy Huh, co-founder of startup Live Dentist. "People couldn't go to their dentist, and that has sped up the demand for teledentistry."
The virtual or remote dentistry industry is less than a decade old. It was led initially by companies such as New Jersey-based MouthWatch, which combined the latest in imaging technology with online transmission to allow dentists to see inside a patient's mouth from a remote location.

Unlike telemedicine, which had seen robust growth before Covid, the teledentistry market was slow to take off, largely because the nature of routine dental work — oral hygiene and X-ray exams — was not easily amendable to virtual visits. 

There were also significant barriers to the creation of large teledentistry networks, including requirements that dentists be fully licensed in states where their patients reside.

"It has been a market with limited acceptance and serious restrictions," said Glenn Clark, a dentist who is also professor of dentistry at the USC Herman Ostrow School of Dentistry.

There were no significant teledentistry companies in the Los Angeles market until 2018 when Dentulu and Byte launched. Live Dentist was founded just 15 months ago.

Dentulu started with a combination of virtual and mobile dentistry, with the aim of having dental work come to the patient instead of the patient going to a dental office. 

Mobile dentistry has been around for decades, used as part of corporate wellness programs, as well as in low-income communities where people lack traditional dental care and in assisted living facilities. Only in recent years has technology evolved to add virtual dental consults, including uploading photos of patients' mouths and teeth.

Dentulu tied these features together with an app that allows patients to log on to schedule teledentistry consultations or mobile visits. "We set out to Uber-ize dentistry," said Arash Hakhamian, chief executive at Dentulu.

The company mainly targeted brick-and-mortar dental offices, allowing them to offer virtual consults. Dentulu also licensed its software platform to third parties.

Byte, meanwhile, started with a completely different business model and target market: selling orthodontics directly to consumers. 

The company mails impression kits to customers who then return the kits. Then Byte sends the impression sets to third-party manufacturers who make the orthodontic appliances. 

Byte is similar to the larger and more established competitor Smile Direct Club of Nashville, Tenn. Both companies offer orthodontics at half the price or less than the retail rate charged in dental offices.

"This is a dentist-directed treatment plan, using remote monitoring to track teeth from the comfort of one's own home," said Byte cofounder Scott Cohen.

Modest beginnings
Live Dentist had a much more modest start than either Dentulu or Byte. It grew out of a single dental office in Cincinnati, which hired Huh, a Koreatown-based digital marketing consultant, to boost its online presence to draw more patients into its brick-and-mortar office. 

Just a few months into his gig, Huh learned about the emerging field of teledentistry and saw an opportunity to create a virtual dental consultant network. So, Huh teamed up two dentists from that Cincinnati dental practice, and together they formed Live Dentist as a separate company. 

They started small, with just three other dentists in their teledentistry network, providing second opinions, video consults and prescriptions. And they honed their digital marketing platform to optimize Live Dentist's presence on Google's search engine.

"We primarily focus on inbound leads: people referring patients to us or people searching for dental experts or services via Google and seeing our ad," Huh said.

Each of these companies offering teledentistry services entered 2020 with strategies for steady, moderate growth. Then the Covid pandemic hit, prompting all three companies to accelerate their plans.

The impact has been most dramatic at Byte.

"While many of our competitors had to shut down their retail stores when the pandemic hit, we instead doubled down, investing more in our direct-to-consumer outreach," Byte co-founder Cohen said.

He said that resulted in a "massive growth" in customers though he declined to give specific numbers. Revenue also exploded; Cohen said the company expects to finish 2020 with about $200 million in revenue, roughly seven times the 2019 figure. And the employee count has quintupled to about 500 since the pandemic began.

The additional revenue helped Byte speed up its first international venture. The company announced in July that it was expanding its direct-to-consumer orthodontics program into Australia. More international expansion is slated for next year, Cohen said.

Covid has also been a boon to Dentulu. "It's been a huge benefit for us," Hakhamian said. "Covid forced dental offices to use this virtual technology to maintain continuity."
He said the company has seen a significant increase in the number of dental offices using its platform to connect with patients. 

Hakhamian said some insurance companies have started paying for teledentistry services, which they generally hadn't done prior to the pandemic.

Dentulu has also stepped up the licensing of its teledentistry platform to dental offices and insurance carriers.

So far, Hakhamian said, not much of this activity has translated into revenue for the company. "We made a decision during the Covid crisis not to charge many of the dental offices and their customers," he said. "It's a strategic decision to develop the market."

As a result, he said, Dentulu's 2020 revenue has been modest, at "less than $100,000." He said the company does plan to charge for its services by the second quarter of 2021.

'A significant uptick'
At Live Dentist, the Covid-driven boost in business came just a few months after the company launched. "We've seen a significant uptick in patients," co-founder Huh said. "This higher patient volume has prompted us to look for more dentists to join our network."

The fledgling company only had three dentists besides the co-founders in its network as of January. Since the pandemic began, he said, the teledentist network has grown to 12.

Huh said the pandemic sped up this process of expanding the teledentist network "by at least a year. … We just didn't think the market would grow this fast."

While Covid has driven growth, barriers remain before most teledentistry companies can achieve breakout status or more players join the fray. "Yes, Covid has spurred interest and some growth. But you still can't cross state lines unless you have dentists who are licensed in each state they see patients in — even if they are virtual visits," USC's Clark said.

Also, he added, "there are inherent limitations that have not yet been overcome. If you have periodontal disease, you still need to be examined in person. Anything involving X-rays must still be done in the dental office ... And, of course, most hygiene is still being done at dental offices."

What's more, Clark said, although there have been some signs of movement, most major insurers still do not pay for the majority of services provided through teledentistry visits.

As a result, he said, big corporate players, investors and venture capitalists have tended to shy away from this market. "Look, I'm not a naysayer," Clark said. 
"Teledentistry holds great promise. It's just that before this market can really grow, some barriers and restrictions have to be removed."
For reprint and licensing requests for this article, CLICK HERE.