Ports See 'Unprecedented Amount of Cargo Volume'
Monday, December 21, 2020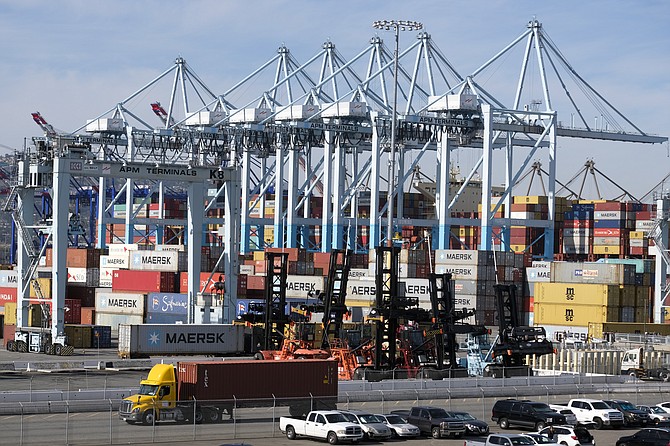 While local freeways remain relatively open thanks to the Regional Stay at Home Order, traffic congestion at the San Pedro Bay complex shows no signs of letting up.

Dockworkers and terminal operators at the Port of Long Beach moved 783,523 twenty-foot equivalent units (TEUs) in November, a 30% increase compared to the same period last year. The port hosted 87 container ships, 17 of which were unscheduled vessels that were canceled earlier this year.

The Port of Los Angeles handled 889,746 TEUs in the same month, a 22% jump from a year earlier. The port processed cargo from 88 vessels, nine of which were unscheduled sailings. 

L.A.'s cargo volumes would have been 100,000 TEUs higher if some 12 ships anchored in the San Pedro Bay complex on Nov. 30 had been able to berth. Instead, their loads will be tallied with December's totals.

Traffic looks strong for December as well, with 23 container vessels idling in the San Pedro Bay. Of those ships, 14 are bound for the Port of Los Angeles and the rest are headed to its neighbor.

"Anchorage remains a true concern for all of us," Port of L.A. Executive Director Gene Seroka said during a video press conference on Dec. 15. "Many vessels are stopping first in a holding pattern before coming to berth. It's an indication of the sheer amount of traffic that we're seeing."

In November, 50 of the 88 vessels coming to Los Angeles first went to anchor and averaged two and a half days there. So far in December, about 80% of arriving vessels are going to anchor first, and the wait time has increased to four days, Seroka added.

Long Beach is dealing with the surge by "partnering with stakeholders, utilizing a temporary storage yard, and prioritizing dual transaction truck trips that balance inbound and outbound cargo flows," Executive Director Mario Cordero said in a statement.

Cordero was referring to the port's recently announced collaboration with four marine terminal operators — International Transportation Services Inc., Long Beach Container Terminal, SSA Marine and Total Terminals International — that will push for at least 50% of trucks to drop off empty cargo containers or exports and pick up imported goods during a single trip to the port.

Seroka said the Port of Los Angeles plans to dole out $8 million in incentives to its seven cargo terminals for achieving faster truck turn times and more dual transactions in the next 12 months. Its Board of Harbor Commissioners will decide on the matter in January.

The port also opened a new start/stop yard on Terminal Island for the return of bare chassis and empty containers and is pursuing additional land use opportunities.

"Any unused property at the port is being reviewed to create maneuverability and flexibility in an effort to relieve the pressure on the marine terminals," Seroka said. "We have a blueprint also to get more chassis off the marine terminals to neutral sites — near dock — which could open up an additional 50 to 80 acres of marine terminal space here in LA."

"There's a lot on the line right now as the port and its stakeholders face these evolving challenges with this unprecedented amount of cargo volume moving so close to the holidays; we are essentially in a triage situation. If there is something we can do to prioritize goods, help find or move a box that will assist a customer or consumer, we're going to do it." he added.

Imports at the Port of Long Beach increased 30.5% in November, while exports were down 5.2%. Empty containers volume was up 55%. The Port has moved 7,297,430 TEUs since Jan. 1, a 4.7% uptick from the same 11-month period in 2019.

A similar scenario played out at the Port of Los Angeles. Imports were up 25%, exports decreased 5.5%, and empties jumped 34%. Seroka anticipates December cargo volume to total about 875,000 TEUs, or 17% more than the December 2019 with "the ability to get ships at berth" factored into the estimates.

"Our current 2020 year-end projection is 9.2 million TEUs, which would be just a little more than one and a half percent lower than last year," he said. "Considering the roller coaster we've been on all year long, I'm pleased with how we're finishing this challenging year of 2020."
For reprint and licensing requests for this article, CLICK HERE.