This Season, Office Holiday Parties Are Remote Affairs
Monday, December 21, 2020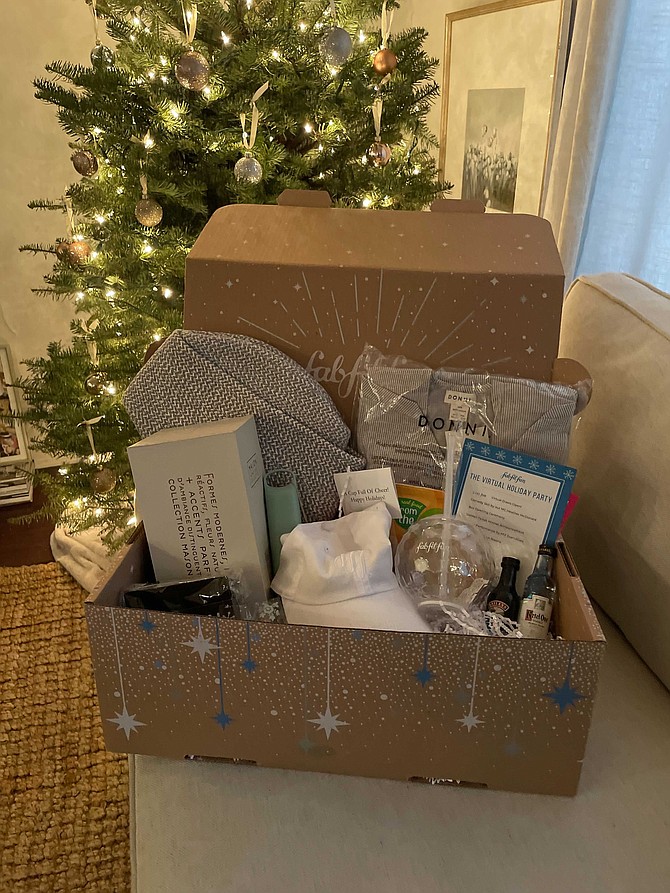 Instead of suits and dresses, an ugly Christmas sweater paired with Zoom-friendly sweatpants appears to be the outfit du jour for this year's corporate holiday parties.

Long considered an opportunity for companies to show appreciation for their employees' hard work throughout the year, most corporate events held this month are either moving online or being replaced by more subdued celebrations. 

"The Covid Grinch stole our Christmas!" said Craig Furst, chief executive at Mid-City-based AAA Flag & Banner Manufacturing. "With limited options that felt meaningful, we opted to keep safe at home this year and send our joy with a card and gift card instead."

AAA makes displays for major events,  including the Oscars and the Grammys as well as fan cutouts that filled seats at Major League Baseball games during the pandemic.
 
In previous years, the company hosted parties for its team of about 200 workers, with live music, "fabulous Cirque du Soleil-style entertainment, and a buffet feast," Furst said. 

"It was a real celebration for the culmination of a great year. People dancing and cheering and lots of comradery. Covid-19 is a real blow to not only our ability to come together and celebrate the holiday season together but also to provide some of the gifts and giveaways," he added.

At FabFitFun Inc., a West Hollywood-based ecommerce and media company, holiday parties have been major events, featuring celebrity attendees and musical acts by Tyga and Warren G.

"This year, we are doing things differently and going with a virtual holiday party … hosted by a stand-up comedian," said Katie Echevarria Rosen Kitchens, co-founder and editor-in-chief.

"We have some other surprises planned for employees including a musical guest, trivia, prizes and a special, highly embarrassing but certainly entertaining performance by the executive team. We also sent every employee a special FabFitFun gift box with company swag and some party favors that they can enjoy from the comfort of their homes."

Jones Lang LaSalle Inc., a real estate brokerage firm that has substantial operations in downtown, has held a formal holiday party every year. But this year per "executive orders," in-person celebrations have been replaced with virtual cocktails and ugly sweater competitions.

There are also holiday activities to give back to local nonprofits, according to Carol Araki, the company's chief operating officer of markets operations in Los Angeles. "For example, JLL's Project and Development Services group recently spent the day with the local Meals on Wheels of America chapter, delivering meals to those in need," Araki said. 

Philanthropic efforts
Mattel Inc.'s holiday celebration also has a philanthropic component. The toymaker usually hosts casual outdoor gatherings at its El Segundo campus, during which employees "could build play kits to help create unforgettable holiday memories for kids in need," according to Chief People Officer Amy Thompson.

This year, she said, several departments are marking the season by "adopting" families through Baby2Baby and UCLA Mattel Children's Hospital and purchasing items these families need most during the holidays.

Beyond the give-back initiatives, Thompson added, departments are hosting different types of virtual holiday celebrations. 

"For instance, two departments' leaders are gifting their teams a virtual piano recital of holiday carols, which is in its own way another example of giving back, as the pianist recently lost his job of 34 years playing in a local hotel lobby due to the pandemic," she said. 

Employees at Long Beach-based aerospace firm Rocket Lab USA Inc. usually spend their holiday party building — what else? — toy rockets.

"We typically have a fun day together called Rocket Challenge where we build crazy toy rockets with little engines and see who can fly the furthest or highest," said Head of Communications Morgan Bailey. "This year we'll be issuing a similar challenge to our team, but it will be done at home and videoed instead."

Companies with less elaborate celebrations include Culver City-based 4thMVMT. The firm vets, trains and finances competitive retail businesses with individuals who have been affected by the disproportionate use of criminal justice. 

Last Christmas, company founder Karim Webb invited staff and their family members to a night of bowling and organized a white elephant gift giving game. "This year, we are doing a virtual holiday event with our staff and partners for Los Angeles and Chicago," said Ralina Shaw, 4thMVMT's senior director of communications and marketing. "We will play games — 21 Questions and We're Not Really Strangers — get to know one another better and share stories from our journey this year."  

A personal touch
For some firms, holiday season is business as usual. "Several years ago, staff generally made us aware that instead of the 'required' holiday party, they simply wished to have more time with family and friends, so no real change now," said Robert Alvarado, co-founder of CourtCall, a Westchester-based company with some 100 employees that specializes in remote court appearances.

Jacqueline Keller, who runs ready-meal company NutriFit in West Los Angeles, said she gives her employees the day off and holiday turkeys or hams.

"We do not have holiday parties for our own employees (as) we are very focused on holiday parties for our clients," Keller said. "We are providing Guided Virtual Tasting Experiences for companies all across the country."

Last week, Keller's team hosted 10 virtual tastings, half in lieu of company parties and the other half for organizations that would ordinarily have holiday parties, including the Women Presidents' Organization. Ally Ward Delgado, a WTO member, wrote on Instagram, "Had our year-end gala virtually this year … and didn't know what to expect … Jackie Keller of @nutrifitonline knocked it out of the park."
For reprint and licensing requests for this article, CLICK HERE.