Restaurants Say New Restrictions Create 'Dire' Situation
Monday, December 14, 2020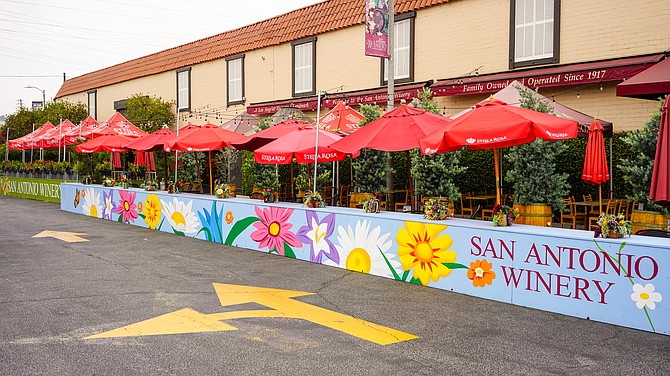 Ciaran Gough's California-themed eatery in Long Beach was less than a year old when the pandemic hit in March. 

Like many in the restaurant industry, he shifted into survival mode, first laying off his staff of 50 and then rehiring most of them, setting up to-go ordering and investing $10,000 in outdoor seating. 

Nine months in, things are not getting easier, with Covid-19 infections on the rise and the state's recent stay-at-home order and Los Angeles County's much-contested ban on outdoor dining snuffing out in-person business for the rest of the year.  

But Gough, who named his restaurant The 908 after the first three digits of the eatery's Long Beach ZIP code, is looking past 2020 and bracing for new battles.
"You're going to do everything you can to make sure you weather this storm and just come out on the other side, and then it's just another phase of figuring it out," he said. 

"What if we did get back to being able to fully seat restaurants, maybe that's two, three, four, five, six months from now," he said. "I don't know how long it's going to take, but at that point the restaurant industry is an expendable income. … We've seen it in 2008, when the economy turned, people started cutting out going out to eat because it is something that you don't absolutely need. This a two- to three-year dig out before we get back to any kind of normal."

The National Restaurant Association shares Gough's grim outlook. The Washington, D.C.-based nonprofit that advocates for some 1 million restaurants and foodservice outlets sent a letter to congressional leadership last week, urging lawmakers to pass a relief package and make modifications to the second round of the CARES Act's Paycheck Protection Program that will "reflect the unique business model of the restaurant industry."

The association's survey of 6,000 restaurant operators and 250 supply chain businesses, conducted Nov. 17-30, shows that 17% of restaurants — more than 110,000 — have closed. About 87% of full-service restaurants, like The 908, reported an average 36% drop in sales revenue, and 82% expect sales to be even worse over the next three months.

Jot Condie, president and chief executive of the California Restaurant Association, defined the situation on the local level as "unmitigated tragedy for our industry."

"In San Francisco close to 50% of restaurants won't reopen, and I think in Los Angeles it's definitely north of 30%, but it could be anywhere from 30% to 45%," Condie said. "It's that dire."

Closures to date include a number of popular eateries — Yours Truly in Venice, West Hollywood's Aburiya Raku and Dialogue in Santa Monica, to name a few.

Condie, like many local restaurant owners, questioned the county's recent decision to ban outdoor dining; that ban has since been put on hold by the courts.

"Even with outdoor dining, they are not profitable," he said. "It's just a matter of how much money can they hemorrhage and make it to the other side. For every restaurant that you see with 10 tables on the sidewalk there's 20 to 30 tables on the inside that are going unused and empty. … But when you take those 10 tables away, the health department has tied an anchor around the ankles of every L.A. County restaurant owner and said 'good luck treading water.'"

Seeking help
The NRA has asked Congress to put in place several measures that would enable more restaurants to benefit from PPP. For example, to be eligible for a second round of forgivable loans, small businesses must show they lost more than 25% of their quarterly revenue compared to the same quarter in 2019. The association is pushing for a 20% threshold. 

It's also hoping lawmakers will allow restaurants to deduct expenses even if there is a "reasonable expectation" the loans used to cover those expenses will be forgiven. 

In addition, the association is advocating for a one-page loan forgiveness application for borrowers with loans of $150,000 or less, and for the unforgiven portions of PPP to have a five-year repayment plan. 

Other asks include removing a limit on how much businesses that are majority-owned by a common parent could obtain under PPP and providing a $50,000 allowance to cover expenses related to protecting workers from Covid-19 infections.

Gough said he's hoping Congress will pass the Real Economic Support That Acknowledges Unique Restaurant Assistance Needed To Survive measure, or RESTAURANTS, Act. The measure would provide $120 billion in relief through a grant program administered by the Treasury Department to offset the difference in revenue between 2019 and 2020.

"It's essentially replacing sales we lost for (what we made in) 2019," he said. "That would really put the industry back on a solid footing to be able to say, 'Okay, we made it through this crappy year, but now we're in a spot where we're able to settle a lot of our debts.' And with uncertainty in the economics of the future years, at least you'd be able to be on an equal footing."

He's also hoping the issues of back rent get resolved.

"I get where landlords are. They have bills too; they can't just walk away from their mortgages," Gough said. "We've been in negotiations with our landlord to try and come up with something that really helps us survive because the reality is that if we need to pay all the rent that we owed, it wouldn't be worth it staying in business."

He added that deferring rent isn't really a solution because patio and takeout sales are covering only the current expenses, not paying down the debt the business owners incurred during the shutdowns. 

"I think for a lot of restauranteurs, it's really a question of, 'Do I throw good money after bad, or do I just close it down because I'm never going to get out of this hole?'" Gough said.

Local impact
It appears that the pandemic has shown a bit more mercy to quick-serve and fast-casual restaurants, whose food offerings are more conducive to takeout and delivery. But even there, it's a "mixed bag, depending on the location of the store," according to Greg Sinaiko who owns Fatburger franchises in Marina del Rey, Studio City, Inglewood and Buena Park. 

"The one that's located in Studio City is near Universal Studios and a lot of corporate offices (and has) really been hit hard, just because there's not as much traffic, not enough people coming by," Sinaiko said. 

"The Marina del Rey one, which is much more residential, has a lot more foot traffic and people, a lot more delivery — that one's been doing fine compared to last year. (The Inglewood restaurant) is doing better than it did last year in terms of topline sales."

Andy Wiederhorn, chief executive of FAT Brands Inc., provided the 20,000-foot perspective. 

The Beverly Hills-based company, whose roster of franchises includes Johnny Rockets, Fatburger, Buffalo's Cafe, Buffalo's Express, Hurricane Grill & Wings, Ponderosa and Bonanza steakhouses, Elevation Burger and Yalla Mediterranean, has about 50 restaurants in L.A. County and another 650 worldwide.

"As a company, we're probably performing at 75% of normal, across all of our brands," Wiederhorn said. "Our franchisees need help. The PPP loans from last April and May were very helpful, but those were loans to get them through March, April and May, and that's three months. Now we're going on nine months, and it's going to be 12 months. They need not just one more round of PPP but probably two or three times the amount to be able to survive. … Honestly, Congress has no excuse for taking so long."

Cathy Riboli, general manager of Maddalena Restaurant at the Riboli Family of San Antonio Winery in Lincoln Heights, relied on her late father's words to keep things in perspective during the shutdowns.

"He always said, 'Andiamo sempre avanti,' and it means, 'you go forward, you don't stop," Riboli said. 

The restaurant employed 55 workers who served some 1,000 meals on a good weekend prior to the pandemic. When the statewide shutdowns were implemented in March, instead of layoffs, Riboli reassigned her staff to other duties at the 103-year old winery. 

Some moved to ecommerce while others started assisting the sales staff. When the restrictions were lifted, the winery expanded its takeout service and invested about $100,000 to expand outdoor seating for the restaurant. 

The latest shutdown, which went into effect on Nov. 24., prompted Riboli to develop family meal specials priced at less than $100 and featuring several kinds of pasta dishes and a bottle of wine. Her team is also selling wine and food gift baskets for Christmas.

"We are resilient," Riboli said. "We're a family that works very hard. And I know we will still be in business six months from now."
For reprint and licensing requests for this article, CLICK HERE.