Leaders in Law 2020: Redefining Legal Education
Custom Content by the Los Angeles Business Journal
Tuesday, December 1, 2020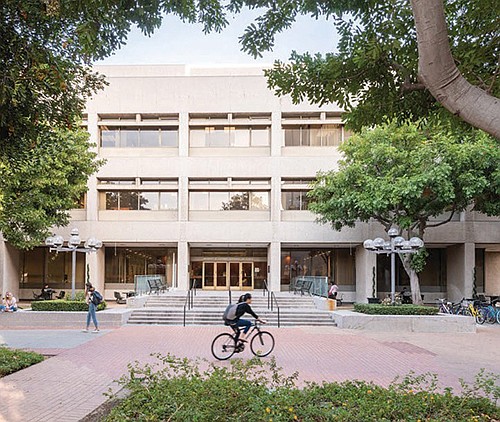 The USC Gould School of Law – the first law school in Southern California and one of the top-ranked nationwide – celebrates its 120th anniversary in 2020. Since its establishment, innovation has been an integral part of the USC Gould School's DNA.
"One of our central goals as a law school is to prepare our students to become innovators and influencers who redefine the legal profession — improving not only their organizations, but also people's lives," said Dean Andrew T. Guzman.
USC Gould has built a renowned history of interdisciplinary educational programs for legal professionals, with degrees that include the Juris Doctor (JD), Master of Laws (LLM), LLM in Alternative Dispute Resolution, LLM in International Business and Economic Law, Master of Dispute Resolution (MDR), and Master of Comparative Law (MCL). In addition, USC Gould was among the first top-tier law schools to offer a fully online LLM degree, allowing students from across the globe to join our vibrant and diverse community. Today, the law school features a student body representing more than 60 countries worldwide.
In 2016, USC Gould added an exciting new chapter to its innovative legacy with the launch of the online Master of Studies in Law (MSL) degree, which is specially designed for non-lawyer professionals to gain a solid understanding of legal concepts and issues related to their fields.
USC MSL: AT THE FOREFRONT OF ONLINE EDUCATION
From contracts and compliance, to finance and mediation, to cybersecurity and IP, a growing number of today's roles and responsibilities intersect with legal matters more than ever before. In response to these shifts in the business landscape, legal education has evolved as well, with USC's Gould School of Law leading the charge to meet these demands. Through the MSL program, the USC Gould School helps non-lawyer professionals enhance their business expertise with an essential legal education.
"Virtually every professional in the economy encounters the law, whether you are hiring people, dealing with contracts or making decisions within a complex regulatory world," said Dean Guzman. "We believe it is important for all of these professionals to have a strong familiarity with the law and what the legal system requires. We are accomplishing that through our master's programs, such as the MSL."
Flexible, Convenient, Interactive
In the MSL program, students have the convenience of completing the degree 100% online, and the flexibility to study part-time — making it an ideal format to balance the demands of work schedules. No LSAT or GRE test is required; no prior law degree is required either. In addition, generous scholarships are available and considered for all applicants.
The MSL degree enables graduates to contribute to their roles with a more thorough understanding of the law. MSL degrees can apply to a variety of career goals and business industries, including those who deal with contracts, negotiations, human resources, strategy and compliance, or who work closely with their organization's legal department. The program provides students with a working knowledge of the law to amplify their career impact.
The benefits don't end inside the classroom. Graduates of the MSL program gain access to the global Trojan Family network, which includes connections to more than 14,000 USC Gould alumni.
Customized to Meet Your Goals
MSL students can tailor their educational experience by pursuing a certificate aligned with their field. These certificates can be completed at no additional cost, as part of the MSL program.
Certificate programs include:
• Business Law
• Compliance
• Entertainment Law and Industry
• Financial Compliance
• Human Resources Law and Compliance
• Privacy Law and Cybersecurity
• Health Care Compliance
Certificate programs – which may be earned in as few as three semesters online – help students maximize their impact within their organizations and ultimately improve employee and leadership productivity, along with bottom-line contributions.
For more information about the MSL degree, visit bit.ly/usclaw2020.
To explore corporate partnerships, please email us at corporatecustomed@law.usc.edu.
CORPORATE PARTNERSHIP OPPORTUNITIES
How can a partnership help both careers and companies?
Research has shown that an overwhelming majority of employees would stay at their companies longer if their employers invested in their professional growth and development — providing the opportunity to learn essential new skills.
Organizations can capitalize on their homegrown talent and increase employee retention through custom partnerships with the USC Gould School of Law. USC Gould collaborates with numerous organizations that offer scholarship savings to employees, including for the online Master of Studies in Law (MSL) for non-lawyer professionals.
Benefits for corporate partners and their employees include:
• Generous partner scholarships
• Personalized application support
• Individual academic advising
• Interactive, convenient and flexible online experience
• And many more
For reprint and licensing requests for this article, CLICK HERE.