Local Hospital Employment Holds Steady Amid Pandemic
Monday, August 31, 2020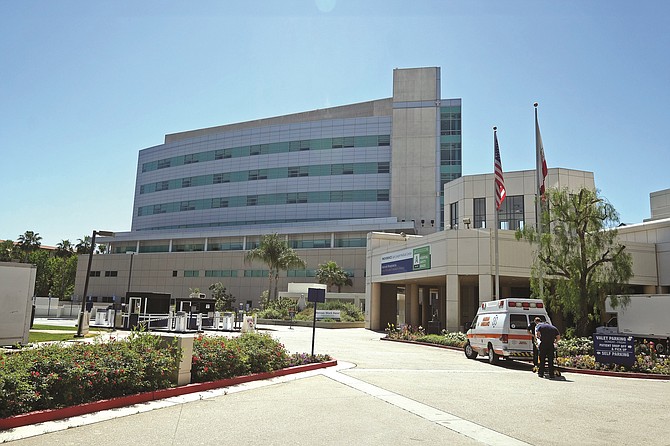 To say L.A. County hospitals have had a challenging year on the front lines of the Covid-19 pandemic would be an understatement.
Local hospitals had to quickly increase capacity to accommodate anticipated surges in coronavirus patients and spend large sums of money to hastily acquire ventilators and personal protective equipment — all while revenue plunged as elective surgery volumes plummeted.
Despite all this, hospitals in the county have managed to keep employee levels fairly constant, with some even increasing employment, according to the Business Journal's annual list of the largest private-sector employers and state figures.
Between February — the last prepandemic month — and July, L.A. County hospitals cumulatively added about 1,900 employees, increasing employment levels by about 1.6% to 121,000, according to figures released this month by the state Employment Development Department.
This number compares with an overall loss of roughly 540,000 payroll jobs in L.A. County over the same five-month stretch, a plunge of 11.6%.
A similar trend was observed among the 11 hospitals on the Business Journal's annual list of the 50 largest private-sector employers in L.A. County. That occurred over a 12-month time frame, though, not just since the pandemic began in March.
These 11 hospitals registered a net increase of about 150 jobs over the past 12 months, bringing their total employment to nearly 110,000. Five had increases in employment, three saw drops and three remained steady.
"Hospitals did cut their employment somewhat between March and April, with much of that due to the ban on elective surgery," said John Romley, senior fellow at the USC Schaeffer Center for Health Policy & Economics. "But since then, they've been holding steady, with a small number of employees who were laid off or furloughed being rehired."
That was the experience at Renton, Wash.-based Providence Health, which owns and operates six hospitals in L.A. County, including Providence Saint Joseph Medical Center in Burbank and Providence Saint John's Medical Center in Santa Monica.
On May 1, facing a fiscal gap of roughly $100 million, Providence furloughed roughly 5,000 employees at its 13 Southern California hospitals, including the six in L.A. County, according to Erik Wexler, chief executive of the Southern California division for Providence Health.
Some of those who were furloughed were rehired as the statewide ban on elective surgeries was eased.
"For the most part, our employee numbers have been steady," Pam Stahl, chief human resources officer for Providence in Southern California, said in an email.
According to data Providence supplied to the Business Journal, the chain's L.A. County employee count dropped to 14,094 employees between July 2019 and July 2020. The decline of 1,860 employees was one of the largest among hospitals on the list.
While Providence posted a decline in employees Oakland-based Kaiser Permanente's Los Angeles County hospitals added about 1,000 employees, and Beverly Grove-based Cedars-Sinai Health System brought on about 600 employees.
Hospitals have long made up one of the biggest industry sectors on the Business Journal list, given their labor-intensive nature and the high levels of demand for acute health care treatment from the region's massive and aging population.
"Hospitals are historically big employment players within communities," USC's Romley said. "In Los Angeles County, this is even more the case as other major employers, such as manufacturing companies, have moved out over time."
According to Romley, L.A. County stands out in another way: It has a 1.6% rise in payroll employment at hospitals since the pandemic began in contrast to the statewide drop of 1.8%, according to the EDD.
"Over time, as we have learned more about the virus, the county became the state epicenter, and perhaps hospitals have ramped up more here in response," he said.
For the time being, Romley added, the intense fiscal crunch faced by hospitals in the first 90 days of the pandemic has eased. Federal CARES Act dollars have helped refill rapidly depleted coffers. And the much-feared surge in Covid patients hasn't arrived at the scale anticipated though Romley noted that a smaller surge did occur last month as both cases and hospitalizations rose after the economy started to reopen.
But he said he doesn't expect local hospitals to go on a hiring binge anytime soon.
"I'm skeptical that staffing will increase later this year or into next year," he said. "There's concern over reimbursement levels as people lose their employer-based health insurance and concern about the financial impacts of a possible future Covid case surge."
Keep reading the
2020 Largest Employers Special Report
.
For reprint and licensing requests for this article, CLICK HERE.