San Pedro Bay Ports Report Strong Gains for July
Monday, August 24, 2020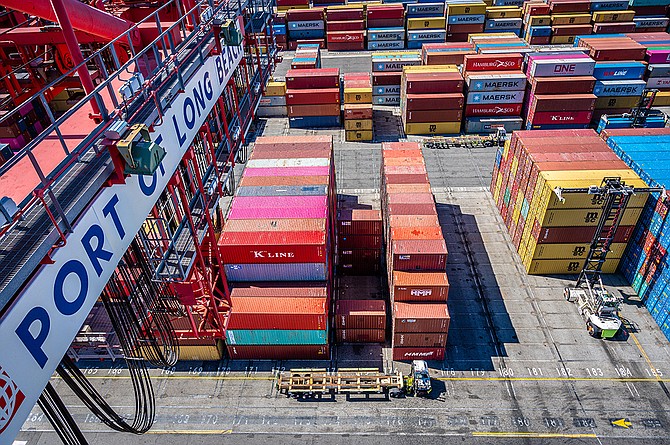 A surge in online spending and extra vessel visits in July helped the Port of Long Beach record its busiest month while the Port of Los Angeles saw its highest cargo volumes of the year.
Even with the strong performance for the month, however, the Port of L.A.'s totals fell 6.1% short of its results for July 2019.
At the Port of Long Beach, terminal operators and dockworkers moved 753,081 twenty-foot-equivalent units (TEUs) of cargo last month, beating a record set in June 2018 by 892 TEUs.
Imports at the port increased 20.3% to 376,807 TEUs in July while exports grew 24.1% to 138,602 TEUs. The number of empty containers headed back overseas increased 20.8% to 237,672 TEUs.
"Supply chain workers at the Port of Long Beach expertly handled a welcome surge in cargo that was brought on due to pent-up demand by consumers," Executive Director Mario Cordero said in a statement. "It was a good month, a bright spot, in the midst of the devastating effects of the coronavirus on the economy."
Some 856,389 TEUs of cargo passed through the Port of Los Angeles last month, with fewer canceled sailings and 11 unscheduled ship calls boosting both imports and exports.
Imports decreased 4.3% to 456,029 TEUs while exports were down 21.7% to 126,354 TEUs. The volume of empty containers shipped back overseas remained flat at 274,007 TEUs compared to the same period last year.
"The July volumes were good — (it was) the seventh-best month in our 114-year history," Executive Director Gene Seroka said during a video press conference. "Also showing a 24% increase versus the month of June. … There were fewer canceled sailings — only two in July and only one in August is planned — and none for September just yet."
Seven months into 2020, overall cargo volume at the port is down 15.3% to 4,618,278 TEUs compared to the same period in 2019. Imports through July trail last year's volumes by 12.1% while exports and empties are behind 18.3% and 18.7% respectively.
"Exports have been down 20 of the last 21 months, mainly on the heels of trade tensions with China and other policies," Seroka said.
The port has experienced 11 consecutive months of declines in otal cargo volume, Seroka added.
"The record is 15 consecutive months during the recession of 2008 and 2009, and it's not a record we want to break," he said.
Cargo volumes at the neighboring Port of Long Beach totaled 4,186,115 TEUs during the first seven months of 2020, a decline of 2.8% from the same period in 2019.
A similar scenario is playing out at other ports on the West Coast.
The Port of Oakland, which handles nearly all containerized goods moving through Northern California, reported a 6.4% uptick in July imports that totaled 96,420 TEUs.
Exports at the port declined at the same rate to 71,527 TEUs while its year-to-date total cargo volume was down 5.8% compared to the same period in 2019.
"It's good to see an uptick in cargo activity," Port of Oakland Maritime Director Bryan Brandes said in a statement "But we're not doing any victory celebrations because the trade outlook remains unclear as long as the pandemic is with us."
Oakland port officials attributed a decline in exports to "China's efforts to bar waste product shipments. Scrap paper is one of the leading U.S. exports from West Coast ports, including Oakland."
The Northwest Seaport Alliance, a marine cargo operating partnership of the ports of Tacoma and Seattle, handled 270,388 TEUs last month, a 17.2% decline compared to July 2019.
Imports were down 15.9% while exports decreased 23.4%. The alliance reported year-to-date total cargo volume at 1,834,652 TEUs, an 18.2% drop compared to the first seven months of 2019.
It also saw 57 blank sailings through July, the same number it recorded for the entirety of 2019.
"Despite these very difficult times, we remain cautiously optimistic as shipping lines have announced only one more blank sailing through the end of 2020," alliance Chief Executive John Wolfe said in a statement. "This is a fluid situation, and we're not out of the woods yet."
For reprint and licensing requests for this article, CLICK HERE.