Inglewood Plans People Mover Project to SoFi Complex
Monday, August 24, 2020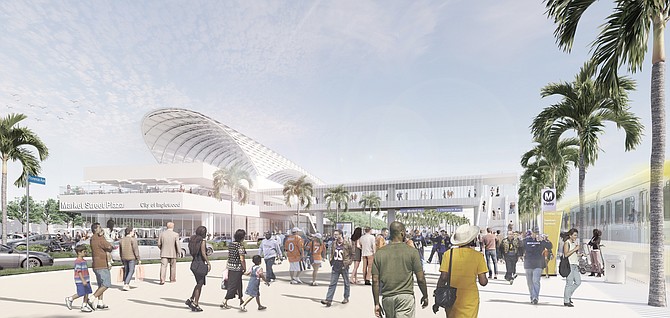 A huge new sports and entertainment complex is taking shape in Inglewood, and it includes the new SoFi Stadium, a newly remodeled Forum and a proposed arena for the Los Angeles Clippers.
The trouble is the venues are about 1.5 miles southeast of downtown Inglewood and a Metro Crenshaw-LAX light rail line station, due to open early next year.
Inglewood officials have been planning a rail connection between the station and the complex, and on Aug. 14 they released new details on the rail line, its cost and targeted completion date.
The plan calls for an elevated monorail-like automated people mover between the Crenshaw-LAX line's Market Street station in downtown Inglewood and a station across from the SoFi Stadium/Hollywood Park complex. A station would also be built next to the Forum.
Total cost is projected at roughly $1 billion, and the projected completion date is mid-2026.
According to the city's presentation, the line could accommodate up to 12,000 passengers per hour during peak hours on event days.
One reason for the high price tag: The entire line would be elevated to eliminate interference with busy city streets. The project would also include a maintenance and storage facility on nearby Manchester Boulevard.
Another key feature of the project would be a "joint development opportunity" around the Market Street station.
"Proposed uses include approximately 600,000 square feet of mixed-income and affordable housing, commercial uses, parking and pickup/drop-off services," according to the presentation.
The timeline calls for environmental review and right-of-way acquisitions next year, with a construction contract to be awarded late 2021. Construction would start in late 2021 or early 2022, with completion set for May 2026.
Design and construction are projected to cost $686 million, while right-of-way acquisitions are expected to cost about $105 million. Another $212 million is budgeted for "soft construction costs" such as environmental reviews and "contingencies."
As for funds, the presentation said the city has $95 million from a state transportation grant on hand. It anticipates another $234 million by next June in already-approved funds from Measure R, the half-cent sales tax extension and increase for transit projects approved by county voters in 2008.
The remaining $685 million would come from a mixture of city funds, real estate developer fees and private financing from the contractors hired to build and operate the rail line. One or more measures to secure portions of these funds might have to be submitted to voters.
For reprint and licensing requests for this article, CLICK HERE.