Valence Raises $5 Million for Networking Platform for Black Professionals
Monday, August 17, 2020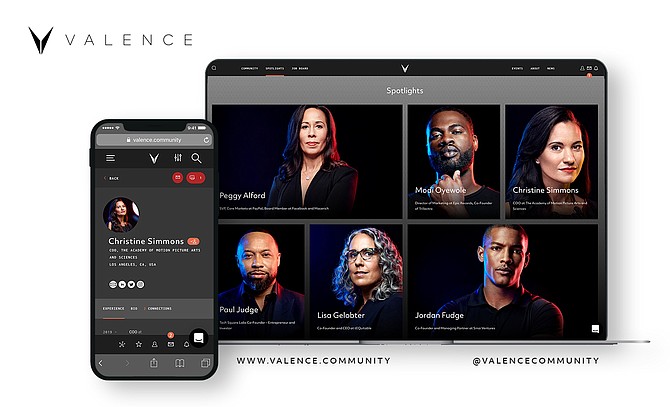 Santa Monica-based Valence Enterprises Inc. has raised $5.25 million in Series A funding. The round was led by GGV Capital with participation from existing backer Upfront Ventures and brings the company's total funding to just over $7.7 million.
Valence is a LinkedIn-like social networking platform for Black professionals. The company, which launched its beta version in November, aims to connect Black talent with job openings, mentorships, funding and other opportunities to advance professionally.
The goal, according to the company, is to help narrow racial disparities that have left Black professionals underrepresented in high-paying executive positions and technology jobs and contributed to the racial wealth gap.
Although Valence was initially focused largely on connecting Black startup founders to venture capital resources, it has since broadened its scope to include Black professionals across any industry.
"We currently have a stronger representation among tech and venture due to the makeup of the founding team," said Valence co-founder and Chief Operations Officer Emily Slade. "But it's definitely broader than just the startup folks."
In addition to basic professional social networking features, Valence includes a mentorship platform called Boost and an organization directory to find Black professionals across companies and groups.
The Boost tool connects up-and-coming professionals with Black leaders across a variety of industries who have volunteered for 30-minute, one-on-one mentorship chats on a range of professional topics.
The organization directory, while currently live, is pending further significant upgrades through the new funding. "We want that to be a really awesome resource to find Black-owned businesses," said Slade.
Valence is also looking to extend the relevance of its platform beyond the networking and hiring process and into career advancement, according to Slade. The company is working with third-party partners on a professional development program to be rolled out in coming months, she said.
While participation in the Valence network is free, Slade said users will likely be charged a fee to participate in courses. Valence currently makes money by charging companies for services such as posting jobs and accessing its talent database.
Slade said the platform has approximately 10,000 users — a number the company intends to expand significantly in the near future.
"If we do our job right, we are looking at having hundreds of thousands of members in the next year," she said. "We think that's achievable."
For reprint and licensing requests for this article, CLICK HERE.