Executive Education: Hot Jobs: Demand for Data Scientists Continues to Rise
Custom Content by the Los Angeles Business Journal
Monday, August 17, 2020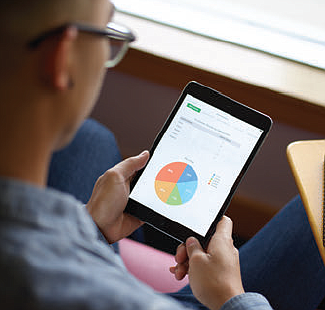 The era of Big Data is here, and successful businesses are now relying on highly-trained data analysts to help them drive corporate strategy and make smart decisions.
According to CareerCast 2019, demand for data scientists is high with a 19% growth outlook, and a ranking among the 10 best jobs of the year.
Salaries for entry to mid-level professionals are also promising. According to Indeed, the pay range for data scientists in California is 12% higher than the national average, with a base salary of approximately $84,000 annually. This projection is higher than the average college graduate's starting salary of $50,000 annually.
"Simply put, supply does not meet demand for this profession," said Abe Helou, Dean of the College of Business and Public Management at the University of La Verne. "The modern business world needs professionals with the skills to gather, analyze, and make data-driven decisions that drive corporate strategy and execution."
To prepare students to excel in the growing field of data science, the University of La Verne offers a Master of Science in Data Analytics (MSDA) degree. The MSDA program is offered at the La Verne central campus and provides two specializations: marketing analytics and supply chain management analytics.
While other programs in the region take 18 to 24 months to complete, La Verne's can be completed in just 12 months. That allows students to graduate quicker, at less cost, and enter the workforce with the skills they need sooner.
Additional features of the program include: a career advisor who will help in placing students in internships and jobs, a program advisor who will ensure students remain on track for graduation, and complimentary workshops to help students prepare for exams that would enable them to earn certification by SAS in Advanced Analytics and Predictive Modeling.
"Graduates of the MSDA will be equipped with a comprehensive understanding of business intelligence and data analysis, including a holistic view of business analytics from both company and consumer points of view," Helou said. "They will also have the ability to develop big data strategy within a corporation, build a model to see how digital analytics and big data can be used for market predictions, and develop practical knowledge of how to develop performance measurement tools and assess return on investment."
Four courses are shared between the two concentrations, and six courses are tailored to each of the two specializations. The curriculum includes SAS programming; data mining and predictive analytics; multivariate statistical analysis; marketing research methods; problem-solving methodologies; analytics in operations and planning; analytics in logistics and sourcing; experimental design and market testing; theory and practice of consumer behavior; marketing analytics; digital marketing; and social media analytics.
The university is now accepting applications.
Founded in 1891 and located 35 miles east of Los Angeles, the University of La Verne is a private, nonprofit, comprehensive institution founded on four core values: lifelong learning, ethical reasoning, civic and community engagement, and diversity and inclusivity. The university serves about 8,000 students on the historic La Verne location as well as across nine regional campuses and online.  Learn more at univ.lv/msda.
For reprint and licensing requests for this article, CLICK HERE.