UCLA, Cedars Earn High Marks in National Hospital Rankings
Monday, August 10, 2020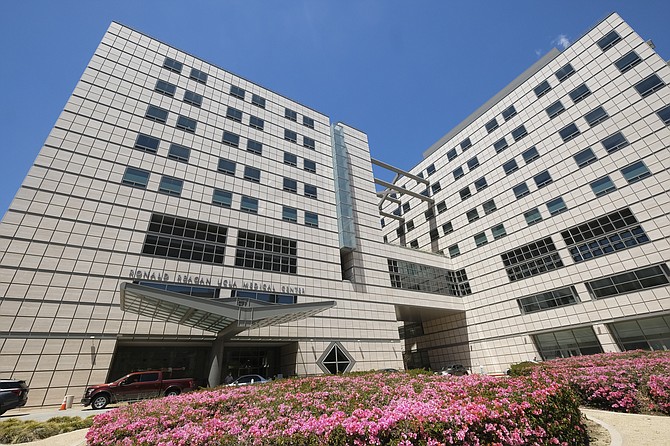 Three Los Angeles County hospitals once again placed among the nation's top 20 in annual rankings compiled by U.S. News & World Report.
UCLA Medical Center tied for the fourth-best hospital system in the country, moving up from No. 6 last year, according to ratings released on July 27. The hospital again took the top spot for both California and the Los Angeles metro area.
Cedars-Sinai Health System placed No. 7 nationally, moving up one notch; the hospital system was No. 2 in California.
And Keck Hospital of USC tied for the No. 18 in the national ranking, moving down two spots; Keck was No. 5 statewide.
In the national rankings, top honors went once again to the Mayo Clinic in Rochester, Minn., followed by the Cleveland Clinic at No. 2 and Johns Hopkins Hospital in Baltimore at No. 3.
U.S. News ranked more than 6,000 hospitals nationwide, looking at their performance across 16 specialties, from cardiology to orthopedics. The 20 hospitals that made the national list excelled across all or most of these specialties, with their exact position determined by the cumulative total of the specialty ratings.
UCLA Medical Center tied New York-Presbyterian Hospital-Columbia and Cornell in New York for the No. 4 spot nationally. UCLA Medical Center earned top 10 rankings in 13 specialties, up from 12 last year. Among these: geriatrics (No. 3), nephrology (No. 3) and diabetes/endocrinology (No. 4).
"We pride ourselves on providing the best possible care to each patient, no matter the circumstances — from routine checkups in our community clinics to complex procedures in our hospitals," John Mazziotta, chief executive of UCLA Health and vice chancellor for UCLA Health Sciences, said in a statement released by UCLA.
Cedars-Sinai earned top 10 rankings in seven specialties, including gastroenterology/gastrointestinal surgery (No. 2), cardiology/heart surgery (No. 3) and orthopedics (No. 3).
"The U.S. News rankings reflect the scope of our staff's dedication to the health and well-being of all of our patients and to advancing the science of medicine and health care delivery," Thomas Priselac, Cedars-Sinai's chief executive, said in a statement.
USC's Keck tied with Barnes-Jewish Hospital of St. Louis for No. 18 nationally. Keck ranked in the top 10 in two specialty areas: geriatrics (No. 7) and urology (No. 9).
"This incredible achievement is a testament to Keck Medicine of USC's phenomenal growth and unwavering dedication to providing exceptional, research-driven academic medicine," Rod Hanners, interim chief executive of USC's Keck Medicine, said in a statement. 
Other L.A. County hospitals placing high on U.S. News' regional list were Torrance Memorial Medical Center, MemorialCare Long Beach Medical Center, Providence Holy Cross Medical Center in Mission Hills, Adventist Health/Glendale hospital and Huntington Memorial Hospital in Pasadena.
For reprint and licensing requests for this article, CLICK HERE.