Optimistic Coworking Proponents Prepare for Next Stage of Flex Spaces
Monday, August 10, 2020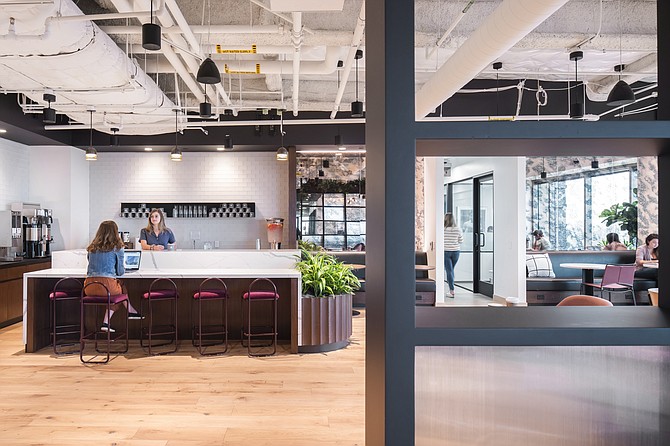 The Covid-19 pandemic might seem like a devastating blow to the coworking movement, which has blossomed in L.A. and elsewhere in recent years.
But some industry experts say coworking spaces are actually built to thrive in today's environment.
The spaces are already built out, have flexible leases and allow users to downsize or upsize quickly, something many companies desire in today's market.
"I honestly think that coworking is not dead at all," said Amber Schiada, a senior director of research at Jones Lang LaSalle Inc. "The way it's filled the gaps for tenants' needs over the last 10 years is going to continue."
In the short term, she added, demand is flat for coworking product. That has led to many coworking operators putting the brakes on expansion into new spaces.
Looking further out, Schiada said, the picture is much brighter.
"Short-term is probably on pause, just like everything else," she added. "But longer term, the ability for tenants to take on shorter lease terms and accommodate workspaces that are going to be more flexible (is desirable)."
A recent report from JLL predicts demand for flexible office space will increase as a result of Covid-19. By 2030, the report said, flex space could account for 30% of the office market.
But, the brokerage added, spaces that rely solely on coworking could be in trouble in the short-term while hybrid spaces that feature private offices along with coworking areas would fare better.
Going forward, Brett Kluewer, a managing director at Stream Realty Partners, said he thinks a hybrid approach, with private offices and breakout rooms in addition to open areas, will be more common.
A new era
"People want to talk about the end of the coworking era," said Ted Skirbunt, a national director at Savills Inc. "It's more of a beginning of a larger era under the umbrella of flexible office for tenants, and that is going to continue to evolve."
Peter Joyce, a vice president at Stream, isn't quite as positive. He said he had seen "a whole bunch of (coworking operators) in trouble."
A lot of coworking operators had recently signed high-priced leases, he said, and some coworking companies are trying to get out of leases in cases where deals had been signed but locations were not yet built out.
"They are actively scrambling to get out of obligations," Joyce said.
Companies like WeWork Cos. Inc., he added, had also had a reduction in workforce.
Joyce added that coworking tends to occupy Class A buildings in walkable areas.
So, while the potential of coworking companies to shrink their footprint may not have a huge impact on the overall market, he said he believes certain landlords "will be hit at a much higher rate than the broader office market."
But coworking isn't disappearing.
"Coworking has been around for a long, long time," Kluewer said. "WeWork made it cool and topical. You look at that industry, and it has weathered recessions in the past."
Keeping safe
For now, one of the main priorities for coworking companies has been finding a way to keep members safe.
"The most important thing for us is ensuring the safety of our members," said Elton Kwok, vice president and general manager for WeWork in California.
The company has de-densified common areas, added extensive signage and enhanced cleaning practices.
Ryan Simonetti, co-founder and chief executive of New York-based coworking company Convene, which has two locations in downtown, said the business is using technology for prearrival questionnaires, doing temperature checks and improving air quality.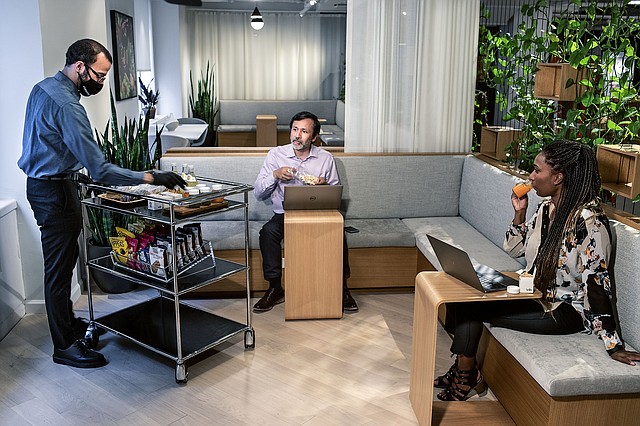 "We've also made some investment and design modifications to accommodate social distancing," he said. "A lot of focus has been on the hospitality perspective and how do you create the safest, cleanest environment that still feels welcoming."
New York-based company Industrious — which has eight locations across the region, from the Westside to Pasadena — is working on testing and tracing, increasing distance between members, limiting contact and increasing sanitization. The group is also pushing toward private offices and keeping distance between workstations.
In addition, Industrious is doing things like creating individually packed snacks and breakfasts instead of staging a buffet.
Management contracts
In recent years, many coworking companies have moved away from signing traditional leases, opting instead for management contracts and profit-sharing arrangements.
Industrious, Convene and IWG, which owns Spaces and Regus, all work with landlords directly.
"For years now, Industrious has exclusively signed partnership agreements with landlords," Anna Levine, head of coworking for Industrious, wrote in an email. "We just believe it's a better business model, both for us and for our landlord partners. This trend will only continue to accelerate in the coming years."
In these models, landlords generally put up the money used to create the space and split profits with the operator or hire them on a contract basis.
"Our strategy is not to sign leases at all," Convene's Simonetti said. "Everything is a management agreement or a joint venture partnership. We've seen an uptick in demand from our management partners for us to come in and create a better experience in the building," he said, adding that Convene would likely announce one or two new L.A. locations by the end of the year.
Joyce said management contracts will "definitely without a doubt" continue to happen.
"It's a more viable business model," Skirbunt added.
He also said landlords have been more willing to explore flexible office space including coworking.
Locally, Tishman Speyer Properties opened a coworking outpost in Beverly Hills last year.
Private offices
One of the major trends moving forward, experts say, will be more private office space.
John Drachman, a co-founder of Waterford Property Co., said he doesn't have coworking in his portfolio of 1.5 million square feet in Southern California, but he does have executive suites.
"Renting private offices still has demand," he said, adding that coworking companies with exterior perimeter offices were still having strong rent collection.
Simonetti said his product already has a lot of private areas.
"We really don't make our living selling individual memberships," he said.
During the Covid-19 pandemic, Simonetti said Convene has continued to see "a tremendous amount of demand for flexibility."
"Self-contained private suites are certainly of more importance now than in previous times," Skirbunt added.
WeWork's Kwok said, "A lot of our members are upgrading and moving into private spaces. They completely control their operations there."
"The private office and full-floor private offerings have been a very strong focus for us," he added.
WeWork plans to open its first Beverly Hills location and recently opened an outpost in Santa Monica.
Kwok declined to comment on reports WeWork was dropping leases, including one for the Wilshire Courtyard in Miracle Mile.
Levine said Industrious has started to "see a surge in demand from companies big and small" for space as companies look for flexible lease terms and updated spaces.
The company has plans to open two new Pasadena locations in the coming months and is expanding its location at Bunker Hill.
Industrious spaces, Levine added, are mainly private offices with access to shared common areas.
"This has been a real asset right now, since everyone understandably is looking for an office environment that's not only conducive to their productivity, but also to their safety. We've also signed or opened more than 150,000 square feet of new space since May with additional locations to come around the country," Levine said in an email.
Keep Reading: 2020 Coworking and Coliving Spaces Special Report
For reprint and licensing requests for this article, CLICK HERE.