SpaceX Prepares for Additional NASA Missions
Originally published August 3, 2020 at 3:52 p.m., updated August 7, 2020 at 10:48 a.m.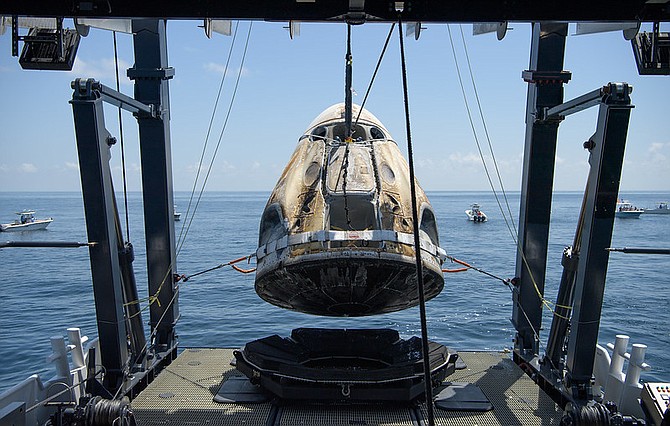 Following the successful completion of the company's first manned mission, Hawthorne-based aerospace company Space Exploration Technologies Corp. is lining up orders for more NASA projects.
SpaceX and NASA plan to conduct at least six missions to fly astronauts to the International Space Station on the company's Crew Dragon spacecraft.
Elon Musk, founder and chief engineer at SpaceX, said the mission that concluded Aug. 2 with the safe return of NASA astronauts Robert Behnken and Douglas Hurley has kicked off "a new era in spaceflight."
Even as SpaceX and NASA teams are reviewing data from the initial manned flight, the agency has announced teams for two upcoming ventures that will use SpaceX's Crew Dragon spacecraft.
The Crew Dragon is expected to embark on its first six-month operational mission, called Crew-1, in late September. The spacecraft will carry NASA astronauts Victor Glover, Mike Hopkins, Shannon Walker and Japan Aerospace Exploration Agency astronaut Soichi Noguchi.
The Crew-2 mission, planned for next year, will carry Shane Kimbrough and Megan McArthur from NASA, Akihiko Hoshide from JAXA and Thomas Pesquet from the European Space Agency.
Meanwhile, SpaceX continues moving forward with other major projects.
In late July, it was reported that the company was in talks to raise another $1 billion in funding at a valuation of $44 billion.
The funding would be used to accelerate development of SpaceX's Starlink satellite broadband service, to conduct suborbital and orbital test flights of its Starship and to develop an additional booster launch stage called Super Heavy.
After the successful launch of Crew Dragon at the end of May, Musk urged SpaceX employees to accelerate progress on its next-generation Starship rocket "dramatically and immediately," according to a report by CNBC.
The company has been busy testing prototypes of Starship, which Musk hopes will carry as many as 100 people to the moon or Mars. SpaceX completed a full-duration static fire test for the Starship prototype Serial Number 5 near Boca Chica, Texas, July 30.
The successful test paved the way for a "hop test" Aug. 4 where the giant Starship prototype managed to rise about 150 meters into the South Texas skies.
"Progress is accelerating," Musk tweeted after the test flight. "We'll do several short hops to smooth out launch process, then go high altitude with body flaps."
Musk's goal is to make Starship fully reusable, an advance from the partially reusable Falcon 9 anchor rocket currently employed by SpaceX. A fully reusable vehicle will allow short turnaround times between flights and even lower launch costs.
In addition, SpaceX is continuing to make progress on its goal to provide internet service from its Starlink satellites for the northern United States and Canada in 2020.
The company said it has received greater-than-expected interest in Starlink, and on July 31 SpaceX filed a request with the Federal Communications Commission to increase the number of authorized user terminals — the devices consumers need to connect to the company's satellite internet network — to 5 million from 1 million.
SpaceX's Starlink program has increased its network to more than 500 satellites.
For reprint and licensing requests for this article, CLICK HERE.