Covid-19 Shutdowns Slow Film and TV Production
Friday, April 24, 2020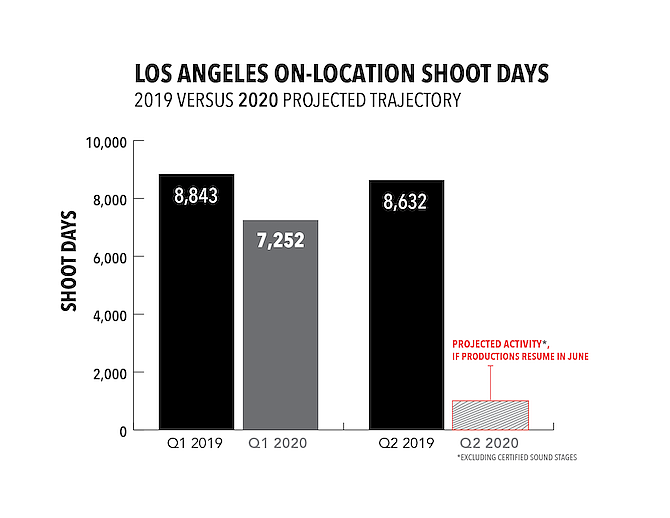 On-location filming in greater Los Angeles is down more than 18% so far in 2020 and continues to fall as a result of the coronavirus pandemic, according a report released April 23 by FilmLA.
The nonprofit organization that serves as the official film office of the city of Los Angeles and Los Angeles County reported that after a strong start to the year in January, on-location filming slowed in March due to voluntary cutbacks and progressively tighter limits on public gatherings.
"As of today, with the shutdown poised to extend deep into the second quarter, FilmLA analysts predict that local Shoot Day losses are already unrecoverable for the year," the report said.
The report also stated 1,091 local productions were filming in February and that number dwindled to 644 projects in March before filming ended completely on March 20, the date that L.A. County's Department of Public Health and other state and local authorities ordered all nonessential businesses to close and banned public gatherings.
The report said the hardest-hit filming sector in the first quarter was television, which saw an overall decline of 20.6% from 2019. An earlier report had concluded that 198 out of 465 scripted shows (42%) produced across all platforms were shot in Los Angeles. Episodic television also accounts for 70% to 75% of filming activity on major soundstages in Los Angeles.
The study revealed the shutdown has "greatly impacted" TV pilot season, which usually runs from late February to early May.
The report noted one surprising result: Reality TV production increased 11.7% in the first quarter compared to the same period in 2019. The increase may be due to the influx of streaming providers launching their platforms during the first quarter of 2020.
On the feature film side production dropped 6.1% in the first quarter versus 2019 levels.
For reprint and licensing requests for this article, CLICK HERE.