Trader Joe's Boosts Worker Safety
Grocer expands cleaning efforts, offers bonuses
Monday, April 20, 2020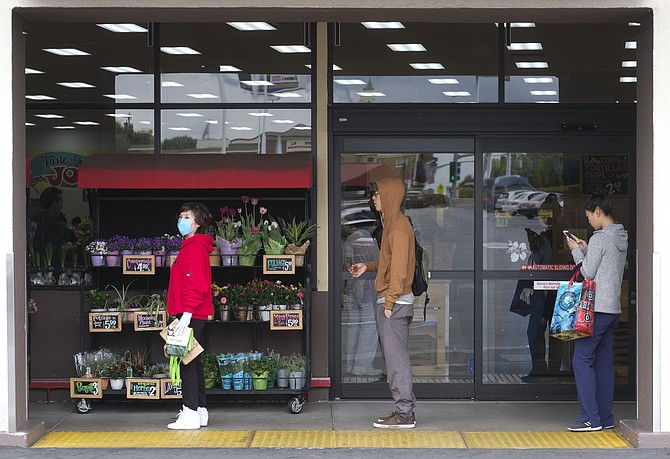 There's a very good chance that none of Trader Joe's Co.'s 50,000 employees thought they'd be risking their lives when they signed up to work for the Monrovia-based grocer.
Yet many of them have found themselves on the front lines of the Covid-19 pandemic as the popular grocery chain grapples with protocols to keep workers safe.
Measures implemented by the company last week include temporary closure of seven stores where crew members have tested positive for Covid-19, including locations in West Los Angeles, Encino and South Pasadena.
Trader Joe's also plans to shutter 16 stores in New York this week for "additional precautionary cleaning and sanitization," according to the company. The New York locations include a store in Scarsdale that employed a crew member who was infected with the coronavirus and died on April 6.
"If we have a crew member who tests positive for Covid-19 or even without a test, but they've been given that diagnosis, and they were last in the store within a 72-hour period, we will close the store," Trader Joe's President of Stores Jon Basalone said during a podcast the grocer posted on April 8.
"And while that 72-hour window lapses (we'll do) a thorough cleaning of the store — so thorough that they have to have a hygienist there to sign off on it. And when we close the store for that cleaning, all the crew members that were scheduled for that get paid for those shifts."
Like other essential businesses, Trader Joe's also reduced operating hours, with most stores now open from 8 a.m. to 7 p.m.
"We need to give our crew members a little bit more breathing room before and after the stores open in order to do what we need to do when it comes to cleaning, sanitizing, stocking, all that kind of stuff," Basalone said. "And also giving them some rest."
The first hour of each day is dedicated to shoppers over the age of 60 and customers with disabilities who may need additional assistance, according to the company.
Other measures the grocer implemented include limiting the number of people in the stores, monitoring and marking the distance between customers waiting in line outside and at checkout, opening every other register, alternating open registers for regular cleanings, and suspending the use of reusable bags.
Trader Joe's is also providing face masks for its crew members and installing temporary Plexiglas barriers at all checkout stands, beginning with areas of the country that have been hardest hit by Covid-19.
The company's annual revenue across its 505 stores in 42 states is about $16 billion, according to a Business Journal estimate. A recent job posting pegs the average hourly wage of a Trader Joe's crew member at $16.50, which is 50% above the national average, according to the job search site Indeed.com.
To lessen the blow of potential exposure and recognize the "outstanding, inspiring work being done," the company said it has implemented a "thank you" wage increase that adds up to an additional $2 per hour.
"As the sales in our stores took off during that panic buying, we thought 'Let's create a bonus pool and have each store sort of create their own pool based on their individual stores' sales increases,'" Basalone said.
"Some stores are able to generate more money per hour for their crew members, upwards of over $3 an hour in some places," he added. "What's happened since then is the panic buying has stopped, and the sales have actually dropped down a little bit to levels a little bit below a normal week in March.
That slowdown prompted a new approach to wages, Basalone explained.
"We thought, 'Well, now that formula doesn't work. It's not really generating a bonus pool for each store. So, let's do something different, and let's do some thank-you pay.'" Basalone said.
For reprint and licensing requests for this article, CLICK HERE.