Orthopedic and Sports Medicine Focus: Helping Kids Grow Well and Play Well
Custom Content by the Los Angeles Business Journal
Monday, April 20, 2020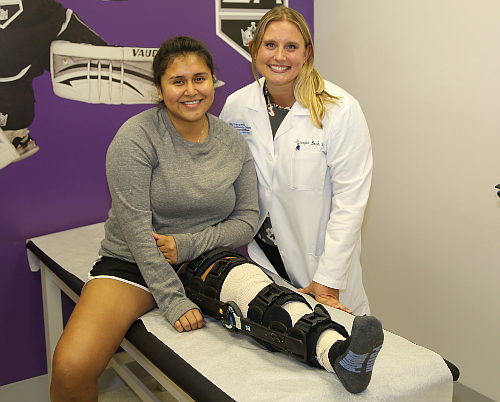 As the largest provider of pediatric orthopaedics on the west coast focused solely on musculoskeletal conditions and injuries in children, Orthopaedic Institute for Children never stops its pursuit of helping kids "grow well and play well."
"Vision for Our Future"
OIC is currently in the home stretch of its $20 million "Vision for Our Future" campaign, designed to ensure that OIC's surgeons, doctors, nurses and staff have the best facilities and equipment to care for the increasing number of children who come through its doors. The results are already apparent on the Institute's downtown LA campus.
• Last summer, OIC opened the city's most modern urgent care center for children with musculoskeletal conditions. The center includes state-of-the-art facilities and equipment that greatly enriches the patient experience for children and their families while positively affecting quality outcomes.

• In December, OIC opened its new Medical Pavilion, which involved a major reimagining and reconstruction of its 1959 Lowman Building. This new Pavilion allows OIC to treat kids more efficiently, reduce pain and suffering, and truly serve as a national model of what pediatric orthopaedic medical care should look like in this early part of the 21st century.
• Earlier this year OIC dedicated The Ahmanson Foundation Fracture Center, one of the nation's largest pediatric orthopaedic fracture centers. Made possible through a grant from The Ahmanson Foundation, the Center includes 14 exam rooms and a staff as adept at monitoring injuries as they are at diagnosing trauma.
Center for Sports Medicine
Throughout all of this expansion, one of the constants at OIC has been its nationally acclaimed Center for Sports Medicine. This Center is staffed by a multidisciplinary team including sports medicine physicians, pediatric orthopaedic surgeons, nurse practitioners, medical assistants, athletic trainers and physical therapists, all focused on helping young athletes return to their sports activities as quickly and safely as possible.
"Our highest priority is getting young athletes safely back in the game," said Jennifer Beck, M.D., Director of Outreach and Research for the Center. "Addressing sports injuries in a timely manner will prevent long-term complication and minimize time off the field. That's why our treatment approach goes beyond reconstructing ACLs and fixing meniscus tears or helping kids get appropriate physical therapy but is also focused on making sure young athletes understand what it will take to safely return to their sport and helping them prevent injury or re-injury in the future."
OIC's Center for Sports Medicine specializes in treating a broad range of today's athletic injuries before they damage tomorrow's opportunities. The Center offers both surgical and non-surgical approaches, depending on a child's injury, including:

• Xrays and dynamic ultrasounds
• Same-day care for orthopaedic
sports injuries, including same-day surgery if needed
• Urgent Care Center with sports medicine trained MDs and NPs, 7 days a week
• Next-day follow-up with specialist appointments, if needed
• Surgical and non-surgical treatment,
tailored to a child's needs
• State of the art Ambulatory Surgery Center with pediatric anesthesiologists specialized in techniques for minimizing pain and discomfort from surgery
• Follow-up care, including physical therapy, to ensure that the child is ready to get back in the game
• Partnership with a patient's team's coach during recovery
• Collaboration with local Athletic Trainers at schools and in club sports for timely care of acute, on the field injuries, and assistance with rehab and return to play
• Sophisticated Return to Sports Program providing objective data to guide athletes returning to play while preventing future injuries
• Cutting edge, multidisciplinary clinical research to improve our care for our young athletes
• Education of local ATCs, coaches, primary care physicians on the most current treatments for sports medicine conditions
• Partnership with local clubs, schools and organizations
For more information, visit ortho-institute.
For reprint and licensing requests for this article, CLICK HERE.