Bert Fields, 90
Special Report: 8 Over 80
Friday, September 27, 2019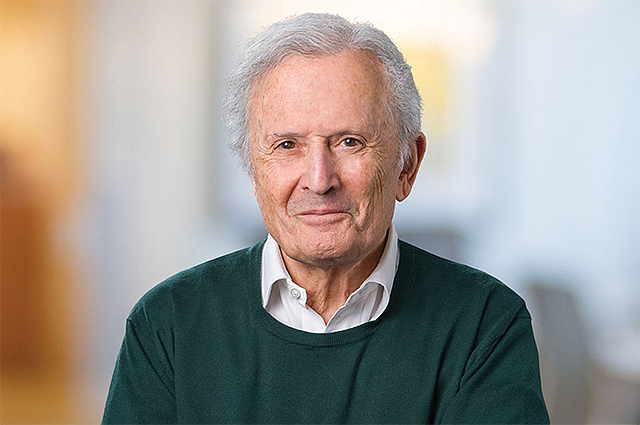 Partner, Greenberg Glusker Fields Claman & Machtinger
Entertainment attorney Bert Fields counts Madonna, Sony Music, DreamWorks, James Cameron, Tom Cruise, Warren Beatty, Dustin Hoffman, and the Beatles among the clients he has represented over the years. The Harvard Law School graduate and partner at Greenberg Glusker Fields Claman & Machtinger also finds time to write — he is the author of eight books, including "Players: The Mysterious Identity of William Shakespeare," which questions whether the "Stratford man" was the sole author of all the literary works attributed to him.
How many hours a week do you work?
I work typically 30 to 40 hours unless I'm in trial, in which case it would be 50 hours a week or more.
Why not retire?
I don't want to retire because I still enjoy it. I like coming to the office and going to court. I take time to write, but I really like practicing law.
Do co-workers seek out your experience and knowledge?
I do get calls (from co-workers) from time to time asking for help or what I think about particular issues. One of the advantages of being in a big firm is the young people can call on the old people to help them.
How do you keep the work you do fresh and interesting?
The work itself is fresh and interesting. The kind of cases that I get are, for the most part, unique.
What are the biggest changes you've observed in your workplace environment across your career, and what are key aspects that have never changed?
The biggest change of course is the use of computerized research. Most law firms now are getting rid of their libraries. Everybody's on a computer. I still sit in the library because I like the feel of the books in there. I like to read the decisions in the books. None of our younger people — the people who are under 70 — none of them ever use the books.
What has not changed is the need to correctly analyze and try cases. That's a skill that's still required just as it always was — to cross-examine witnesses and prepare for trial, to know how to give an opening statement and the closing argument — that remains unchanged, fortunately.
How has working in Los Angeles changed over the years?
When I started to practice … there were none of these huge firms. And generally, lawyers are better educated for the most part than they were in those days. When I started the practice, you still had a lot of lawyers who actually had not gone to law school. They had been clerks for a practicing lawyer and learned from them. It doesn't mean they weren't skilled, but they didn't have (a formal) educational background.
What is the one thing people often get wrong about retirement?
I've seen almost all my (friends) retire, and I think the main problem is they have no idea what they're going to do with their time. You talk about lawyers who are living a rough and exciting time practicing law, going to court, and all of a sudden, it's gone. There's no place to go in the morning. You have your cup of coffee and then you read the newspaper and what then? I'll kind of avoid that because I write books.
What do you do for fun?
Writing is a great part of it, but I also hang out with my wife, Barbara Guggenheim. She's an art consultant. We travel and take long walks, and I play tennis. She's a very bright lady, and quite pretty I think.
What's next on your agenda?
I'll finish writing my memoirs — my professional memoirs, not personal — I'll never write my personal memoir. [It] will be published this year. I'm calling it "Summing Up." That's what you call the closing argument in court.
If you could go back in time, what advice would you have for your 50-year-old self?
Relax more. Take time to enjoy it more. It's going to turn out okay.
For reprint and licensing requests for this article, CLICK HERE.