Wealthiest Angelenos: Media Men
Many entertainment players are riding high, even with changes sweeping the industry
Friday, September 20, 2019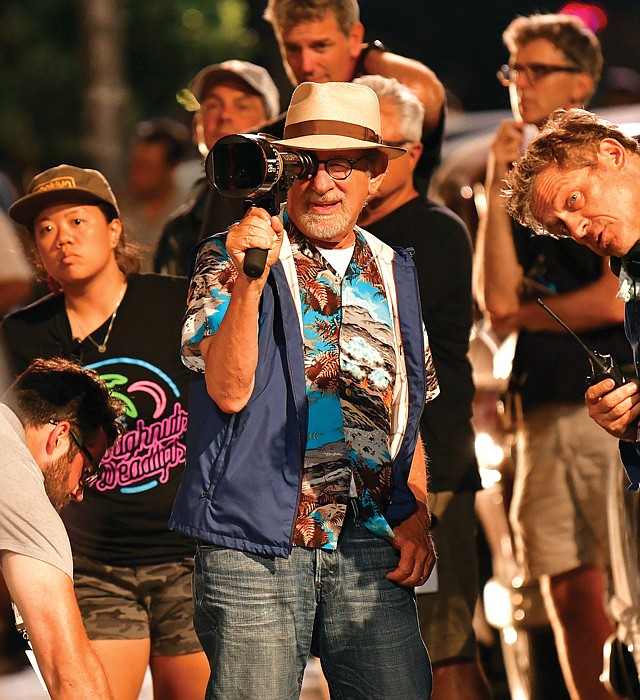 The business of entertainment is in flux. 
In movies, four of the six legacy studios — Walt Disney Co., 21st Century Fox Inc., Warner Bros. Entertainment Inc. and Paramount Pictures Corp. — were linked to a merger or acquisition within the last year.
Netflix Inc. dominates the streaming space at the moment, but Hollywood is awaiting the arrival of Disney Plus, Apple TV Plus and HBO Max. 
And in music, a remade industry is starting to regain its footing through services like Spotify Technology and higher revenues from live performances. 
The flurry of changes, though, has had little effect when it comes to entertainment executives who qualify for the Business Journal's Wealthiest Angelenos list.
Entertainment titans David Geffen and Steven Spielberg, for example, are wealthy from years-old investments while some of today's most powerful players — like Disney Chief Executive Robert Iger, Activision Blizzard Inc. head Robert Kotick and Live Nation Entertainment Inc. leader Michael Rapino — failed to make the list. 
"Wealth can be tricky to pinpoint and often is based on long-ago investments," said Adam Fowler, research director at Beacon Economics. "Some of the names on the list are people who made their fortune when the industry was more stable and walled off."
Not every name on the list is immune to industry changes, however. 
Sumner Redstone consistently occupied the No. 1 or No. 2 spot on the Wealthiest list during the 2000s, but his ranking dropped as Wall Street investors determined Viacom Inc. to be a step behind where entertainment is headed. 
Redstone still holds a controlling stake in Viacom and CBS, and his spot on the list next year will depend on the stock price of a consolidated ViacomCBS Inc., pending regulatory approval. 
Jeffrey Katzenberg's future on the list, meanwhile, may rest on the success of his video streaming startup, Quibi. 
"If there is a further boom and democratizing in content creation, the list could start to look different 10 years from now," Fowler said.  
Jurassic wealth
By some indications, Los Angeles County's entertainment business is shrinking. State employment data for July 2019 showed that 124,000 employed residents, or 2.7%, worked in motion pictures and sound recordings. In July 1999, that number was 147,000 and 3.6%. Those figures, however, do not count the independent contractor workforce. 
Georgia has eclipsed California as the state with the most movies with budgets over $100 million, according to a FilmLA report. 
Over those 20 years, though, the number of media and entertainment figures on the 50 Wealthiest Angelenos list grew modestly from eight to 10. 
"Wealth in other industries, like real estate, is more fragmented," and there are fewer reliable list mainstays in those sectors, said Fernando Guerra, a political science professor at Loyola Marymount University. 
Entertainment stalwarts include Geffen, who sold Geffen Records in 1990 and has spent the last 29 years reaping the benefits of his investments, including Apple Inc. stock that the Business Journal values at $3.4 billion.
Spielberg's net worth comes from his blockbuster movies and longtime side deals, including a stake in Universal Studios Hollywood that is valued at $1.2 billion.
Wealth changes from Geffen or Spielberg are more likely to come from philanthropic contributions than new media and entertainment investments, Guerra noted.
Other entertainment moguls are in a similar stasis. 
Michael Eisner's fortune stems mostly from stock he was given by Disney when he left as the company's chief executive in 2005. Eisner's position this year climbed due to a rise in Disney stock following its acquisition of multiple 21st Century Fox assets including the Fox studio.
New income streams
One member of the list did make his fortune from streaming — and a couple of others are now trying.
Sean Parker started Napster, was Facebook Inc.'s president and presently publicizes his charitable work around cancer. But the bulk of his wealth appears to come from legal music streaming, specifically cashing out of Spotify when the company went public in 2018, according to Pitchbook Data Inc.
Haim Saban, meanwhile, is changing course, also with an eye toward music streaming. One year after he sold the Power Rangers intellectual property that made him a billionaire, Saban is looking to unload his Univision Communications Inc. stake, valued at $700 million.
Saban said he will put up to $500 million of his own money into a record label, Saban Music Group Inc. 
"Streaming is what gets me excited about the music business at the moment as I have embraced the digital age," the 73-year-old told the Business Journal in July.
When it comes to streaming, probably no person on the list has as much at stake as Katzenberg, the former Disney executive and DreamWorks Animation founder. 
Katzenberg, whose wealth is mostly derived from undisclosed investments, has announced north of $1 billion in outside financing for Quibi, the short-form video streaming platform set to launch in April 2020.
For reprint and licensing requests for this article, CLICK HERE.