SoFi Gets Naming Rights to Inglewood Stadium
New SoFi Stadium in Inglewood likely to open by July
Monday, September 16, 2019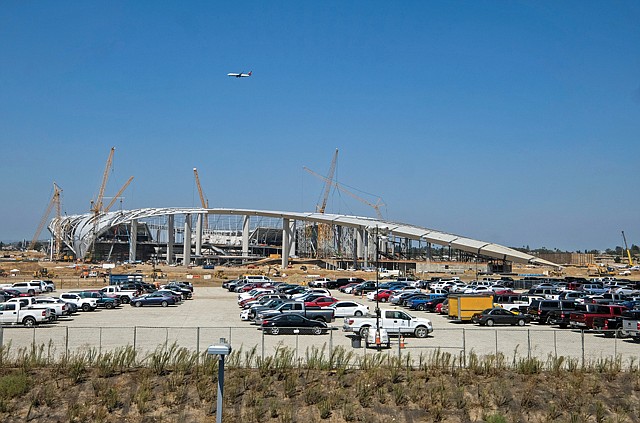 With less than a year to go before the Los Angeles Rams and Los Angeles Chargers take the field at their new stadium in Inglewood, the $5 billion project seems likely to avoid any delay of game penalties.
Construction is 75% complete, according to Jason Gannon, managing director of the Los Angeles Stadium & Entertainment District at Hollywood Park, and the complex is on track to open in the summer of 2020.
And when the stadium opens, it will finally have a name. After months of speculation, LASED confirmed Sept. 16 that online lender SoFi Lending Corp. has secured naming rights in a 20-year partnership with the Rams and Chargers. The new venue will officially be known as SoFi Stadium.
Gannon also said that because the 70,000-seat stadium is on schedule, it will be able to play host to events in July, before the venue's National Football League teams begin preseason play in August.
"You always have to be careful with what you promise," Gannon said, "but because of the partnerships we have formed and the events we already have secured, we have a high responsibility to deliver on those in terms of a fan experience and only anticipate increasing that event schedule."
When the nearly 300-acre L.A. Stadium complex is completed, it will include a 6,000-seat performing arts venue; 900,000 square feet of retail space; 800,000 feet of office space; 2,500 residential units and a 300-room luxury hotel, all set amid public parks. The stadium itself can also be expanded to accommodate 100,000 for certain events.
Century City-based AECOM and New York-based Turner Construction Co. teamed up to build the stadium, which was designed by Dallas-based HKS Architects — the same firm behind the Dallas Cowboys' $1.3 billion retractable-roof AT&T Stadium in Arlington, Texas, and the Minnesota Vikings' fully enclosed $1 billion U.S. Bank Stadium in Minneapolis.
Upcoming construction milestones include completion of the arching steel and glass roof — the stadium's signature feature — which is targeted for January. Workers began erecting the canopy in June 2018.
Work on the pavement surrounding the stadium bowl, which started earlier this month, is scheduled for a May 2020 finish.
"The most incredible part of the roof and its footprint — it encompasses about a million square feet — is that it speaks to not just the physical scope and size of the project but how it fits appropriately within the entire project," said Gannon, noting there are still 10 cranes and more than 3,000 workers a day on the job site.
Prev Next
For reprint and licensing requests for this article, CLICK HERE.