Beauty Apps Ready for Close Up
TECH: But state's gig worker bill raises questions
Friday, September 13, 2019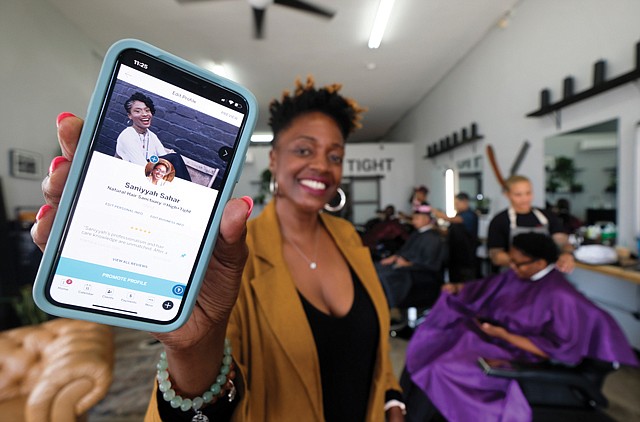 The team behind on-demand beauty brand Priv Inc. realizes that its app won't replace the salon experience anytime soon.
And that's just fine with Fairfax-headquartered Priv, one of several brands looking to do for manicures and makeup contouring what Uber Technologies Inc. and Lyft Inc. have done for transportation.
"I feel great about where we are at now," said Priv founder Joseph Terzi who launched the company in 2014 with the goal of connecting time-pressed, convenience-seeking customers with licensed stylists.
Priv counts individuals as well as companies like Netflix Inc. and Facebook Inc. as clients, and is now turning a profit, Terzi said.
Three months ago, Priv merged with New York-based BeGlammed, a beauty services app for hair and makeup. Details weren't disclosed, but the marriage expanded Priv's footprint, added more corporate partnerships and boosted revenue.
Priv is going head-on with Glamsquad Inc., one of the best-known beauty apps. The New York-based company has raised about $28 million since 2014, according to Pitchbook Data Inc.
Both companies offer in-home beauty services for a flat rate. But last year, Glamsquad added beauty products to its lineup to bolster its revenue stream.
"The major hurdle they have been trying to overcome is a business model that's actually profitable," said Abigail Masory, who focuses on consumer products at New York-based AlixPartners, a consulting firm.
Challenges from AB 5
While Terzi is optimistic about the direction of the expanded company and the burgeoning on-demand style industry as a whole, he acknowledges there are challenges.
Not least among those potential hurdles is Assembly Bill 5, California's effort to regulate the gig economy, which could affect Priv and other on-demand beauty providers.
The much-discussed bill is backed by Gov. Gavin Newsom, and it could force employers to make independent contractors part of their staff.
The bill exempts beauty professionals, but Fred Jones, counsel for Professional Beauty Federation of California — the state's leading trade group representing cosmetologists — said that exemption is limited. There's a possibility that on-demand beauty apps, which set their own rates and process their own payments, could be rendered illegal
Terzi said Priv will comply with the law however it shakes out. Glamsquad, similarly said it is in compliance based upon its interpretation of the legislation.
Like a lot of tech startups, on-demand beauty services struggle to find the right audience and revenue stream, but there's a sizeable market to be tapped by these brands. The beauty salon industry generated $64 billion last year, according to Texas-based Professional Consultants and Resources.
Raising the profile
Priv has looked to corporate events to help increase the bottom line and has automated some of its online services. The company offers pop-up events for staffers at Facebook's offices and has partnered with Netflix to get the Priv brand promoting the streaming giant's shows.
Priv also tries to raise its profile through partnerships. In a teaming with Teen Vogue, for instance, Priv offered styling at Fashion Week in New York.
One of the biggest challenges for online companies in a crowded space is how much they spend to acquire customers. Terzi said Priv's costs are less than $25 to gain a new client, and while the company gives some social media stars free services, he said Priv has stayed away from contracting with influencers to grow.
Instead, the company throws parties at the Coachella Valley Music and Arts Festival and other events, where they hope users will post about the company and generate interest.
"The challenge with any on-demand business is you need to make the economics work for the people (a company employs) while they are driving around," said Kevin Campos, who invests in retail at the Venice-based venture capital fund Fifth Wall Ventures.
He said stylists tend to make more at a salon where their time is better utilized. And beyond metropolitan areas, the distances stylists must travel becomes longer. These realities have cooled some investment.
Priv has about 30,000 stylists, manicurists and other professionals operating in 32 cities, but only 4,000 of them are active.
If California's new gig economy rules change the model for these companies, others in the space could take advantage.
San Francisco-based StyleSeat Inc. offers booking services for stylists. It has raised $41.5 million since 2012 and counts Los Angeles among its largest markets. The company takes a different approach from the on-demand apps, allowing salon-based stylists to take appointments through its application.
Saniyyah Sahar who is constantly booked for hair appointments, said she turned to StyleSeat when she first started.
"It made it easy for me as an entrepreneur to look like a full salon with a front desk manager and everything, and it's really just you and an app," she said. But, she said, she hasn't pulled in that many new customers on the site, and it can bombard her clients with unnecessary updates.

But in cities like Los Angeles and New York where there's a parade of industry dinners, events and brand parties, on-demand apps have already taken hold.
Glam App, a Hollywood-based on-demand service, recently attracted an investment from socialite Paris Hilton. And Priv now counts some of the biggest media companies among its clients.
"When we launched, using an app to book services of any kind was a new," said David Goldweitz, Glamsquad's co-founder and chief strategy officer. "This is now a way that people are very comfortable with."
For reprint and licensing requests for this article, CLICK HERE.