Beauty Apps Ready for Close Up
TECH: But state's gig worker bill raises questions
Friday, September 13, 2019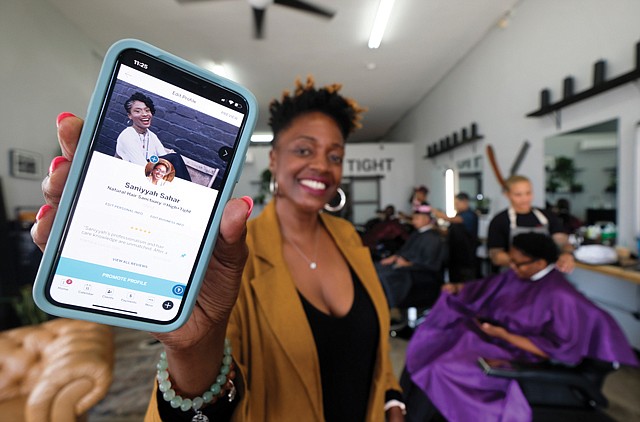 The team behind on-demand beauty brand Priv Inc. realizes that its app won't replace the salon experience anytime soon.
And that's just fine with Fairfax-headquartered Priv, one of several brands looking to do for manicures and makeup contouring what Uber Technologies Inc. and Lyft Inc. have done for transportation.
"I feel great about where we are at now," said Priv founder Joseph Terzi who launched the company in 2014 with the goal of connecting time-pressed, convenience-seeking customers with licensed stylists.
Priv counts individuals as well as companies like Netflix Inc. and Facebook Inc. as clients, and is now turning a profit, Terzi said.
Three months ago, Priv merged with New York-based BeGlammed, a beauty services app for hair and makeup. Details weren't disclosed, but the marriage expanded Priv's footprint, added more corporate partnerships and boosted revenue.
Priv is going head-on with Glamsquad Inc., one of the best-known beauty apps. The New York-based company has raised about $28 million since 2014, according to Pitchbook Data Inc.
Both companies offer in-home beauty services for a flat rate. But last year, Glamsquad added beauty products to its lineup to bolster its revenue stream.
"The major hurdle they have been trying to overcome is a business model that's actually profitable," said Abigail Masory, who focuses on consumer products at New York-based AlixPartners, a consulting firm.
Challenges from AB 5
While Terzi is optimistic about the direction of the expanded company and the burgeoning on-demand style industry as a whole, he acknowledges there are challenges.
Not least among those potential hurdles is Assembly Bill 5, California's effort to regulate the gig economy, which could affect Priv and other on-demand beauty providers.
The much-discussed bill is backed by Gov. Gavin Newsom, and it could force employers to make independent contractors part of their staff.
The bill exempts beauty professionals, but Fred Jones, counsel for Professional Beauty Federation of California — the state's leading trade group representing cosmetologists — said that exemption is limited. There's a possibility that on-demand beauty apps, which set their own rates and process their own payments, could be rendered illegal
Terzi said Priv will comply with the law however it shakes out. Glamsquad, similarly said it is in compliance based upon its interpretation of the legislation.
Like a lot of tech startups, on-demand beauty services struggle to find the right audience and revenue stream, but there's a sizeable market to be tapped by these brands. The beauty salon industry generated $64 billion last year, according to Texas-based Professional Consultants and Resources.
Prev Next
For reprint and licensing requests for this article, CLICK HERE.