Who's Building L.A: Addressing the Workforce Skills Gap in Construction and CRE-Related Trades
Custom Content by the Los Angeles Business Journal
Tuesday, September 10, 2019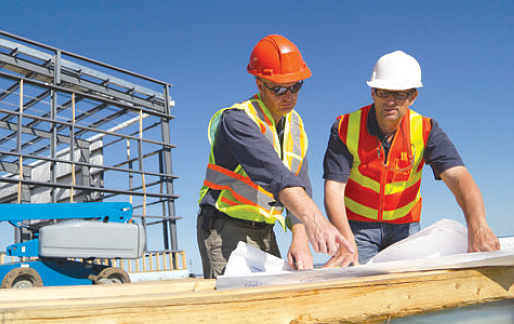 New report explores strategies for recruitment, training, productivity and retention
A shortage of construction and logistics workers has increased the cost of commercial real estate development and has hampered regions' abilities to remain economically competitive, according to a new report published by the NAIOP Research Foundation. The report explores some of the contributing factors to the workforce shortage in the U.S. and how the construction and logistics industries can improve worker recruitment, training, productivity and retention in their communities.
"Addressing the Workforce Skills Gap in Construction and CRE-related Trades" was commissioned by the NAIOP Research Foundation and authored by Barry E. Stern, Ph.D. The report is available for free download on the NAIOP Research Foundation website.
Stern interviewed national and regional workforce development program leaders to learn about their partnerships within industries to recruit and train the next generation of construction and logistics workers. The report identifies findings that merit the attention of warehouse owners and operators as well as developers across the real estate industry:
Contractors will increasingly need to adopt new technologies to improve worker productivity. Adoption of labor-saving technologies like 3-D printing and robotics can help substitute for scarce labor. Other technologies, like augmented and virtual reality and wearables, can improve the site design process and boost worker safety. In addition to mitigating the workforce shortage, a commitment to increasing worker productivity through technology adoption will help contractors grow their businesses more rapidly.
The most successful workforce development programs rely on multisector collaboration. When employers, educational providers and community leaders work together to promote workforce development, they are able to leverage their unique capabilities and resources to maximize program outcomes. While employers can often develop effective in-house training programs, a partnership with an educational institution and local community leaders can allow for more effective and comprehensive training, unique insights into the local talent pool and better access to prospective workers.
It is important to align workforce development programs with local trends. Worker training and recruitment programs should be designed to prepare prospective workers for jobs that are currently in demand in the local area. Program leaders should also tailor recruitment efforts to the local pool of prospective workers. For example, a new program in a rural area may need to demonstrate that prospective workers can find long-term employment there.
Demonstrating that a job can be part of a long-term career is an important recruitment and retention strategy. This is particularly true for recruiting and retaining workers in entry-level positions as these workers are less likely to be familiar with industry career tracks. When prospective or current employees are aware of future opportunities for development and advancement, they are less likely to treat a job as a short-term arrangement and are more likely to invest in their own skills.
The construction and logistics industries need to invest in training and recruiting high school students and recent graduates. Declining public school investment in vocational education has contributed to lower awareness of careers in construction and logistics. This has exacerbated a shortage of entry-level workers. To reverse this trend, employers in construction and logistics will need to proactively reach out to high school students to expose them to opportunities in each industry and offer them relevant vocational training.
Investing in ongoing training for current employees ensures that workers have the latest skills and improves worker recruitment and retention. As construction and logistics technologies and processes continually evolve, it is important that workers receive training in the latest industry practices. Investing in ongoing training improves worker productivity and safety. It also has the added benefit of helping to recruit and retain workers. Workers are more likely to join and stay at a company that is committed to investing in their professional development.
The report also includes case studies on programs and partnerships that have been successful in career recruitment and retention for the industry.
"It's critical that the construction and logistics industries develop strategies that attract and retain qualified workers to meet future demand. Investment in new technologies, ranging from augmented and virtual reality to 3-D printers and wearables, workforce training programs, and collaboration with technical education programs can yield positive results," said Marc Selvitelli, CAE, executive director of the NAIOP Research Foundation. "The Foundation published this report to present real-world examples of existing, effective programs that can serve as models for future ventures."
The NAIOP Research Foundation was established in 2000 to provide objective information and thoughtful insight about issues that affect professionals and organizations in the commercial real estate industry now and in the future. For more information, visit naiop.org/research.
For reprint and licensing requests for this article, CLICK HERE.